Why not bookmark this AMPS Newsletter and read at your leisure!

L-R Paul Massey, John Warhurst, Nina Hartstone AMPS, Chris Murphy, John Casali AMPS
AMPS Newsletter February 2019

In this month's issue - Bohemian Rhapsody wins AMPS Film Award, Kraken software demo at HHB Scrub, AMPS AGM 24 February, Dates for your diary, New members, CEDAR becomes AMPS sustaining member, Cordwallis, Malcolm Davies, NFTS Showcase, IPS event invite, Helios console for sale, Studio Etiquette, Coffee Logs… they're wonderfuel!
AMPS Film Award Trophies Presentation Ceremony

As in previous years, AMPS was able to swiftly arrange a presentation ceremony while our award winners were in London for the BAFTA awards. The venue was Warner Bros. De Lane Lea Studios on Saturday 9th February where AMPS Members assembled to raise a glass in celebration.

AMPS Chairman Rob Walker presented the trophies to John Casali AMPS, Chris Murphy, Nina Hartstone AMPS, John Warhurst and Paul Massey for Bohemian Rhapsody. This was the second win for Paul, he picked up the AMPS Award in 2016 for The Martian.

All the winners expressed their wish to share this honour with their crew members. They also made reference to the joy of being part of such a happy team. Their combined skills resulted in the success of this memorable soundtrack.

This popular AMPS Awards result has once again pre-empted industry opinion on what is deemed the best soundtrack for a feature film this year. The winners for Bohemian Rhapsody went on to win 'Best Sound' at BAFTA. Congratulations to the team, and good luck at the OSCARS.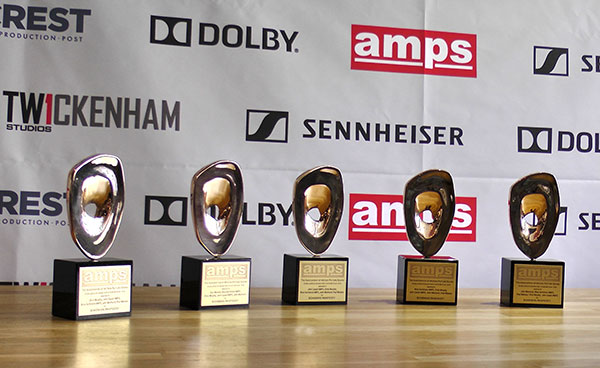 The organisation of our Awards has to be compressed into a short timeframe that allows the maximum opportunity for members to view the year's eligible films, and to declare our winning title while the ballots for other awards are still running. We hope the voting membership of other film sound awards see the AMPS choice as particularly relevant, being solely decided by our voting membership representing some of the most imaginative and highly experienced people working in sound.

This year has seen the expansion of the Film Sound Award to recognise the overriding importance of believable and intelligible dialogue in any Feature Film or Television Drama. The Key 1st Assistant Sound (Boom Operator) is given long overdue recognition for the invaluable part their skills play in the acquisition of good usable dialogue. The Supervising Dialogue/ADR Editors are included in acknowledgment of the painstaking work required to assemble the original recordings and ADR to present credible performances for the final mix.

Two further AMPS Awards have been added this year. Non-fiction factual productions from 2018 will be eligible for a new award; 'Excellence in Sound for a Factual Film'. A further award has been introduced for 'Excellence in a Hardware or Software Audio Product'. This will be chosen by our membership to reward a manufacturer, inventor or software developer who's innovation AMPS Members consider has improved or assisted the technical processes involved in the production of excellent soundtracks.

Please submit your suggestions for the Factual Film Award, and the Hardware or Software Audio Product released between 1st January and 31st December 2018. Details below.
Factual Film Award.
Excellence in Hardware or Software Award.
All AMPS Awards results reflect the considered judgement of sound professionals. The annual awards play a significant role in publicising the wealth of experience available among the 500 plus AMPS Membership. Be sure to participate in your Association's Awards.
AMPS Awards are sponsored by -

AMPS AGM Sunday 24 February at NFTS

The 2019 AMPS AGM will be held on Sunday 24 February, once again at the National Film & Television School. The event proper will start at 11.00am, but coffee, tea and biscuits will be available from 10.30am.
Lunchtime refreshments will be served following the AGM when there will be opportunity to talk to a number of AMPS Sustaining Members who will be exhibiting. So far confirmed is URSA Straps, Corwallis, Rycote, Giantsound and Audio Ltd., Hearing Dogs Trust & WPA. More to follow.
National Film & Television School
Beaconsfield Studios, 141 Station Road
Beaconsfield, Bucks, HP9 1LG
Unfortunately, reservations for this event have now closed. There will be a full report in the next issue.
Kraken Demo Hits the Mark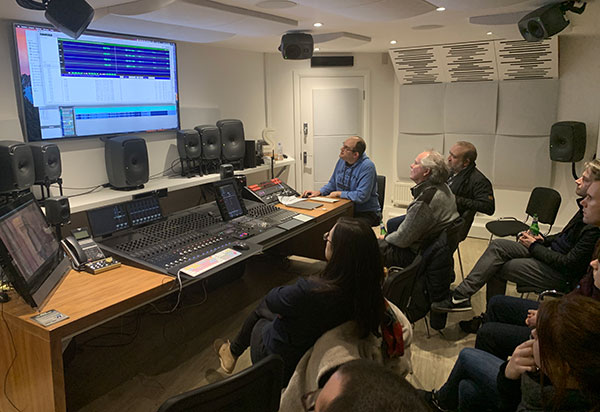 AMPS Events Co-ordinator Adele Fletcher reports -
The AMPS event calendar kicked off to a great start in 2019 with an exciting new software launch. Invented by one of our own, AMPS member Marc Specter gave a captivating demo of his newly realised software called 'Kraken'. HHB who are a new AMPS Sustaining Member, provided the hosting for the event in their amazing demo room at HHB Scrub in central London, a great space.
'Kraken' is a dialogue editors toolkit -  since Marc is a dialogue editor himself, who better to produce a piece of software that does everything he needs it to do. 'Kraken' is a piece of software that lets you import rushes, search them for alts, audition the individual tracks and then import them directly into Pro Tools. It also compiles a session via the EDL which is a remarkable tool.

Marc 'unleashed the Kraken' at HHB Scrub to a delighted audience of AMPS members. The demo was full of enthusiastic questions and intrigue. Marc has been developing this program for the past six years, finding time wherever possible around his busy day job as a well respected dialogue editor.
AMPS members were also lucky enough to be offered a
£30 discount
on the software. To inquire about the discount, contact Marc via the website - 
krakensoftware.co.uk
or email
krakendet@gmail.com
.
As ever the conversation continued at the local pub, where it was good to socialise with fellow sound professionals as more of us work from home, we all agreed it's good to meet people face to face and discuss the climate of the industry over a pint or two.
And AMPS members had some great comments about the event.
"Very well delivered and informative. Good location and reception. Good balance of the 'user-friendly' and 'nerdy bits'."
"Great welcome by Adele… with food and beer! HHB Scrub was a good location and the demo worked really well in there. Thanks, see you at the next one!"
"Very impressive product. Great demo with a very engaged audience. I'll buy it tomorrow!"
AMPS SOCIALS
Birmingham, Manchester, Cardiff and Leeds Socials -
2019 dates and information coming soon.
Bristol Social - Now confirmed for last Thursday in every month
The Robin Hood, 56 St Michaels Hill, Bristol, BS2 8DX - 7.00pm onwards. There's a wide range of interesting beers (other drinks are available) and the kitchen is open until 9.00pm.
London Social - First Tuesday in every month
Make sure that you attend the AMPS Social at the De Lane Lea bar in Dean Street on the first Tuesday of every month - be social with your AMPS members! The first Tuesday in every month - 6.00pm.
All events are open to AMPS members and guests. They are a great chance to put faces to names, to network and to chat. It's a rare opportunity for production sound and post sound folk to get together… plus there's beer and food.
AMPS AGM 2019
Sunday 24 February, 10.30am, once again at the NFTS.
See above for more information.
Saturday 9 March, 9.00am, NFTS
See below for more information.
The School of Sound International Symposium

24-27 April
The Purcell Room, Southbank Centre
London, SE1 8XX
New AMPS Member - Marta Anderson

 

 

Hello! My name is Marta Anderson and I am a final year BA sound student from Bournemouth Film School.


So far, I have worked on various short films, documentaries and animations which led me to gain good experience in both on-set sound production and post-production.


In the future I would like to see myself specialising in dialogue editing and sound design.

 
CEDAR Becomes Latest AMPS Sustaining Member

Founded in 1988 by the British Library National Sound Archive, CEDAR Audio's first brief was to take a promising research project from the Signal Processing Laboratory of Cambridge University and turn this into the world's first dedicated digital audio restoration system. More than thirty years later, the company still supplies computer-based systems for recording, restoration and speech enhancement to users as diverse as national sound archives and law enforcement agencies. However, it recognised from the start that, to achieve widespread use, digital noise reduction would have to migrate from PCs and Macs to small, manageable hardware units. Consequently, it invented numerous new audio technologies and developed seminal products such as the DC-1 Declicker (the first standalone hardware digital audio restoration unit), and the DNS1000 dialogue noise suppressor. It is also the inventor of the now common spectral editing technology used extensively in post, and for which it holds the patents.

Some years ago, CEDAR discovered that products designed for use in other fields were being used successfully on location, and decided to design a unit specifically for location sound – whether for live broadcasting, recording, or confidence checking of material on set. The result was the DNS 2 dialogue noise suppressor, which is now a common sight on film and TV sets worldwide.

CEDAR is proud to be the recipient of two Cinema Audio Society Awards, numerous other industry accolades and, of course, an Academy Award for services to the movie industry. As a sustaining member of AMPS, the company looks forward to renewing its links with many old friends and to making many new ones.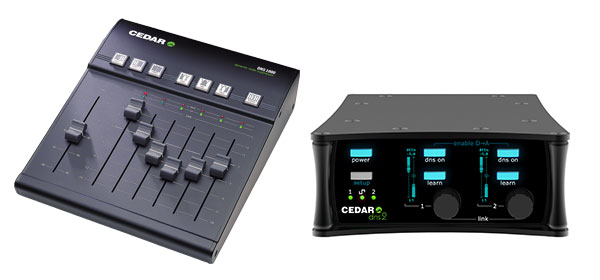 CEDAR DNS1000 dialogue noise suppressor + CEDAR DNS 2 dialogue noise suppressor
Cordwallis Comes to the Rescue

Production Sound Mixer and AMPS member Bob Newton (pictured above) recently took delivery of his new VW Transporter supplied by AMPS Sustaining Member - Cordwallis Heathrow.

Bob says of his experience, "Cordwallis have been great to deal with and 100% professional - I would recommend them unreservedly to any members thinking of purchasing a new van."

Bob also said that one thing members may not know is that Cordwallis are now able to service/carry out minor repairs to VW vans on location within a reasonable radius of their garages - including Pinewood/Shepperton.
Cordwallis Heathrow
Great Southwest Road, Bedfont, Middlesex, TW14 8ND
020 8045 5005
I'm sure members will be deeply saddened to hear that Malcolm Davies AMPS passed away on the 8th February. He was one of the most experienced and well liked members of the sound community with a working life stretching back over 50 years.
His sense of humour also reached out to many more who didn't meet him in person, but through his online recollections of life on set. A long time member and supporter of AMPS, our warm wishes go to his family and friends.
Rob Walker AMPS Chairman
NFTS Graduate Showcase 2019

The 2019 NFTS Graduate Showcase, sponsored by Netflix, is an opportunity for people from across the UK screen industries to see the work of our graduating class and to meet the next generation of film, television and games makers that will be shaping the industry for years to come.

The showcase comprises our main three-day event in central London and a series of individual industry screenings of the exciting and diverse range of content produced by graduating students. The programme will take place at various venues across London throughout February and March with our main event taking place at Picturehouse Central, London W1 on Monday 25th, Tuesday 26th and Wednesday 27th February 2019.

Industry guests can book their free tickets below. Plus more information and Showcase schedule.
Networked Audio over IP? Ignore It At Your Peril!
Internet Protocol (IP) is the method being used to move an ever increasing amount of data from A to B to C. Audio over IP (AoIP) is the collective description of sending real time digital audio over these data links.

AoIP has been around for a while but in recent years we are seeing more and more buzzwords such as Dante, Ravenna, AVB, Soundgrid, AES 67 and others. What do they mean and how will they effect the worlds that IPS members reside in?
The IPS have invited AMPS members to attend this two day event.
IPS members - £40
Non IPS members - £80
So, I reckon if we all chip in…
Rare vintage Helios 12 channel mixing console for sale - originally installed at Ramport Studios in 1971 and formally owned by British rock legends, The Who.

Part of the same vintage Helios console used to record many classic albums including Quadrophenia, Tommy the Musical. Supertramp and Thin Lizzy also used the Helios in their recordings. While researching more about the history the seller managed to obtain email confirmation from Pete Townshend and you can also see studio session photos of original band members with the Helios back at Ramport Studios.
£60,000
Studio Etiquette: Everything Your Engineer Wants You to Know but is Afraid to Say!

This article is more slanted towards general music recording, but certainly has some gems that translate across disciplines.
Audio engineers are translators. We translate ideas into sounds. Creative descriptions into technical decisions. Drunken late-night texts into mix revisions. That's the secret to this job: we manage personalities and egos, insecurities and interpersonal dynamics, and we translate them into recordings.
Knowing what all the knobs and faders do is nothing compared to the daily psychology we dispense. What many of us are not so great at is clear, direct talk with clients about money, credits, timeframes, money, professionalism, money…
Coffee Logs… They're Wonderfuel!

Coffee Logs are eco heat logs for woodburners, stoves and open fires, made from your spent coffee grounds.

Each year bio-bean processes thousands of tonnes of waste coffee grounds, collected from coffee shops around the UK. Recycling coffee helps reduce greenhouse gases, diverts waste away from costly landfill and gives your latte a useful second life.
Did you know that the Directory pages on the AMPS website are some of the most frequently visited?

 

Make sure that your profile is up to date - you never know where your next work enquiry will come from!

 

 
Can we help with your Professional Development?
We're keen to hear from you with ideas for seminars and training sessions which would contribute towards Continuing Professional Development.
We're very aware that keeping up with techniques and updates can be a full time job in itself, so if there's any way that AMPS can contribute towards maintaining and developing your industry knowledge and skills, please get in touch.
AMPS Address & Phone Number
27 Old Gloucester Street
London
WC1N 3AX
Tel: +44 (0)1753 669111
AMPS, 27 Old Gloucester Street, London, WC1N 3AX
www.amps.net / +44 (0)1753 669111