We'd love for you to visit us at
Holden House 1902 Bed & Breakfast Inn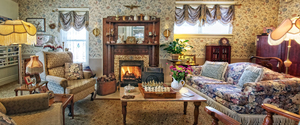 For our online information, visit
www.HoldenHouse.com
and feel free to call 888-565-3980 toll-free for more information.
Reservations can be made via phone or online at our website.
- Sallie and Welling Clark, Innkeepers
Check out our inn for a romantic getaway, business trip or fun vacation...
5 GREAT PIKES PEAK AND COLORADO SPRINGS AREA PLACES TO TAKE A HIKE!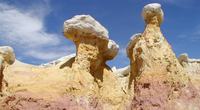 You don't have to venture far from the
Holden House'
front door to discover some out-of-the-way beautiful places to bond with nature in the Pikes Peak and Colorado Springs area. Here are some of our favorite picks that are sure to give you amazing opportunities to "take a hike"!
Read More About Our Amazing Trails and Open Spaces in the Pikes Peak Region...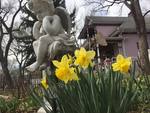 APRIL SHOWERS AND FLOWERS SPRING PACKAGE 2017 – Your special Spring break getaway for 2 or more nights Sunday through Thursday includes a complimentary breakfast ensuite Romance Package and a special bouquet of long-stemmed fresh roses to celebrate Springtime in the Rockies! More Information...
German Puff Pancakes with Spiced Apples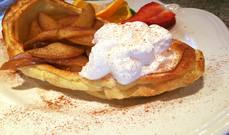 Serves 12 and can be adapted for less servings
You will need #12- 12 oz. individual soufflé/serving bowls (High temperature Oven-Proof)...
Ingredients: Egg Mixture
1 1/2 cups flour
1 1/2 cups milk
9 eggs
3 tsp. vanilla
Apple Mixture
7 medium apples (any variety
3/4 cup brown sugar
1 tsp. each cinnamon, nutmeg and ginger
1/2 cup mincemeat (dried condensed/canned)
4 tbs. butter/margarine
1/4 cup water
Extras...
12 pats of butter/margarine
Ground Nutmeg for garnish
Whipped Topping for garnish
12 sliced apple wedges for garnish
Directions: Whip milk, flour, eggs and vanilla. Set aside. Place pat of butter in each bowl. Preheat bowls in 400 degree oven for 10-15 minutes or until butter is popping hot. In the meantime, cut apples into chunks and place in frypan with butter. Cook for 15 minutes or until apples are moderately soft. Add a bit of water if apples become too dry while cooking. When cooked, add cinnamon, nutmeg, ginger, brown sugar and mincemeat to apples. Continue cooking another 5-10 minutes or until well mixed and hot. When butter in dishes is popping hot, add an even measurement of pancake batter to each dish. Turn up oven to 425 degrees for 10 minutes then back down to 400 for another 5 minutes or until pancakes are puffed up and slightly brown on edges. Remove from oven and carefully remove from dish onto a plate. Place an even measure of apples in center of each pancake. Top with dollop of whipped topping and sprinkle with fresh nutmeg. Place a wedge of apple on top as garnish and serve on a cloth doily on plate. Be careful, these are extremely hot! Can also be made in a large iron skillet and cut into wedges and served on a plate, if desired.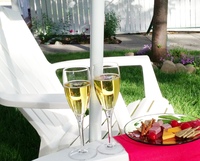 Whatever your reason, a stay at Holden House will make your visit to Colorado Springs special and see our website at:
www.HoldenHouse.com
for more information on the inn and our ongoing special offers. Reservations can be made by calling us toll free at 888-565-3980 or locally at 719-471-3980 from 9 a.m. to 9 p.m. daily, Mountain Standard Time or on-line 24 hours a day by visiting
www.HoldenHouse.com
Thanks again. We hope to hear from you soon,
Sallie and Welling Clark, Innkeepers
Heather, Tracy, and Jenny, Assistant Innkeepers
CELEBRATING OUR 31st ANNIVERSARY YEAR!
Read our Holden House Blog to hear all the latest news!
VOTED "BEST" BED AND BREAKFAST FOR ANNIVERSARY/HONEYMOON
and "BEST" FOR NEARBY ATTRACTIONS
BY ARRINGTON'S INN TRAVELER MAGAZINE
Holden House 1902 Bed & Breakfast Inn
"The Romance of the Past with the Comforts of Today"
Fireplaces-Tubs for Two-and More! AAA/Mobil Awards
1102 W. Pikes Peak Avenue, Colorado Springs, CO 80904
Reservation Lines: 719-471-3980 888-565-3980
Holden House offers great packages and specials

throughout the entire year.

Whether you are celebrating something special,

joining us for a holiday or looking for adventure,

we have a package for you!
1102 West Pikes Peak Avenue
Colorado Springs, Colorado 80904
719.471.3980 888.565.3980