DISCOUNT DEALS AND PACKAGES
It's Your Lucky Day at Holden House!
We're springing forward with great packages and discounts offered in March.
Our Victorian Value Discounts are available through March 2020 and we have some amazing money-saving deals. Your choice: Stay 2 nights and receive the 2nd night 1/2 price Sunday-Thursday or Stay 3 nights and receive the 3rd night FREE any days of the week.
You must #BookDirect through www.HoldenHouse.com or by calling us 888-565-3980 to save!
On March 17th, InnCat Mingtoy and official greeter celebrates her 12th birthday. Say "Happy Birthday to Mingtoy" when you make your #BookDirect reservation either at our official HoldenHouse.com website or by calling 719-471-3980 and receive a complimentary breakfast ensuite!
#BookDirect Now on our website or call Holden House directly to 888-565-3980 to speak to an innkeeper personally! Don't be fooled by Online Travel Agents (OTAs) like Expedia, Booking, etc. listings. You will actually save by booking directly through our Holden House official website at www.HoldenHouse.com Only then can you get the best rates and can take advantage of our great inn specials and packages.
No time to getaway in March? No Problem! Book a reservation or buy a Gift Certificate for a future date to celebrate! We've opened up our reservations for spring and summer through September so check availability and reserve your select suite.
---
READ OUR LATEST BLOG!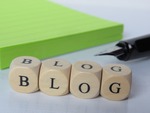 Foodies love small biz –
Holden House says eating local provides unique culinary choices
Traveling can be both fun and challenging, but out of the way small-business restaurants, shops and sites can help to make your vacation, business trip or getaway that much more relaxing. For guests staying at
Holden House 1902 Bed & Breakfast Inn
located in Colorado Springs, foodies will love the recommendations provided by innkeepers Welling and Sallie Clark and their knowledgeable assistant innkeepers during a stay... Read More...
---
INN THE KITCHEN WITH HOLDEN HOUSE!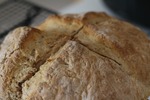 Irish Soda Bread with a twist!
There's nothing that adds to a traditional Corned Beef and Cabbage meal than Irish Soda Bread!
*Preheat Oven to 400 degrees
3/4 teaspon caraway seeds
Directions: Combine biscuit mix with sugar, salt, baking soda and baking powder. Blend, then add raisins, currants and caraway seeds. Mix until the raisins, currants and caraway seeds are coated with the biscuit mix. Stir in buttermilk to make a soft dough. Toss onto a lightly floured board, shape and pat into a well-greased and lightly floured deep round baking pan. The dough will be slightly sticky. Cut a gash on top of bread with a sharp knife. Bake in a 400 degree oven for 15 minutes. Reduce heat to 375 and continue to bake until golden brown. Cool a few minutes, then brush top of warn loaf with brandy or Irish whiskey (give it two coats). Return to oven for 5 minutes. Cool on a wire rack. Dust lightly with a little flour. When cool, slice thinly and serve with fresh sweet butter. This bread is best the day it's baked and can also be served slightly warm.
---
"Like & Follow Us"
---
EXCITING AREA EVENTS AND ACTIVITIES!
PARK YOURSELF HERE!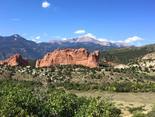 More Parks and Trail Information:
---
SPRING & SUMMER ARE JUST AROUND THE CORNER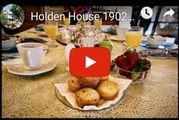 It's perfect timing to
book your stay for our busy season and reserve the suite of your choice. Book now to reserve! Check out our video tour of Holden House to see photos and more information about your lodging selections. Click here or on the video image.
Holden House offers great packages and specials

throughout the entire year.

Whether you are celebrating something special,

joining us for a holiday or looking for adventure,

we have a package for you!
1102 West Pikes Peak Avenue
Colorado Springs, Colorado 80904
719-471-3980 888-565-3980