Why not bookmark this AMPS Newsletter and read at your leisure!

All floor-stand and hanging mics are in place - JAMES students ready to record the RPO.
Photo courtesy of Nigel Jopson.

AMPS Newsletter October 2018
In this month's issue -
AMPS Awards Evening, Suggest your TV Drama, AMPS member Emmy winners,  Dates for your Diary, Source-Connect event, Sennheiser Training Day invitation, new members,  report from AMPS Golf Day, Hearing Dogs cheque presentation, JAMES students record the Royal Philharmonic Orchestra, The Farm opens in Manchester, 'Return to Work' scheme, AIR Studios sold, the house in a tree.
APMS Awards Presentation Evening 25 October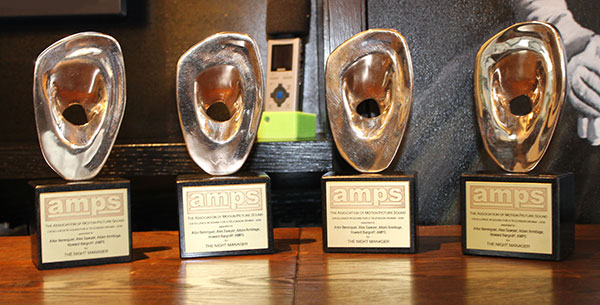 It's time to remind all members about our Awards Presentation Evening at 7pm on Thursday 25 October in The Lounge at Twickenham Studios.
We will be celebrating the Television Drama Awards and presenting the prestigious AMPS Trophies to the winners: John Rodda, Matthew Skelding, Kenny Clark and Tim Cavagin for
Black Mirror : USS Callister
. This is Tim's second AMPS award this year, he was recognised in the team that won the AMPS Award for Excellence in Sound for a Feature Film earlier in the year for
Baby Driver
. Double congratulations to Tim and the Post Production team at Twickenham.
In addition to the prestigious cast bronze trophies for the winners, we will be presenting the Television Drama Nomination Certificates, as well as AMPS Certificates of Merit to the creative crew members who contributed to the winning soundtrack. An exciting evening to celebrate Excellence in Sound as judged by fellow sound professionals : the voting members of AMPS.
Space is limited, so be sure to RSVP to
admin@amps.net
by 15 October to secure places for you and a guest.
AMPS Awards are sponsored by -

Submit your Suggestions for the 6th AMPS
TV Drama Award

Also, don't forget to submit titles for any Television Dramas that you consider worthy of inclusion in next year's awards. You can enter shows you have worked on that you are particularly proud of, or dramas you have viewed with soundtracks that impressed you.
This link takes you straight to the form on the website.
You can enter titles of single dramas, drama series or particular episodes of a series. There is no limit to your submissions, and it is not a secret - discuss possible eligible soundtracks with your colleagues and friends! All eligible titles will be included in the ballot for Nominations.

AMPS Awards are the only IMDb recognised annual Sound Awards for Film and Television decided by solely peers, and honour creative professionals in each area  (production mixing, sound editing and re-recording). Our awards and attendant publicity play a vital role in promoting The Association internationally, and highlight the invaluable contribution that good sound brings to any visual media.

Support your awards - join us with a guest at the celebration Awards Evening - register your chosen titles for next year.
AMPS Achieves Largest Membership
AMPS Chairman Rob Walker writes, "In recent years AMPS has been reaching out to be more inclusive of sound professionals across the industry and now has over 500 members, its highest total ever.
This brings many more people together through our events and online connections and demonstrates our commitment to engaging with all who meet the requirements of membership
I look forwarding to meeting many of you in the future and am always interested to hear your views and ideas." Get in touch via
admin@amps.net
AMPS Members Collect Emmys
AMPS members Ronan Hill and Richard Dyer have won another Primetime Emmy for their work as Production Sound Mixers on Game of Thrones Season 7 Beyond the Wall.

They collected the award for Outstanding Sound Mixing (1 hour) at the Creative Awards ceremony in Los Angeles on Saturday 8th September.

This is Ronan's fourth and Richards third Emmy win for the show. Congratulations!
AMPS SOCIALS
Bristol Social - Thursday 25 October
The Robin Hood, 56 St Michaels Hill, Bristol, BS2 8DX - from 7.00pm.
STAR ATTRACTION! We are delighted that we will have Rich Hall from Rycote in attendance. Rich will be bringing Rycote's new PCS-Boom (Quick release) for people to take a look at and will also try to answer any questions on the night about all things Rycote. So if you'd like to see this long-anticipated product close up or if you have any Rycote-related queries, please do come along.
There's a wide range of interesting beers (other drinks are available) and the kitchen is open until 21:00. We hope to see you there - please contact
andrewwilson@amps.net
if you need more information.
This is the place to meet up with other AMPS members and like-minded people!
London Social - First Tuesday in every month
Make sure that you attend the AMPS Social at the De Lane Lea bar in Dean Street on the first Tuesday of every month - be social with your AMPS members! The first Tuesday in every month - 6.00pm.
Not in Bristol, Manchester, London…

Andrew Wilson reports, "Very pleased with AMPS 'Social' progress across the UK. If anyone elsewhere in the country would like to get something going in their region please let me know and I'll get you started. I'll do the admin and emails, we just need someone local to host!"
All events are open to AMPS members and guests. They are a great chance to put faces to names, to network and to chat. It's a rare opportunity for production sound and post sound folk to get together… plus there's beer and food.
Source Connect Event

Monday 15 October 2018
Goldcrest, Lexington St., London
See below for more information.
*Unfortunately, this event is now sold out, but register with
admin@amps.net
to put your name on the reserve list.*
Sennheiser Sound Academy Training Roadshow

Tuesday 30 October 2018
Free attendance. See below for more information.
Source-Connect Event - Monday 15 October
AMPS are proud to host a Source-Connect event led by Rebekah Wilson from Source Elements.
A critical part of working means understanding the underlying basics of the network and what the core principles are of remote recording.
This event will take place at Goldcrest Post Production, Lexington Street, London. The event will start promptly at 7:00pm on 15 October, but people are welcome to arrive from 6:30pm.
*Unfortunately, this event is now sold out, but register with
admin@amps.net
to put your name on the reserve list.*
Sennheiser Sound Academy Training Day
Sennheiser have offered AMPS members the final few spaces in their Pro Audio Solutions RF and Product Training Roadshow in London. There is no cost to attend.
New AMPS Member No. 1 - Guntis Sics

I am an australian born of latvian parents in sydney. My official sound career began at the ABC, but in the years leading up to that I played in bands, mixed for bands and generally involved myself in either music or audio. The ABC gave me the opportunity to immerse myself in film recording and I worked my way up the ladder from assistant to mixing, from news and current affairs, through documentaries and finally drama. After a decade I decided to go freelance and began to record feature films. I love the technology, the logistics and the camaraderie of filmmaking, but also the adventure of it.
New AMPS Member No. 2 - Matt Waites

I started in music production but found my calling in sound for picture, combining my love of film, technical skill and creativity with audio. Over the past seven years I've collected a range of credits from comedy, drama and fast turn-around documentary to feature film. In 2015, my work took me to the BAFTA Craft Awards as part of the sound team on ITV's Cilla. Recently, I was a Music and Sound Awards finalist for sound design on the short film War Paint, recent credits include sound design on Teen Spirit and FX editing on Slaughterhouse Rulez.
Report from AMPS Golf Day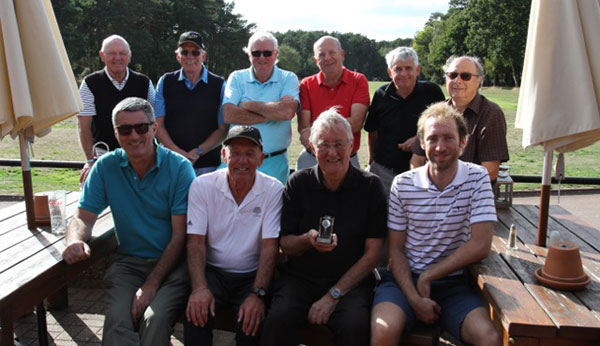 Back on Sunday 9 September, AMPS held another of its popular Golf Days, David Stephenson reports -
"There is always good and sometimes not so good moments in a game of golf. The not so good was a text on the morning of the tournament from Lloyd Dudley to say he could not make the game. He had been on a night shoot which had over-run. He had not got home until five that morning. Apparently he was standing in for Chris Munro who also could not make the day because he had to go to Prague for a recce on his latest project. Nice to know there is plenty of work around this year.

The good news was at least two players managed to get an extra bacon roll before the start. Although short of a few players we still managed to play some fun golf.

This years nearest the pin prize was won with a great shot by Andrew Simmons. The pin was placed within a foot of a considerable drop into a deep bunker, disaster for most of us. The longest drive was also won by Andrew; 270 yards and more.

The overall 2018 Winner with 46 points was Mike Tucker. Must have been the extra bacon buttie.Well done to both winners Mike and Andrew."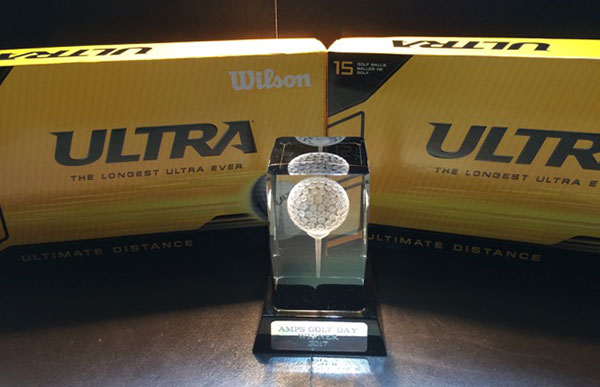 AMPS Presents Cheque to Hearing Dogs Trust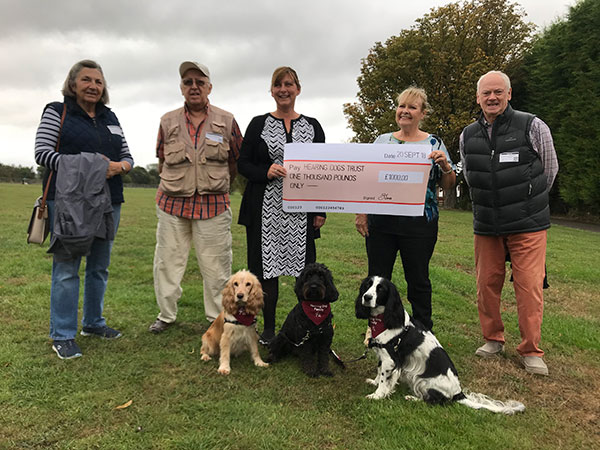 Lawrie Read reports -
Seven AMPS members accepted an invitation to an afternoon at the Hearing Dogs headquarters in Saunderton, Buckinghamshire on the 20th September to present a cheque to them from the donations received from our membership over the past twelve months. It was a very interesting and informative day out.
We witnessed the results of many months training of the dogs before they were selectively paired with the new owners. They use three breeds of dog, Poodles because of their intelligence, Cockapoos because they are generally docile and Labradors because of the caring nature. The facilities at the site are modern and wonderful, including a new restaurant open 7 days a week.
They always welcome visitors and for just £3 a month you can sponsor a puppy. The puppy you sponsor today will grow to become a hearing dog that helps a deaf person, by alerting them to important sounds such as the doorbell, and life-saving sounds such as the fire alarm.
As importantly however, it will be their constant companion, helping a deaf person regain the confidence to reconnect with friends, family, their community… with life.
JAMES Students Record the Royal Philharmonic Orchestra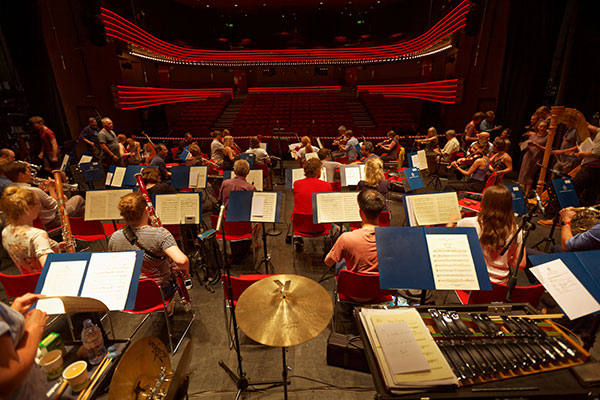 AMPS has been a long-time supporter/associate member of JAMES (Joint Audio Media Education Support) who recently held a unique Summer Course - the JAMES Orchestral Recording Sessions.
Based on the proven format of the Gus Dudgeon Foundation and JAMES Summer Course, students from JAMES accredited UK university courses were selected to work with industry professionals, in order to experience the recording and mixing process in a real-life situation — recording the Royal Philharmonic Orchestra's performance at The Orchard Theatre, Dartford.

The five-day course began with two days of orchestral recording preparation at the University of Suffolk, one day recording the rehearsal and concert of the Suffolk Philharmonic Orchestra at The Apex, Bury St Edmunds, one day recording the RPO and a subsequent day back at the University at West Suffolk College mixing the recordings.
An article written by Resolution magazine is also available to read on the above web page.
The Farm Opens in Manchester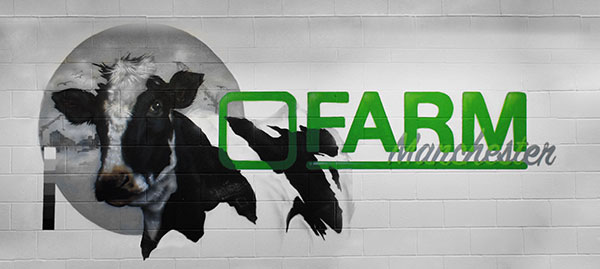 The post-production group's new state of the art facility to opened in early October 2018, in the heart of Manchester's city centre.
Following the announcement, in December 2017, of the Farm Group's plans to open a state of the art facility in central Manchester, it is now known that it will be based on the first floor of the ABC Buildings, part of Allied London's new cluster for creative, tech and digital industries, Enterprise City.

Connected to the Farms in London, Bristol and LA with dedicated high-speed circuits, all offline, online, grade, vfx and audio facilities, including a 40-seat screening theatre, are housed on a single 25,000 sq ft floor. The facility will be fully 4K/UHD SDR/HDR & Dolby Vision capable, as well as offering Dolby Atmos. Farm Manchester clients will also enjoy a fabulous roof terrace above the facility.
Paul Austin, MD of Farm Manchester, "Farm Manchester is going to change the creative landscape immeasurably. We want to give the current established creative heroes in the North West the environment and tools to deliver quality global content, and tomorrow's stars a place to learn their craft and grow."
'Return to Work' Scheme Launched by Film London
Film London say - We are delighted to announce our new Return to Work Scheme for the Post and VFX sector for High End TV, with funding from ScreenSkills HETV Levy Fund.
 
We are looking for eight parents/carers who have had a career break and who are looking to return to work in the Post and VFX Sector. The scheme includes retraining sessions, industry roundtables as well as a Returnship at leading Post and VFX companies including Milk VFX, The Farm, Molinare, DNEG, Blue Bolt, Outpost and Freefolk.
 
We are particularly looking for people who have had experience in the following roles: Production coordinators, production managers, post supervisors, post coordinators, VFX Supervisors, Compositors, Concept artists, VFX producers, Roto artists, Matte artists, Digital prep (Paint/prep artists), Finance and Sales.
 
This is a nationwide scheme so we welcome applications from across the UK.
AIR Studios London Sold to Russian Investor
It has recently been confirmed that AIR Studios, London has been sold, the new owner has not been officially announced, but has been named by the Financial Times as Maxim Demin, a Russian businessman who has owned British Premier League soccer club Bournemouth since 2013. Demin likes to keep a low profile, and does not give press interviews. The Swiss-based tycoon held an executive position at Russian oil and gas company Tasneft as well as part-owning Zenit Bank.

In an interview with a Hampstead local newspaper, AIR co-owner Paul Woolf said, "We had 25 people interested, and two who were serious. He turned up to look around and he really liked it and wanted to buy it. Our whole thing was about handing on the baton to the right person. We wanted somebody committed to the studio and passionate about music, and he fitted that criteria."
The House Built Around a Tree
Not quite the tree house I remember as a boy!
A house that blends into the forest. The creator of the architectural firm A.Mason Architects and A.Masow Design Studio created the project "Tree in the house", a house built around a tree. "We want to make it clear that it is not necessary to destroy half a hectare of forest to build a small house for a family," says Aibek Almassov.
Did you know that the Directory pages on the AMPS website are some of the most frequently visited?

 

Make sure that your profile is up to date - you never know where your next work enquiry will come from!

 

 
Can we help with your Professional Development?
We're keen to hear from you with ideas for seminars and training sessions which would contribute towards Continuing Professional Development.
We're very aware that keeping up with techniques and updates can be a full time job in itself, so if there's any way that AMPS can contribute towards maintaining and developing your industry knowledge and skills, please get in touch.
AMPS Address & Phone Number
27 Old Gloucester Street
London
WC1N 3AX
Tel: +44 (0)1753 669111
AMPS, 27 Old Gloucester Street, London, WC1N 3AX
www.amps.net / +44 (0)1753 669111