Why not bookmark this AMPS Newsletter and read at your leisure!

Bugsy Malone directed by Alan Parker - remembered by Eddy Joseph
Image courtesy of Allstar/Tristar

AMPS Newsletter August 2020

In this month's issue - AMPS Tech Awards nominations, AMPS Change Survey, Revision to Film/TV credits, Coronavirus resources, AMPS podcasts, Women in Audio book, Facebook group name change, Factual and Technical ballots open, Ambient Socialisation, AMPS virtual socials, Twickenham TW1 Studios re-opens, new members, Ken Nightingall, Alan Parker, 68 bits of advice, flamenco guitar.

AMPS Announces Tech Category Nominees for
7th Annual Awards 2020

AMPS has announced the following nominees for Excellence in a Production Hardware or Software Audio Product and Excellence in a Post Production Hardware or Software Audio Product in its 7th Annual AMPS Awards.

Excellence in a Production Hardware or Software Audio Product:
Aaton - Hydra radio mic interface
Lectrosonics - D Sqd 4 channel digital radio mic receiver
Schoeps - CMC-1 microphone pre-amplifier
Sound Devices - Scorpio mixer, recorder
Zaxcom - Nova integrated mixer, recorder & radio mic receivers
Zoom - F6 mixer, recorder

Excellence in a Post-Production Hardware or Software Audio Product:
Dear Reality - dearVR SPATIAL CONNECT
Harpex - Harpex
iZotope - Dialogue Match
Kraken Software - Dialogue Editor's Toolkit
Sound Particles - Sound Particles 2.0
Synchro Arts - Revoice Pro 4.2

John Rodda, who is an accomplished feature film and television production sound mixer, leads the Technical Awards group within AMPS who recognise the manufacturers and products nominated. Commenting on the 2020 nominations, Rodda said, "It's a huge pleasure to to lead this group and my grateful thanks go to our adjudicators and fellow members Andrew Wilson, Simon Hayter and Roger Slater. This year, we've split the awards for the first time so we now award certificates to winning products in both production and post-production. Our members have put forward a fantastic field of nominees and selecting the two winning products will be a tough decision but all nominees deserve our congratulations for their technical excellence."

The AMPS Awards are sponsored by Dolby, Sennheiser and Twickenham Studios.

AMPS Change Survey Positive Moves Ahead

AMPS recently created a 'Change Committee' to make recommendations to council about how we can move forward as an association. A key part of this is looking at who we are, and how we can encourage diversity in our association.
The recent Members Survey will provide a snapshot of AMPS in July 2020 and we will share the data with you all soon. There is a lot we can learn; we welcome your input, and any feedback you have can be sent to:
change@amps.net
Rob Walker
Sound Community Urges Revision to Credits

AMPS have been working with MPSE and CAS to promote fairer credits for the key sound personnel on feature films. Our joint open letter to the industry explains why.
We encourage those working on feature films to point producers to this letter as a standard reference for how you should be credited.
AMPS Podcasts Grow and Grow

Along with numerous exisiting 'industry' videos, a recent addition to the AMPS A/V section of the website is an increasing number of podcasts.

 

Kicking off with a two-parter from Peter Albrechtsen discussing his Oscar-nominated The Cave, we move on to a talk with the 1917 sound production team, then onto a discussion of different approaches in recording actors remotely and safely with social distancing in place. Next is a chat with Al Sirkett and his Ambient Isolation project and finally (at the moment!), an interview with Leslie Gaston-Bird AMPS MPSE. I think there is something there for everyone!

 

Please note: You have to be logged into the Members Area to access the audio and video files on the Library A/V webpage.

 
All these Podcasts are readily available on AMPS Soundcloud page -
Eddy Joseph Remembers Alan Parker CBE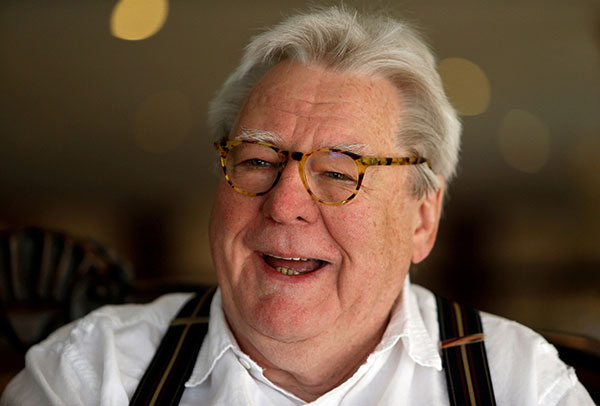 This will be personal. We worked together (yes he was the boss, but when he knew and, I think, trusted you he would encourage co-operation) from 1975 to 2002 from the trailer of Bugsy Malone to the TV Version of Life of David Gale. I met him at Cherrills's (Goldcrest) in Dean Street in 1975 right at the end of Bugsy Malone. Gerry Hambling had gone from editing many versions of Moses the Lawgiver to Pinewood to edit Bugsy Malone and had returned to Cherrill's to resume cutting commercials. Roger Cherrill and Barry Chattington had paired Gerry with Alan as a 'safe pair of hands' and how right they were. I had worked for Les Hodgson on Moses when I met Gerry and when he left, I produced the final TV and feature versions as Sound Editor.
Gerry, on his return to Soho, needed an assistant for commercials and I needed work so Roger put us together. I met Alan (and Alan Marshall his amazing producer) on, firstly, the trailer for Bugsy Malone and then on a series of excellent commercials all cut superbly by Gerry and directed, with panache by Alan. To be honest, Alan frightened me! He was so quick witted, perceptive, and obviously far more worldly than I was though only one year older. He had been the youngest copywriter at CDP where he met David Puttnam, Charles Saatchi, Ridley Scott, Hugh Hudson, Alan Marshall and many more. He had written the screenplay for Melody (S.W.A.L.K.), directed a Jack Rosenthal scripted TV play, The Evacuees and a feature! What had I done?
In 1977 Gerry was offered Midnight Express by Alan and asked me to assist him. This meant going on location to Malta for nine weeks and taking a load of Moviolas and synchronisers, horses and joiners with us. Malta was a great experience for me as I saw Alan at work encouraging, chiding and producing great work from both the actors and the crew. I realised then how clever and knowledgeable Alan was with music. How inspirational it was to get Giorgio Moroder to score the film and also to utilise Turkish music to heighten the chase sequence near the start. He understood how sound could influence emotion and was never afraid to use it for that purpose. That film, of course, was a great success and allowed him to choose his next project, Fame. How different that was but it combined Alan's love of music and Gerry's incredible cutting to it. I was even allowed to assemble some scenes including the 'Dogs in the Yard' sequence. Alan always encouraging me.
Then there was Shoot the Moon. This was to be shot entirely in California and Gerry would have American assistants who would return with him, so no job for me. I was quietly devastated but then Alan Marshall called me from San Francisco to say that Alan P. had asked if I would like to be the Sound Editor on it! How brave of him was that. Yes I had had a little experience in Sound Editing but to trust me with a major feature. That led to Pink Floyd The Wall for which I was so lucky to be part of a BAFTA winning team.
In the fallow period leading up to Birdy, which was over two years, the Alans fed me with enough tidbits to keep me and my family going. On Birdy, although we did have a massive row that lasted for weeks, I was able to become more creative; something that was always encouraged by Alan. I loved that film and how brave was Alan asking Peter Gabriel to do the score. Angel Heart in 1986 was a turning point as, after it, Alan moved to Los Angeles but it was the first real Sound Design film I had done. We were on location in Billancourt on the outskirts of Paris and Alan had installed a Steenbeck flatbed machine in an anteroom of my cutting room. Here he was to play music against Gerry's cut reel to see how it would work. He would audition cassettes and c.d.s and, if he thought something might work, would get me to transfer it to 35mm magnetic that he could try with picture. In that way he created a 'tool kit' of possible music cues. This was then something he would do on every film. Gradually we built up picture, music and sound so that we could temp mix our way reel by reel through the film. By the time Gerry had completed the last reel we were ready to screen the whole film with reasonably good sound.
Alan wanted Ennio Morricone to score Angel Heart so invited him to Paris to screen the movie. We all waited for the maestro to appear from the screening room. "Well, Ennio, what did you think?", Alan asked. "Alan, I like your film but you don't need me as you have already scored it!" And left. We finished our mix at Warner Hollywood and Alan so enjoyed the experience that he never finalled in the UK again. As I said, Alan then moved to Hollywood and we lost contact as his next two films Mississippi Burning and Come See the Paradise were shot and posted in America. We did meet from time to time but it wasn't until 1990 when I got a call from David Wimbury, Alan's Co-Producer (Alan P. and Alan Marshall had gone their separate ways after Angel Heart) to ask if I was free to work on The Commitments. I was. Most of the post was to be in Alan's offices on Sunset Boulevard. That was the most fun and really showed his ability with music. Of course, Gerry's editing was a huge part of it. In fact Gerry cut every feature film that Alan directed. But that was what Alan was so good at, getting a competent team together and making it create more than the individual talents. How many awards and nominations were received for 'craft'?

I couldn't do The Road to Wellville as I had already agreed to work on a Neil Jordan film but was happy to be asked to be on Evita. Some years later I was on his last film The Life of David Gale in 2002. He should have made more films but stumbled against there being either not enough money to make them properly or difficult producers.

His strengths were his ability to tell the story, to choose a good subject (no two films were the same), to cast perfectly and never to stint on what needed to be done.

He gave me a piece of advice many years ago. You must do something creative every day. This might mean (in his case) a letter heading for the movie's notepaper or a cartoon or sketch (he was brilliant and ascerbic at that).

He was the only director that would regularly send me scripts to read and, I believe, valued my opinion. He loved sound but would not interfere. He knew that his 'tool kit', would get it right.

I loved working for him and I miss him and his brilliant films so much.

Thank you Alan for everything, rest in peace.
Women in Audio - Leslie Gaston-Bird

 

If you listen to episode six of the AMPS Podcasts, Leslie Gaston-Bird talks a little about her book Women in Audio. Here's a few words from publisher Routledge.

 

Women in Audio features almost 100 profiles and stories of audio engineers who are women and have achieved success throughout the history of the trade. Beginning with a historical view, the book covers the achievements of women in various audio professions and then focuses on organizations that support and train women and girls in the industry.
What follows are eight chapters divided by discipline, highlighting accomplished women in various audio fields: radio; sound for film and television; music recording and electronic music; hardware and software design; acoustics; live sound and sound for theater; education; audio for games, virtual reality, augmented reality, and mixed reality, as well as immersive sound.

Women in Audio is a valuable resource for professionals, educators, and students looking to gain insight into the careers of trailblazing women in audio-related fields and represents required reading for those looking to add diversity to their music technology programs.
Change of Name for AMPS Members Facebook Group

Here's a quick reminder that the AMPS Members Facebook group page has been renamed 'AMPS Connected' and already has almost 300 members!
This group is exclusively for members of the Association of Motion Picture Sound - join up now!
Ambient Isolation Evolves into Ambient Socialisation

AMPS' Al Sirkett has had a great deal of contributors for his Ambient Isolation project; encouraged by this success, Ambient Socialisation is now live.
He says, "As we move on to the next stage of the pandemic, the one I'm personally calling, 'It's not over yet, don't be an idiot', the next crowd-sourced library is called Ambient Socialisation… no prizes for spotting the pattern."
Go to
www.ambientisolation.com
to hear the 'Isolation' contributions and also to learn more and get involved with the 'Socialisation' project.
Twickenham Studios Re-Opens Under New Management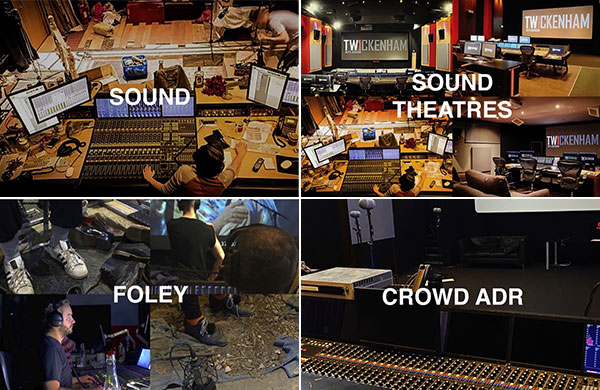 TW1 (Twickenham Studios), who are sponsors of the annual AMPS Awards, has now fully re-opened for business with Covid-19 measures in place. Since two of London's top TV and advertising tycoons Piers Read and Jeremy Rainbird acquired the heritage studios in February 2020, they have been working tirelessly with Co-Owner and Chairman Sunny Vohra, CFO Roger Sewell and Finance Director Sanjay Nagpal to navigate the business through the Covid-19 pandemic.
With the recent launch of its brand new TW1 TV Studios, a number of projects already on-site and a fresh focus on its multi award-winning SOUND department, its post-pandemic future under the new management looks bright.

Twickenham has long enjoyed its reputation as a leading audio post production facility and recent refurbishment and expansion, coupled with its award-winning sound talent pool, has helped uphold that. As Head of Sound Post, Vivien Jordan leads a passionate and dedicated TW1 team of sound talent which includes Re-recording Mixer Tim Cavagin who was part of the Oscar and BAFTA award-winning team who received Best Sound for Bohemian Rhapsody in 2019.
Other key talent in the TW1 team includes Re-recording Mixers Craig Irving and Max Walsh, ADR/Foley Mixers Adam Mendez and Sophia Hardiman, Foley Artist Oliver Ferris, Sound Mix Technician/Re-recording Mixer Will Miller and Sound Mix Technicians Harry Jones and Rob Davidson.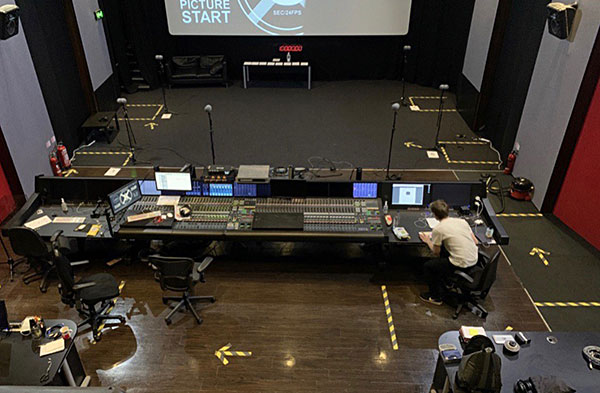 Virtual Dates for your Diary
AMPS Virtual Socials

We have extended the run of the weekly online social for another eight weeks. The link has changed - see details below. You'll need the link or meeting ID and the password, and for security there may be a short delay before the host can admit you to the session.

It's all very informal, with chat on all sorts of topics (not just sound!) Recent weeks have had some interesting sound-technique questions asked and a great sharing of thoughts on how to get the desired results. It's also an opportunity for production sound and post-production sound people to actually be in direct conversation - something which we can all benefit from! Don't be shy - pop in for a natter.
Every Thursday evening at 20.00 BST throughout August and September -
August 6, 13, 20, 27
September 3, 10, 17, 24
Join the Zoom Meeting:
https://us02web.zoom.us/j/83855443901…
Meeting ID: 838 5544 3901
Passcode: Social
All events are open to AMPS members and guests. They are a great chance to put faces to names, to network and to chat. It's a rare opportunity for production sound and post sound folk to get together… plus there's beer and food. Of course, you supply that!
New AMPS Member No. 1: Allison Declerq-Matthas
My name is Allison Declercq-Matthas and I'm based in Central Scotland.

My recent work is as a Sound Mixer for commercial jobs and shorts, but I'm aiming for 2nd SA work in larger productions.

 

 

To sum up my passion for sound; I once dazzled a director by talking about how different placements of a teacup on a saucer can communicate dozens of different emotions. I'd like to thank everyone who's already made me feel welcome in this community. I can't wait to see what else I can learn from you all!

 

 
New AMPS Member No. 2: Nils Gradlowsky
I'm an aspiring Sound Designer/ Editor based in Edinburgh and currently studying towards my undergraduate degree in Sound Design at Edinburgh Napier University.

 

Before that I worked as a 1st/2nd Assistant Sound and Production Sound Mixer on international projects from my home country Germany. I'm always listening around for inspiring sounds to invoke emotions and create new worlds in my projects and always keen to meet new people and on the lookout for new challenges.

 

I look forward to connect with the AMPS members and learn from their inspirational work.

 


Film Sound Legend Ken Nightingall Passes Away at 92

AMPS is sad to announce the passing of legendary film industry boom operator, KEN NIGHTINGALL, known to a whole new generation of Star Wars fans as 'Pink Shorts Boom Guy' after working on the original Star Wars, which went on to receive an Academy Award for Best Sound. Ken passed away at his home in the UK on 19th May at the age of 92.

 

Ken is a veteran of the international film industry and highlights in his long and distinguished career include Alfie and Funeral In Berlin with Michael Caine, The Boys From Brazil with Gregory Peck, Laurence Olivier and James Mason, and the James Bond films For Your Eyes Only, Octopussy, A View To A Kill and The Living Daylights.

 

Die-hard Star Wars fans and participants in the cosplay phenomenon, elevated Ken to icon status, dubbing him 'Pink Shorts Boom Guy' (see below image), after a behind-the-scenes still of Ken appeared online, featuring him on location working in the blistering heat of Tunisia during production of the original Star Wars in 1977.


 
Image above: Ken Nightingall and his wife Rose are photographed on their way to Buckingham Palace in July 1979. Following the success of 1977's Episode IV: A New Hope, some Star Wars crew members were invited to visit the Royal Family. Image courtesy of Terence Nightingall.
Academy Award-winning sound mixer, Chris Munro paid tribute to Ken, "I first met Ken when I entered the industry over 50 years ago. He was immensely supportive of me as I carved my early career as a young sound mixer. 'Legend' is the word that springs to mind when I try to describe him. He will be sadly missed by our film community but his is a life and career that should be celebrated. Our thoughts are with his family at this sad time."
Image courtesy of Darrin Zammit Lupi / Reuters
68 Bits of Advice… from a 68 Year Old

The Art of Making… a Flamenco Guitar

Did you know that the Directory pages on the AMPS website are some of the most frequently visited?

 

Make sure that your profile is up to date - you never know where your next work enquiry will come from!

 

 
Can we help with your Professional Development?
We're keen to hear from you with ideas for seminars and training sessions which would contribute towards Continuing Professional Development.
We're very aware that keeping up with techniques and updates can be a full time job in itself, so if there's any way that AMPS can contribute towards maintaining and developing your industry knowledge and skills, please get in touch.
AMPS Address & Phone Number
27 Old Gloucester Street
London
WC1N 3AX
Tel: +44 (0)1753 669111
AMPS, 27 Old Gloucester Street, London, WC1N 3AX
www.amps.net / +44 (0)1753 669111