Happy Christmas Eve
Merry Christmas
A Prosperous New Year!
On behalf of everyone at Holden House and the Clark home, we wish you the joys of the season.
Thank you for sharing your memories with us as family, friends and B&B guests.
- Sallie & Welling Clark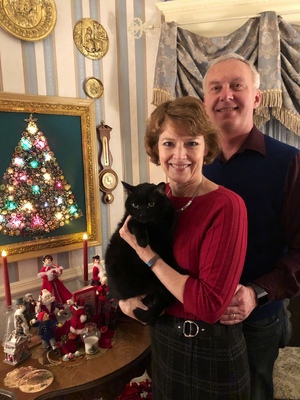 ---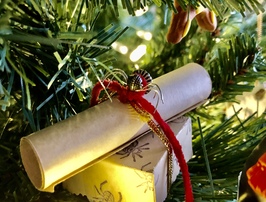 Holden House Blog - CHRISTMAS LEGENDS:
The Legend of the Christmas Spider - It's a tale that spins a heartwarming silvery web...
Enjoy reading a special Christmas Legend on our Blog: The Legend of the Christmas Spider. You'll be enchanted by this amazing story.
Once upon a time, long ago, a gently mother was busily cleaning the house for the most wonderful day of the year, the day on which the Christ Child came to bless the house. Not a speck of dust was left, even the spiders had been banished from their cozy corner in the ceiling to avoid the housewife's busy cleaning. They finally fled to the farthest corner of the attic.
Read more...
---
GETAWAY TO ROMANCE AND RELAXATION...
Colorado Springs' Holden House 1902 Bed & Breakfast Inn has extended our Getaway Discount Specials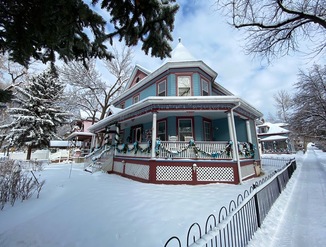 through January 2020. Reservations must be booked directly through our website or by calling the inn at 888-565-3980 to speak personally to an innkeeper. These specials are not available when booked through 3rd party Online Travel Agencies (OTAs such as Expedia, Booking.com, etc.).
- Stay 3 Get 3rd Night FREE any days of the week through January 31, 2020.
- Stay 2 Get 2nd Night 1/2 Price (50% off 2nd night) when you stay Sunday-Thursday through January 30, 2020.
*Full amount of stay required when booking, non-refundable and cannot be applied to existing reservations or reservation changes. Must be mentioned at time of booking and booked directly through our official Holden House website or by calling 888-565-3980. Plan ahead for February and the month of Valentine's Day!
For ideas on what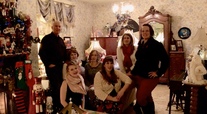 to see and do in the area, check out
www.VisitCOS.com
Visit our Holden House Events page or Peak Radar for more ideas on current and upcoming area happenings!
Wishing you the best of the season... Heather, Tracy, Connie, Jenny, Miriam,
Sallie & Welling and of course, Mingtoy, the InnCat!
Southwestern Eggs Fiesta (watch our step-by-step Video)
Ingredients: Needed: 12
Individual Soufflé' Dishes (5- 8 oz.)
12 oz. Cheddar Cheese (1 oz. per person)
Cooked and Crumbled Bacon or Ham Chunks
Mild Picante Sauce for topping
6 Snack Size Flour Tortillas (1 tortilla/2 persons)
Cilantro (fresh if available)
Directions:

Well grease soufflé' dishes with non stick spray and break two eggs into each dish. Slice tortillas in half and place in dishes with flat edge down and outside eggs to form a U shape around outer edge of dish. Wrap tortilla with small piece of foil to prevent shell from
burning. Top with 1 oz. slice of cheddar cheese and
crumbled bacon or bacon bits & sprinkle with a dash of cilantro.
Temp. and Time:

Bake at 375 degrees for 30 minutes or until eggs are done, cheese is melted and tortilla is slightly brown. Remove foil. Top with a dab of sour cream and tsp. of picante sauce. Sprinkle a dash of cilantro on top and serve on a plate. Garnish with additional parsley if desired.
Whether you're celeb

rating something special,

joining us for a holiday vacation or looking for adventure,

Romance Package with Breakfast EnSuite

Couples Massage at the Inn

Ducky Bubbles an

d Breakfast

Buy anytime through December for $150 or more and your gift recipient will receive a free breakfast ensuite Romance Package!
1102 West Pikes Peak Avenue
Colorado Springs, Colorado 80904
719.471.3980 888.565.3980
Join Holden House on Social Media!