What is included in this email:
Monarch Related Activity

More RBD, More input needed - Meeting Tonight at 7pm!

Update from Hoboken Police Chief Ken Ferrante

Constructive Resolution on Nixel-Gate

MONARCH
I received several inquiries on Monday about observed construction activity on the Monarch site. Namely that there were a couple of small backhoes that seemed to be removing trees and moving some dirt. I reached out to the City and was told that in January 2018, over a year ago, Shipyard "pulled permits" to begin (only) restoration of the pier. This came as a total shock to me and many others who have been closely involved with this, including Fund for a Better Waterfront and other City Council members. I know that the mayor continues to actively work with the owners to try to find a solution that would stop Applied / Ironstate from building on the waterfront. Given the timing of the activity, and that the DEP usually restricts any water work between March and June, I am hopeful that this is only a "shot across the bow" and more meant to encourage settlement discussions while continuing to threaten building. As I mentioned before, in January the City Council passed a resolution for a contract with an appraiser to do an economic valuation of the site as well as a City owned property (DPW site) that will hopefully help facilitate settlement discussions. I am told the mayor will be sending out an update to residents.

RBD - MORE AREAS, MORE INPUT NEEDED!
Tonight is the next design meeting for another part of the Rebuild Design Project on the north end - Zone 3.
This is the area that begins at 15th and Garden, and works its way South through the alley behind the parking garage continuing across Bloomfield and then turns onto Washington St. running past Soul Cycle, crossing 14th near Madison, and ending mid-block just past Bin 14. Different than Zone 2, which is a park, this will be more of an urban type design weaving through and around buildings so please come out and see what they are proposing!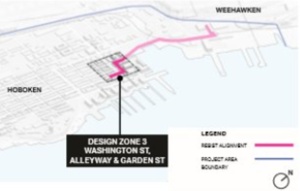 Thank you to those who came out last week to participate in the design for the new park at 15th and Park – we had about 40 people on Monday and then had about 70 people on Thursday!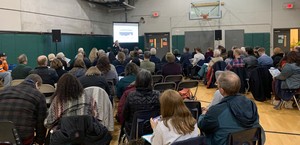 I have invited the RBD team to present the ideas for the park at the City Council meeting on the 20th, so if you didn't get a chance to attend one of last week's meeting, you can come or tune in into the Council meeting. I will let people know once this is confirmed.
In the interim, although the DEP/AECOM project team's preference is for feedback on forms provided that night, I would still encourage you to email the DEP with your feedback on the three designs below at rbd-hudsonriver@dep.nj.gov. I would ask again that you consider providing the following in your feedback as I mentioned in
my email last week
:
Safety -

Not having a main entrance be at the corner of 15th and Park and providing fencing all along 15th and Park to provide a physical separation between the park and two main thoroughfares (think Central Park).

More open green space –

Much of the feedback received was that the designs do not provide enough green space, have too much little used plaza (concrete) space and in particular do not preserve the current uses of the park.

Cost to maintain

–

Design the park to be both beautiful, but easy and cost effective to maintain.
The design team has already been taking in this feedback and one of the project's leads said to me that they were thrilled that so many people came out and didn't care what the feedback was, but was just happy to get so much input!
More voices definitely matter! I do want to give credit to them and say that I think they have done an amazing job getting to this point, and have to date tried to incorporate public feedback into their designs. So I am confident that further feedback will take this to a great outcome for Hoboken.
Meadow - meandering path up and over a hill that hides the structure. Least complicated design.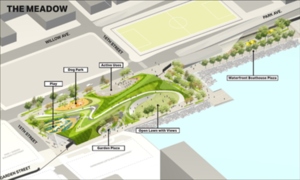 Ridge - a path to an elevated walkway/plateau with a shade structure; includes a ridge/wall that gives the look and feel of the palisades.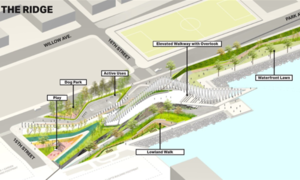 Bloom - a collection of distinct areas in a bloom design with a lot of concrete walkways; this one ,although beautiful, feels choppy and difficult and costly to maintain (IMHO).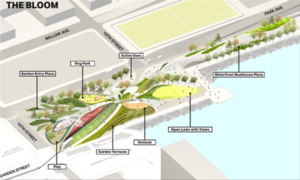 Hoboken Police Chief Ken Ferrante was
interviewed last week by Hudson County View
. It is a 30 minute interview and it is as interesting as it is informative. As I said to both Chief Ferrante and
HCV
's John Heinis after watching it, it was great questions and great answers. They cover most topics that I hear about from all of you including, among others, pedestrian safety, the recent drug bust and stabbing, response to potential terrorism threats (and HPD's coordination with statewide and federal agencies), concerns about enforcement of marijuana once it is legalized and where the line is drawn between Hoboken PD and Hoboken Parking Utility. I really would encourage ALL of you to grab a cup of coffee or other drink of choice and take the time
to watch this great video
in its entirety. A reminder of the important contact information for Hoboken PD (and that if you see something send an email!).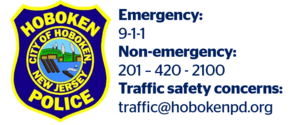 Finally, as I described in my
January 16th email
, there were concerns that Nixle, Hoboken's community alert system, was being used by members of the mayor's office for political purposes specifically attacking certain council members – including me. Seven council members voted yes (two voted no) on the resolution I sponsored requesting the mayor to direct his team to end this practice. And six of those seven council members joined me in filing a complaint with Nixle that the City was in breach of Nixle's Terms of Service which prohibits political and harassing communication.
Yesterday I received from Nixle a copy of the attached letter from Elliot Mark, SVP and General Counsel of Nixle that was sent to the City addressing our complaint. The main and most important message is in the first paragraph reminding the administration that they cannot "use any of the Services for political…purposes." They go on to say they do not have any reason to disagree with Hoboken corporation counsel's legal opinion, falling short of saying affirmatively that they agreed with it. I do believe there is reason to disagree with Hoboken corporation counsel's opinion who was probably conflicted on the matter, but I appreciate that the issue under debate - what constitutes political attacks and harrassment - is subjective in nature and would have been difficult for Everbridge / Nixle to evaluate further. That being said, I was happy to see Nixle state that if the problem continued and became more flagrant and systemic, they would step in.
As you know, I personally am a fan of pushing information out to people and am happy to see that Hoboken's new communications manager is using the system more frequently to inform residents and that since the January 10th and 11th incidents, we have not seen any more overtly political statements issued using the Nixle system. I think this is a win-win for all of us. At the end of the day, I am hopeful that as a result of all of the advocay - including those of you who also reached out to Nixle directly - that we will see our community alert system used only in ways that benefit all of us.