____________________________
Editor's note:
It's really hard to pin CEO David Harris down to write a newsletter article.  He's OK with doing his monthly "Note from the CEO" column, but it's a challenge to get more than that from him.  So when he OFFERS to write an article, you are instantly intrigued.  Here it is:

____________________________
My son is about to turn twelve.  He's definitely a well-rounded kid -- he does well in school, excels in any sport he plays and can even emit something that resembles music from his saxophone.
But as mature as he is for his age, he still isn't an adult and sometimes this comes to light.  For example, occasionally he plays chess with me.  I haven't lost to him yet (although he did give me a scare once).
I don't win because I am smarter than he is; in fact I the reverse is probably true.  I defeat him because I have the wisdom and worldliness of an adult.  It is far easier for me to perceive and counter my opponent's strategy than it is for him, and this allows my winning streak to continue.
Now let's apply this concept to embezzlement.  In the battle against an embezzler, he or she has the upper hand.  They know you well and understand what you scrutinize (and what you don't).  They can pick the time and place to strike, and, like me playing chess, are quite capable of adapting to your efforts to block them.
Every month I get asked by dentists if some contemplated procedural change will reduce the chance that they will be embezzled.  The simple answer is "No". 
Assuming that blocking an embezzlement "pathway" ignores both the determination and adaptability of the thief; someone who has decided that they should steal from you will keep looking until they find an undefended corner of your practice, and these corners will always exist. 
There have been lots of articles written touting the effectiveness of these "denial of opportunity" strategies.  I can only surmise that the authors haven't met many criminals.
If there is one thing about embezzlement that I want you to assimilate, it's this --
in the "game" of embezzlement, don't ever forget that you are the 11 year-old and the embezzler is the adult.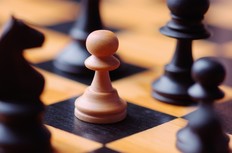 I'm not suggesting that you are powerless against embezzlement; only that the conventional approach of "locking the barn door" is flawed.  However, if you know what you are looking for, embezzlement is easy to spot. 
Our Embezzlement Risk Assessment Questionnaire is a fantastic tool for this, and using it regularly is the single best method of controlling embezzlement.  If you don't have the questionnaire, or if yours is out of date, we will be happy to give you a free one if you just send an email
here
. In a future edition of our newsletter, I'll discuss how to use the questionnaire to maximum advantage.
(Editor's note -- I'll believe it when I see it.)
David