Why not bookmark this AMPS Newsletter and read at your leisure!

Above - Production shot of War of the Worlds
Production Sound Mixer: Jonathan Seale AMPS, 1st AS: Henry Dyer AMPS, 2nd AS: Lewis Birds
Image courtesy of Henry Dyer

AMPS Newsletter July 2018
This month - AMPS Radio Mic Workshop, AMPS visit The British Library Sound Archive, URSA Straps and Syncbox become new Sustaining Members, ne AMPS Members, AMPS Mentoring Scheme, 50% discount on Sennheiser Sound Academy Course, Strongroom in development threat, Sound Devices new audio recorders, Peter Musgrave obituary, the making of seven iconic movie posters.
AMPS SOCIALS
Bristol Social - Wednesday 25 July 2018 + Wednesday 29 August
Brewhouse & Kitchen, 31-35 Cotham Hill, Clifton, Bristol, BS6 6JY - 7.00pm on the last Wednesday of each month is the place to meet up with other AMPS members and like-minded people!
More about the venue here.
London Social - First Tuesday in every month
Make sure that you attend the AMPS Social at the De Lane Lea bar in Dean Street on the first Tuesday of every month - be social with your AMPS members! The first Tuesday in every month - 6.00pm.
Not in Bristol, Manchester, London…

Andrew Wilson reports, "Very pleased with AMPS 'Social' progress across the UK. If anyone elsewhere in the country would like to get something going in their region please let me know and I'll get you started. I'll do the admin and emails, we just need someone local to host!"
All events are open to AMPS members and guests. They are a great chance to put faces to names, to network and to chat. It's a rare opportunity for production sound and post sound folk to get together… plus there's beer and food.

Back in late April, AMPS hosted a Radio Mic Workshop at the NFTS. AMPS member John Yorke subsequently wrote a few words on his experience of the day.
I thought it was a great day - and interesting on many fronts:

1. People were asked to describe their 'nightmare' radio mic scenarios they had in the past - just a reminder of how difficult this subject can be!

2. The amount of manufactured lavalier mic mounting kit available is vast compared with years ago where it was down to what you could knock up in the garage with a bit of plastic tubing, foam, cotton wool and cloth!

3. Laura, being present as costume specialist with various costumes to work with - and more importantly - when we thought to have found a good, clear, rustle free mic position placement then came and pointed out that a silk tie resembling a mic cradle was not visually acceptable!

She would come and make the costume acceptable - and it would be back to a re-think on the mounting. Without her input, we could have all easily left that day in great confidence that we had got good solutions - only to be dashed when we were in a real life scenario!

4. What looks like a simple scenario for Drama and Documentary of a man in a suit with a tie - is still a challenge - frustrating when the same mic on a newsreaders tie clip is so free of such issues!

John wrote a lot more… his full account can be found by searching 'John Yorke' in AMPS Connect mailing system. He posted it on 1 May 2018.
AMPS Visit The British Library Sound Archive


'Unlocking Our Sound Heritage – Behind the scenes of the British Library Sound Archive'
In April the AMPS members were treated to a delightful evening at the British Library in King's Cross, London. 'Unlocking Our Sound Heritage' is a major sound preservation project funded by the Heritage Lottery fund and other donors and funders. 
The team behind the project began the evening with a fascinating presentation about the wide variety of sounds that are held by the library and the equipment and processes used to digitise them. From oral history recordings from across the country and forgotten dialects to rare wildlife recordings, speeches and performances, the task ahead is to join up with ten archives around to country to preserve almost half a million unpublished or rare recordings before the carriers and equipment become too unstable to play them back. 
We were given a behind the scenes tour of the engineering studios where the staff carefully digitise the collection, which then gets catalogued and released into the library's reading rooms. 100,000 recordings will also be added to BL Sounds, the British Library's audio streaming platform. 
Some of the archive is in a very vulnerable state so the upmost care has to be taken when handling it. From analogue tape to lacquer ("acetate") discs, time is of the essence: when the engineers digitise the sound, it might be last time it can be played before the carrier disintegrates. 
With corridors full of a wonderful array of sound equipment from DAT players (remember those!) to gramophones, every available space is taken up with potential equipment and technology. 
The evening was finished off in Sound and Vision's favourite local, where the chat continued about how we can all help the project in the future. If any AMPS members would like to volunteer any spare time to help digitising or if they have legacy sound equipment they would like to donate to the project, please contact 
Christopher.Weaver@bl.uk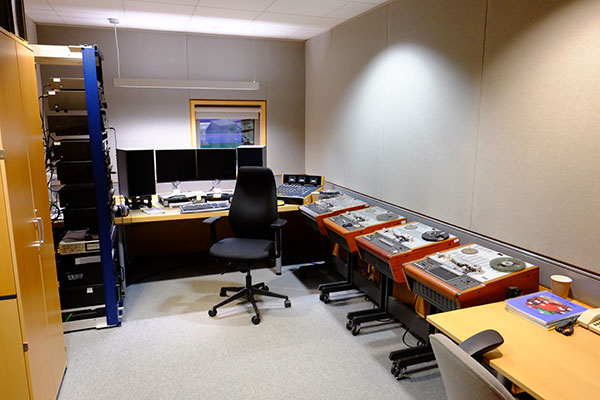 URSA Straps Becomes AMPS Sustaining Member

URSA Straps, who produce low-profile radio-mic straps has recently become an AMPS Sustaining Member.
"We hope to work with AMPS to help organise events where sound professionals can meet, try new products and share their knowledge & experiences in the field of location sound.
URSA Straps was founded in 2015 by UK based Sound Mixer Simon Bysshe and his partner Laura who works in the Costume Department. Laura & Simon made their first batch of straps by hand and produced many prototypes during 2014-15 which co-founder Simon Bysshe tested out on set while working as a Boom Operator.

Since launch URSA has diversified their range in radio mic consumables such as URSA Foamies, Soft Circles, Moleskin Tape & Pouches."
Syncbox

Becomes AMPS Sustaining Member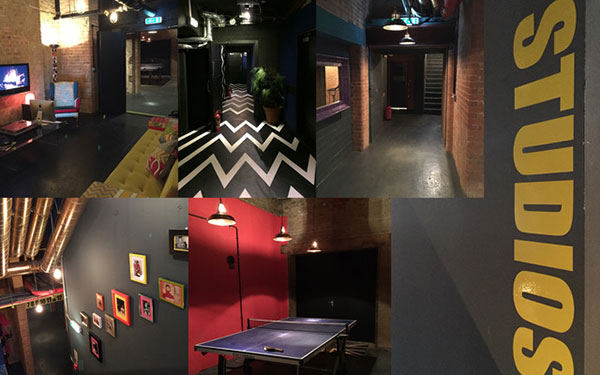 "Syncbox is a creative London audio post-production studio. We are passionate about sound and aim to provide the highest quality recording and sound production possible. If you can hear it, we can record it or manipulate it or compose it, so it sounds exactly how you imagined it. Designing sound is creative, and exciting and it's what we love doing. We can record the simplest of voice overs or sculpt and spatialise audio for Virtual Reality and 360 video. We know the importance of our clients  project, so we work closely with them to achieve the perfect result, in order for them to walk away happy.

We specialise in all audio recording and production for TV, Film, On-line and Radio including 360 Audio, Spatial Sound, Voice Over Recording, Sound Design, Music Composition, Binaural Sound, Dubbing Mix, ADR, and Editing.

Syncbox was formed in 2003 and has over 15 years experience in providing high quality audio and music to the TV, FILM, Radio, Digital and Advertising industries.
 
We are an award wining company including the BAFTA winning This Country."
New AMPS Member No. 1 - Luke Hollingworth

After graduating with a Bachelor of Music Degree from the London College of Music in 2010, I trained in 'Sound for Television Drama' at The BBC and have been freelancing since 2011.

 

I received further training with Chris Munro, Steve Finn and Will Towers through the Skillset Trainee Placement Scheme in 2013 on Ron Howard's feature 'In The Heart of the Sea' and have since gone on to work on further major motion pictures, as both a 1st and 2nd AS.

 

I also teach sound and boom operating to technical students at RADA and frequently work as a PSC Recordist.

 

 

 
New AMPS Member No. 2 - Marcin Szumilas

Hi, I'm a sound editor based in London. After graduating from MA sound course at NFTS, I began working as a freelance sound editor on variety of film and television projects.


I designed, edited and mixed sound for a BAFTA winning animation A Love Story (2017).


My personal passion is travelling and collecting sounds from all over the wold, which I can later use in his professional practice

 

I can not cook and but make the best lemon tea in the WORLD!

 

 
AMPS Mentoring Scheme 2018
AMPS has set up a mentoring scheme to bring less experienced operators in all areas of audio, in contact with seasoned practitioners and professionals so they can benefit from their help, advice, guidance and have someone to act as a general sounding board.
Read much more information here -
50% Discount on Sennheiser Sound Academy Course

This course on 15 - 16 August is designed for existing users of wireless microphones and in ear monitoring systems who have already completed the Wireless Mics and Monitoring Essentials Course. This intensive two-day course is based at our Marlow Headquarters and consists of one full day of theoretical tutored eLearning and one full day of practical workshops. Due to the practical nature of the workshops this course is restricted to a maximum of 8 participants.
To take advantage of this offer, please send your Name and AMPS Membership Number to this
tim.constable@sennheiser.com
to receive your Discount Code details.
Strongroom Studios Under Development Threat
Strongroom Studios is under threat from an office development that may leave its popular recording spaces unusable. An online petition has been set up to protest the development… have we heard this somewhere before? Let's hope that the final outcome is the same as AIR Studios.
Read the full story here and sign the petition -
https://you.38degrees.org.uk/petitions/save-strongroom
Sound Devices Launch MixPre-3M and 6M Audio Recorders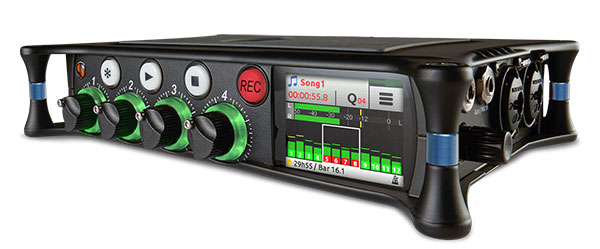 AMPS Sustaining Member, Sound Devices has recently launched the MixPre-3M and MixPre-6M (pictured above), powerful multitrack audio recorders with built-in USB audio interface. Designed specifically for musicians, the ultra-portable M-Series record up to 12-tracks of studio-grade audio (up to 96kHz/24-bit) and integrate features like overdub, track laying, punch in/out, bounce, reverb, vocal air, and metronome.
 
Paired with custom-designed Kashmir mic preamps, there really hasn't been a device that combines studio-grade audio with music creation features in such a compact, battery-powered package. Meticulously engineered to offer extreme flexibility and high-fidelity sound quality, the 3M and 6M are the newest members of the versatile MixPre M-Series, which includes the 10M.
Peter Musgrave AMPS Fellow 1931 - 2018
I was deeply saddened to learn of the death of Peter Musgrave AMPS. Peter had a long and distinguished career both as a Film Editor and Sound Editor with numerous major credits to his name. As co-founder of the Magnetic Effects Library, which included all the sound effects from Columbia Pictures' British productions and the Pinewood Sound Library, he supplied Sound Effects tracks for numerous films.
 
I had the pleasure of working with Peter on several occasions. First as FX Re-Recording Mixer on Vampire Circus which he edited in the early seventies, and later when he was Dialogue Editor on three James Bond films, The Living Daylights, Licence to Kill and Goldeneye. His tracklay was always creative, methodical and impeccably presented. A joy to mix.

Peter served on AMPS Council and as Vice Chairman in the nineties, his meticulous attention to detail, clear thinking, points of order, and plain common sense led many Council discussions to a sensible conclusion. As a fully certified proof-reader, Council members regularly consulted him to check texts for our Constitution, Journal, Awards Rules and other important written documents.  In 2002 Peter was awarded an AMPS Fellowship in recognition of his invaluable service to The Association.

Peter was known for his encyclopaedic knowledge of films and had an extensive collection of classics on DVD and BluRay. He used to set film related crosswords in our Journals to test our movie knowledge.

I enjoyed many engaging conversations with Peter, soaking up his wisdom on a variety of subjects. There are some people in your life who lift your spirits whenever you are in their company, Peter was such a person. I shall miss him, as I am sure will all those whose lives he touched.

Graham V. Hartstone AMPS
The Making of Seven Iconic Movie Posters
The first images you saw of movies as diverse as Jurassic Park, Schindler's List, and Do The Right Thing were all created by the same man — and you probably don't know his name.

That man is Tom Martin, a veteran art director who designed thousands of iconic movie posters, billboards, DVD covers, and other pieces of graphic art for movies in the course of his 30-year career.

Martin's Hollywood story actually began in Ohio in the 1970's, where he art directed print advertisements and a magazine for a local publisher. When that publisher decided to move to Los Angeles, Martin went along for the adventure.

But in Los Angeles, he quickly tired of designing for magazines and took a job at a small boutique agency where he created a poster for Dressed To Kill — his first movie work.
22 Financial Concept Sketches that Fit on a Napkin
If only somebody had explained finance to me like this when I was at school… on a napkin!
Did you know that the Directory pages on the AMPS website are some of the most frequently visited?

 

Make sure that your profile is up to date - you never know where your next work enquiry will come from!

 

 
Can we help with your Professional Development?
We're keen to hear from you with ideas for seminars and training sessions which would contribute towards Continuing Professional Development.
We're very aware that keeping up with techniques and updates can be a full time job in itself, so if there's any way that AMPS can contribute towards maintaining and developing your industry knowledge and skills, please get in touch.
AMPS Address & Phone Number
27 Old Gloucester Street
London
WC1N 3AX
Tel: +44 (0)1753 669111
AMPS, 27 Old Gloucester Street, London, WC1N 3AX
www.amps.net / +44 (0)1753 669111