MADAME GANDHI CELEBRATES CONSISTENCY IN LOVE WITH "SEE ME THRU," THE VIBEY NEW RnB SINGLE AND VIDEO FROM VISIONS EP
Read More about the making of the video in the Billboard Pride premiere
HERE
"Your Fave Activist-Artist." — Nylon
"Madame Gandhi is Here to Disrupt Your Regularly Scheduled Programming." — Billboard
"Madame Gandhi continues to break down the status quo. These tracks examine the pressing issues of our time - climate change, global capitalism, and patriarchy - songs that make you think and make you dance." —BUST
"Madame Gandhi's 'Top Knot Turn Up' Is a Feminist Trap Banger." — Vice
"In everything she does, she's an agent for change with feminist theory at the forefront. Her music gleefully tears down barriers, envisioning a future steeped in equality and banging beats." —KEXP
"It's a socially conscious bop worth every groovy second, and then some, for its empowering message." — Paper on "Bad Habits"
"Like a movement gathering momentum." — New York Times on "Bad Habits"
"Rather than view her solely as a musician, it's far more accurate to view Madame Gandhi as a cultural phenomenon. Every incarnation of her work reveals a hunger to fuel representation and challenge oppression." — Tidal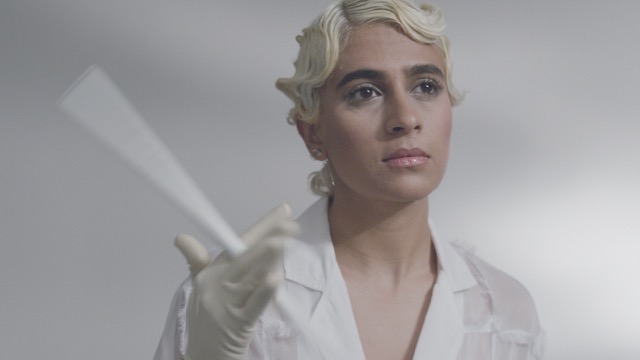 Immediate Release
Artist/activist
Madame Gandhi
kicks off a new year and decade with her new single
"See Me Thru,"
from her widely embraced
Visions
short form album trilogy. The vibey, downtempo RnB song celebrates the idea of consistency in a world that is overwhelmed by distraction. Directed by and co-starring real-life married couple
Dejha Ti
and
Ania Catherine
, the video for "See Me Thru" showcases the nuances of two women in love and brings to life the song's message about sticking with a relationship and seeing it through to reap the benefits of commitment. In keeping with Madame Gandhi's dedication to amplifying the voices of womxn, folks of color, and the queer community, the video was created by a female-led crew and features fashion by style partner
Perfect Number
,
a Los Angeles-based femme brand whose tagline is "redifining femininity," which is one of the underlining themes of "See Me Thru."
In the song, Gandhi describes the various ways in which she is committing to a deeper love. "I said come and live with me, I get so inspired by you," she sings over a chill downtempo groove with her drums to the front. "Come share your complexity, and come and see me through," she implores. Gandhi explains,"'See Me Thru' is about seeing a relationship through. We are in a generation where we are bombarded with choice and with new ideas at an unprecedented rate! As a result, we move through ideas, jobs and people so quickly. This song is about valuing consistency – about seeing consistency as today's new social currency. If the last decade was about spontaneity, I believe this decade will be about following up and doing what we say we'll do." Speaking on the holistic aspects of the song, Gandhi adds, "I wanted to write a song that celebrated lovers who are brave enough to go deep with their significant other, knowing the blissfulness that might be awaiting them on the other side."
Reflecting this sentiment, the video shows a female couple tenderly exploring each other through touch intercut with shots of Madame Gandhi playing the drums and dancing. Regarding the music video specifically, Gandhi states that real-life married couple Dejha and Ania were the perfect team for this project. "I wanted to depict a sincere and deep love, and provide an alternative portrayal of queer femme love that is often shown in a vulgar or oversexualized way. I wanted to celebrate the nuances of touch, the moment where you lock eyes with someone and realize you're in love with them, the push and pull that often emcompasses the phases of a relationship. We intentionally decided to exclude nudity and kissing from the video, so as to avoid the pornographic context in which nude female bodies often exist."
Part of Gandhi's exploration of femininity includes partnering with fashion brand Perfect Number whose stated aim is to reexamine and subvert traditional gender roles and feminine dress codes. In the video, Madame Gandhi, Dejha, and Ania are all seen wearing Perfect Number pieces, reinforcing the theme of redefining femininity.
In addition to releasing "See Me Thru," Madame Gandhi is currently touring with morning dance party Daybreaker as the drummer for Oprah Winfrey's 2020 Vision Tour. Gandhi is also a voting member of the Recording Academy and will be DJing the Grammy Museum Brunch on the eve of the 2020 Grammys.
###
About Visions
Visions
is Madame Gandhi's enthusiastically received second installment in her short-form album trilogy which is dedicated to elevating and celebrating the female voice and kicked off with 2015's acclaimed
Voices
EP. Read more about
Visions
in our press release
here
. Watch "Top Knot Turn Up"
here
. Listen to Visions
here
.
About Madame Gandhi
Kiran, who performs as Madame Gandhi, is a Los Angeles-based musician, activist and music industry thinker who was recently listed on Forbes 30 Under 30 Class of 2019. She has drummed for M.I.A, Thievery Corporation, TV on the Radio, Kehlani and Lizzo and currently DJs, drums and produces music under her own name. Madame Gandhi holds a Bachelor's Degree in Mathematics and Women's Studies from Georgetown and an MBA from Harvard. Madame Gandhi is a voting member of The Recording Academy (GRAMMY). She has scored original music for Calvin Klein, New York Times, Adidas, Gap, and Vogue. Her summer merchandise line has been worn by Sophie, TV on the Radio, Jarina De Marco, Miya Folick, Sudan Archives, Garbage, Syd, Kehlani, Amber Coffman of The Dirty Projectors and more. In 2015, she ran the London Marathon free-bleeding to combat period stigma around the world, sparking a global viral conversation about how we treat menstruation in various cultures. Her 2018 TED Talk "Own Your Voice," about making music that is purposeful and accessible to all people, has been viewed over 200,000 times. She now travels often to perform and speak about modern gender equality. Madame Gandhi's mission is to elevate and celebrate the female voice. For more updates, visit madamegandhi.com.
Follow Madame Gandhi:
About Perfect Number
A cultural platform that seeks to reflect the fluid nature of modern femininity and challenge digitally-created ideas of perfection, Perfect Number re-examines and subverts traditional gender roles and feminine dress codes.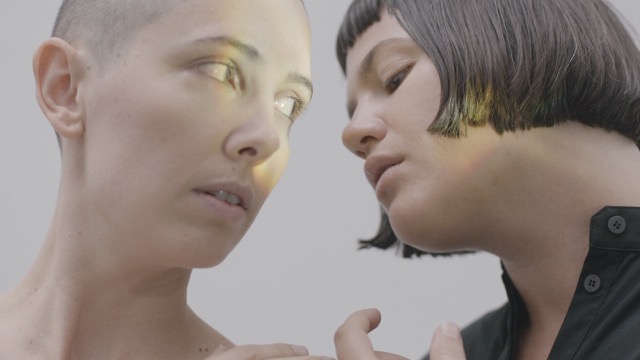 About Dejha Ti and Ania Catherine
Dejha Ti and Ania Catherine are LA-based experiential artists and an "LGBT Power Couple" (Flaunt Magazine) whose collaborative practice brings together environments, performance, and creative technology. Both conceptual artists, their expertise collide in a medium-fluent practice—Ti with an extensive background in immersive art and human and computer interaction (HCI), and Catherine a recognized choreographer, performance artist and gender scholar. Their work can be experienced in innumerable contexts: museums, film festivals, art publications, nightlife, and lectures internationally at conferences such as Christie's Art & Tech Summit and MUTEK Montréal discussing art, technology, and immersion.
For all media inquiries, contact: siouxz@magnumpr.net