The corona virus COVID-19 still plays a major role in our lives, and as long as there is no vaccine, the virus will continue to play a key role. Fortunately, the measures have eased during the past weeks and we can slowly start doing everyday things again. For example, Malaga (like much of the rest of Spain) has entered Phase 2 last Monday, which means that beaches, pools and shopping centers have reopened, as well as that groups of up to 15 people are allowed and time slots have been eliminated, except between 10 am and 12 noon, the time slots reserved for the elderly and the frail.
Many of us may have gained a few pounds during the lockdown. We can lose these quickly with more movement and intermittent fasting.
Now that we can go outside again and the summer temperatures appear regularly on the thermometer, we would like to pay more attention to exercising during heat. When it comes to exercising, there are two golden rules: drink plenty of water (before, during and after exercise) and use sufficient sun protection. Go into nature, where there is generally more shade, use a high factor sun protector and wear long breathable clothing. Wearing long trousers is especially important if you are exercising on asphalt, as otherwise your calves can be burned by the heat of the asphalt. In addition, try exercising when it is less warm, such as in the evening and in the morning. Wearing a headgear and good sunglasses is also important. Adjust your pace and if you feel dizzy or nauseous, stop immediately.
A currently popular way to lose weight is "intermittent fasting". This proven effective schedule (no diet) means you eat like you are used to at certain times/days, and fast at other times/days. We take a closer look at intermittent fasting in time slots, as this is generally considered easier than intermittent fasting in days. There are several methods of intermittent fasting, one of the most famous of which is the 16:8 method. This means that you fast for 16 hours a day and follow a normal diet for 8 hours. For example, you eat between 12:00 and 20:00 and you fast between 20:00 and 12:00. During the fasting period, you may drink water, coffee and other low-calorie drinks. Advantages of intermittent fasting are weight loss (because the calorie intake is smaller and the amount burned is increased due to acceleration of the metabolism), better brain function (sine it promotes the
growth of new nerve cells) and less chance of type 2 diabetes. In general, you can eat everything during the time that you can eat, but a healthy and varied diet is always better. Further, try to keep the intake of refined carbohydrates and other sugars to a minimum. Intermittent fasting is not recommended for people who are pregnant, breastfeeding or have diabetes. If you are on medication, please contact us before you try intermittent fasting.
Please do not hesitate contacting us in case you have any questions.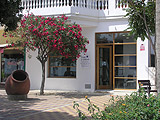 Sources:
- What we can do during phase 2: https://www.spainenglish.com/2020/05/31/lifting-lockdown-spain-full-details-phases/ (scroll down until: What you can do in a Phase Two area?)
- Intermittent fasting: https://happyhealthy.nl/intermittent-fasting/
- 6 methods of intermittent fasting: https://www.healthline.com/nutrition/6-ways-to-do-intermittent-fasting