Here are some of the places you can hear us speak soon.

Curve Dental

Webinar Aug 13 2013
Savannah Dental Society

, Savannah GA Sept 20, 2013

Western District Dental Society

, Columbus GA Sept 26 2013
Nassau County Dental Society

, Long Island NY Oct 25, 2013

Metropolitan Atlanta Study Group

Oct 8 2013
American Association of Orthodontists

Webinar Dec 4 and 10 2013
Arizona Orthodontists' Study Club

Jan 13, 2014
Thomas P. Hinman Dental Meeting

, Atlanta GA Mar 27, 2014
Star Of The North Meeting

, St. Paul MN Apr 2014
Western Regional Dental Convention

, Phoenix AZ Apr 3-5, 2014

Southern Association of Orthodontists

, Nassau Bahamas Oct 2014
David Harris interviewed by DrBicuspid.com
here.
See Dr. Mike DiTolla's interview with Prosperident CEO David Harris in Glidewell Labs'
Chairside Magazine
I Suspect Embezzlement -- What Do I Do Now?

First, get some expert help.  We'd be happiest if you get it from us, but the most important thing is that you contact somebody with expertise in dental embezzlement investigation.
Not only does the investigation itself require some expertise that most dentists (and many who advise dentists) do not possess, but there are many other considerations such as keeping the process stealthy and preservation of evidence that must be considered.
Your expert advisor should be able to handle the more daunting elements of this process and help you avoid costly missteps.
If you want to discuss your situation in confidence, we are happy to speak with you.  You can call us at
888-398-2327 
, or send email to our embezzlement hotline (checked daily by our on-duty investigator at
emergency@dentalembezzlement.com
).  We will normally respond within 24 hours.
With our workforce widely scattered across the continent, it isn't very often that we get the chance to meet face-to-face.  However, three members of Prosperident's team were recently in Loveland, CO for the Speaking Consulting Network annual meeting, and we took the opportunity to get a picture in our nifty Prosperident shirts.  From left to right we have Senior Investigator Art McCracken (who thoroughly impressed the SCN membership with his impassioned speech in the speaking competition), CEO David Harris and, clearly the rose among thorns, Senior Investigator Donna Fess.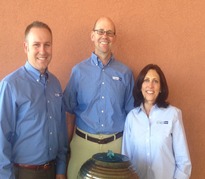 All of us at Prosperident would like to wish Senior Investigator and in-house comedian Amber Stilwell well in her upcoming wedding.

Ah ... Summer.  For most business, including dental offices, things slow down a little as people enjoy life a bit more. 
So if you are receiving this newsletter later in the month than normal, it isn't because we have been goofing off, but simply a result of being busy attending to the needs of our clients.
Don't get me wrong -- we also get to enjoy summer weather and the great things that go with it. (Did I mention that my soccer-goalkeeper 11-year-old son is having his best season ever?  He recorded six straight shutouts this month before someone finally got a ball past him!)
However, for us here at Prosperident, things work a bit in reverse -- summer is actually one of the busiest times of the year for embezzlement investigation.  A lighter workload in a dental office, staff vacations and some changes from the routine that applies for the rest of the year seem to result in a large number of dentists realizing that they may have an embezzlement problem, and as a consequence we get more requests from dentists and advisors in July and August than almost any other months. 
So Summer is definitely one of the best times for a dentist to spot embezzlement. And also, to revisit a theme from previous newsletters, embezzlement never sleeps.  There is as much stealing taking place this month in dental offices as there is in any other month.  With three in five dentists becoming embezzlement victims at some point, it's a pretty good bet that between 8,000 and 10,000 dentists in North America will be stolen from this summer.  While I hope that you aren't one of them, I also hope that, if the signs of embezzlement exist, you act quickly and decisively.
As I tell people, the best defense we can offer is our Embezzlement Risk Assessment questionnaire.  If you haven't done one in a while, or (gasp) if you have never taken the questionnaire, now is a great time to pull out a fresh one and fill it out. 
You can get the questionnaire for free by clicking here.  Completion
will take less than ten minutes, and as I am fond of saying, could save you a bundle. 

Thanks as always for reading.  Enjoy the rest of your summer!


Chief Executive Officer


Prosperident -- The world's largest dental investigation embezzlement firm