Why not bookmark this AMPS Newsletter and read at your leisure!

AMPS member Paul Paragon shares his time working as production sound mixer
on Military Wives.

AMPS Newsletter January 2021

In this month's issue - AMPS Tech Awards winners, On-Screen Credits petition, AMPS in Wavelength, report on Freelance Finance session, AMPS member reports on Military Wives, AMPS Virtual Social dates and New Members, John Aldred RIP, 30 Happy Things and Window Swap.

AMPS Announces Tech Awards Winners
AMPS has confirmed the 2020 winners in its second annual Technical Awards. 
Sound Devices' Scorpio mixer/recorder receives the Excellence in a Production Audio Product and iZotope's Dialogue Match receives the Excellence in a Post-Production Audio Product.
Production sound mixer, John Rodda, who led the awards group said, "It's an honour to lead the team on our technical awards. This year we're awarding certificates to winning products in both production and post-production. Our members nominated a fantastic field of nominees and we'd all like to congratulate the winners Sound Devices and iZotope for their technical excellence and innovation."

Paul Isaacs, Director of Product Management and Design at Sound Devices said, "We are honoured to receive the AMPS Award for Excellence in a Production Audio Product. We thank AMPS members for their support and congratulate all nominees and winners. Scorpio was developed to address the demands of the most complex production sound applications. We continue to evolve the product to meet the needs of sound professionals and thank Sound Devices' customers for their continuing feedback and insights."

Melissa Misicka, Senior Director of Brand Marketing for iZotope commented, "It always means so much to us when our products are celebrated by an organisation that promotes the value of great sound. We're grateful to the members of AMPS for supporting Dialogue Match, and we're proud to help audio post engineers deliver seamless, cohesive dialogue in seconds rather than hours."

The AMPS Awards are sponsored by Dolby, Sennheiser and Twickenham Studios.

Request for Volunteer AMPS Mentors

The next round of the AMPS Mentorship scheme is in the planning and we are in the process of matching mentors with mentees. However, we are still on the lookout for some additional volunteer mentors so if you feel can give up around an hour of your time each month to help with someone's professional development please contact us on
mentor@amps.net
. Some mentors may feel able to take on more than one mentee so if that is the case, please let us know.
The AMPS scheme aims to put less experienced AMPS members in all areas of audio in contact with seasoned practitioners and professionals so they may benefit from their help, advice, guidance and have someone to act as a general sounding board. Some pairings will work short term, some longer, some may not work at all and others may spark a lifelong friendship!
The scheme will run for one calendar year. As a rough guide, participants should aim for around an hour of contact per month; this can take place via Zoom, Skype, Facetime, etc or even in person once regulations permit.
Feedback we have received from previous mentors and mentees has indicated the scheme has been highly beneficial and rewarding to both parties.
Have You Signed the On-Screen Credits Petition?


AMPS, together with The Cinema Audio Society (CAS) and the Motion Picture Sound Editors (MPSE) have stepped up their Sound Credit Initiative, with the launch of an online petition:
www.soundcreditinitiative.org/
Since their Open Letter in August 2020, the organisations behind the Sound Credit Initiative have been overwhelmed by the private emails supporting their call for improved on-screen credit recognition for the sound talent on feature films. The online petition will offer fellow sound professionals and industry colleagues the opportunity to officially support the call for on-screen sound credits to be in line with other departments such as camera, costume, art and editorial.
AMPS Chair Rob Walker said, "Sound teams create 50% of a movie and win awards for their creative contribution, but they are positioned far down the list of credits. This initiative is a move towards representative credits. It's time to give fair credit where it is due".
Academy Award-winning production sound mixer, Chris Munro added, "We talk about seeing a film or watching a movie. If you try watching a movie with the mute button enabled, you soon realise that we don't just 'watch', we enjoy films for the immersive experience that sound helps to create. Not giving equal on-screen credit to sound creatives, alongside those who create the visuals, gives the impression that our industry is stuck in the silent movie era."
CAS President Karol Urban explained, "From production through post-production, sound professionals contribute to creative storytelling and the elevation of the audience's experience. This initiative allows filmmakers and studios to recognise their sound department's importance in a film's overall success."
MPSE Wavelength Publish AMPS Article

Just in case that you missed it… MPSE (AMPS' sister organisation in the States) recently included a contribution written by AMPS' Rob Walker in their official publication, Wavelength.
Military Wives – The Challenges and Rewards of Recording
a Live Choir in Movie Production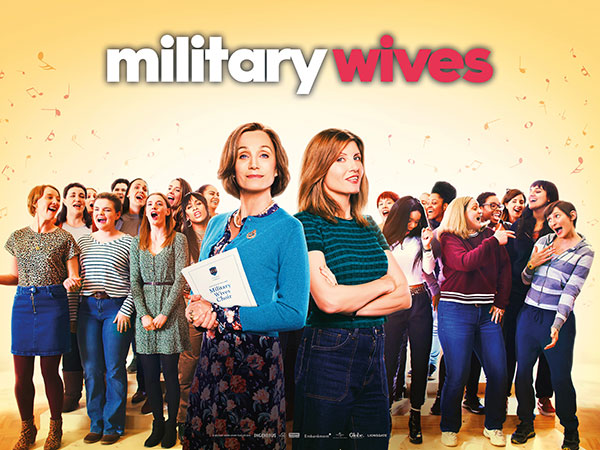 AMPS member Paul Paragon details his duties as production sound mixer on the 2019 film Military Wives.
At the heart of the film lies a powerful tale of women, who in the face of psychological adversity, unite in the shape of a choir. 
With music at its core, Military Wives had some quite unique film-making challenges. It was my job as production sound mixer to make the right creative decisions in order to fulfil director Peter Cattaneo's vision. Half of our filming schedule would be days with full cast and singing. This is an account of the recording of those elements.
Choral recording has played a major part in my career, so I was delighted when I was asked to combine this experience with movie production sound mixing.  At the outset, Peter told me, "This film is not a musical, it should sound like a real choir singing in real spaces." He would not be casting actors with a background in singing or musical theatre and wanted an authentic natural sound with the spontaneity of live performances, warts-and-all! The techniques for recording a choir in a music studio or concert hall are fairly straight forward and well established, but to achieve this on a film set whilst dovetailing with all the other departments would be a challenge. The choices made at the recording stage would affect the whole sound of the film.

Audiences are psychologically astute to noticing tiny mismatches between what the eyes see, and what the ears hear. If something doesn't feel right (even subconsciously), it can take an audience out of the moment and naturalness is lost. The desire for a natural sound gave us two aims:

Aim 1: all the singing to be recorded live on set during the filming with no replacement in post. 
Aim 2: that each take in the edit would have use its actual sync sound…
Military Wives is currently showing on Amazon Prime, Google Play, Apple TV, Sky and iTunes.
Report on Freelance Finance Online Session

Many thanks to AMPS member Martyn Harries who reported back on the Freelance Finance seminar held in October 2020.
"If there is one thing to take away from Tuesday evening's session on Freelance Finance, it is that Freelancers don't exist… at least in the eyes of HMRC!
Apparently it's not a term they understand or even use… there are only two kinds of workers they recognise - Employed or Self-Employed.
David Thomas entertained and engaged his audience of AMPS members on the most potentially dry subject of tax and finance. Even if you weren't present, you can still benefit from this guru - you just have to log into David's website -
https://davidthomasmedia.com
- go to 'Course Materials' in the main menu then click on 'AMPS' in the Unions, Charities and Associations section.
Using the password 'amps' accesses all sorts of useful stuff - updates on HMRC tax, spreadsheets to help you manage your money and details on how to get paid on time! There is even a section outlining what help there is for Freelancers in the current situation.
A recording of the whole session is available -
http://bit.ly/ampsfinance
- with the password 'amps2020!' (lowercase and includes the exclamation mark), so you can get the full benefit of David's advice and pearls-of-wisdom and gain even more from your AMPS membership!

Everyone agreed that the session was useful and no matter what stage they were at in their careers there was something new to learn… Happy invoicing!"
Virtual Dates for your Diary
AMPS Virtual Socials

Once again we have extended the run of the weekly online social for the coming weeks. You'll need the link or meeting ID and the password, and for security there may be a short delay before the host can admit you to the session.
Every Thursday evening at 20.00 BST throughout January, February, March and into April -
January 21, 28
February 4, 11, 18, 25
March 4, 11, 18, 25
April 1
All events are open to AMPS members and guests. They are a great chance to put faces to names, to network and to chat. It's a rare opportunity for production sound and post sound folk to get together… plus there's beer and food. Of course, you supply that!
New AMPS Member: Juan Martinez

Hello everyone, my name is Juan Martinez. I'm glad to be accepted as a full member of AMPS.

I run a humble audio services and sound kit hire outfit called Manzed Audio. I'm an engineer originally from Seville (Spain) but I've been living in the UK over 13 years, 11 of them in Manchester where I'm based now.

I record mainly factual and reality TV, documentaries, online and TV commercials and corporate video and I've also done OBs/live, videogames and scripted narrative as well as assisting more senior mixers who happen to also be members of this great community. Thanks for having me in.

 
John Aldred AMPS FBKS 1921-2020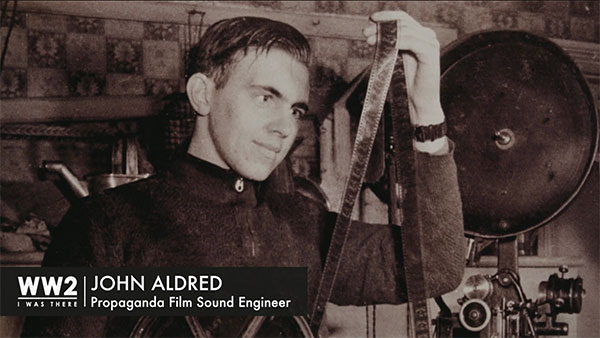 AMPS and the wider sound community has sadly lost a most illustrious and versatile member. John Aldred's career spanned almost 50 years, starting in 1937 for £1 a week as a Sound Assistant/Playback Operator on a comedy called
Wanted
at Shepperton Studios, then known as Sound City. Moving on to Denham Studios as a Sound Assistant/Loader his duties involved keeping the Sound Camera magazines loaded with optical negative film, and dispatching the exposed reels to the appropriate laboratory. He was working on
The Thief of Bagdad
on the day war broke out. The production was immediately stopped and the crew put to work filling sandbags to protect the studio. John was shipped out to the front with Peter Handford to record the sounds of battle for the Army Film and Photographic Unit (AFPU) making propaganda films. The first of which was the successful and influential
The Lion Has Wings
. Not long ago, he shared some memories of those times at a memorial in Pinewood covered by the BBC. (Link below)
After the war, John worked as a Re-Recording Mixer, a Production Sound Mixer and sometime Music Recording Mixer, including a spell in Canada were he worked on very first IMAX film
North of Superior
which won a significant Canadian sound award. Toronto didn't really suit John and his wife Beryl, so back to the UK where his impressive list of credits includes
Dr. Strangelove, The Pumpkin Eater, Darling, Far from the Madding Crowd
and
The Italian Job
among many others. He was twice nominated for an Oscar -
Anne of the Thousand Days
(1969) and
Mary Queen of Scots
(1971). John later moved on to Head up the Sound Department at Rank Film Laboratories in Denham. Whilst there, he served on the committees of both the BSI and the ISO, first as a member and later as chair, helping to sort out standards for many of the shared problems relating to laboratory work and sound. He was elected Fellow of the British Kinematograph Sound and Television Society, serving a two year stint as president and organising the 1983 BKSTS conference and exhibition. He retired in 1986 and moved to southern Spain to enjoy the sun. After his wife sadly died he returned to the UK to live out his days on the south coast in Worthing. In 1989 he was interviewed by Peter Musgrave for the History Project revealing fascinating memories of his life in Sound. (Link below)
John regularly attended the AMPS AGMs until a few years ago. I often sought his sage advice when I was running Pinewood Sound Department. More recently, he was a regular participant at AMPS social meetings via Zoom. He was so passionate about film sound, always eager to hear of the latest trends and techniques and was incredibly generous with his support for younger members, still offering encouragement and advice. As a result of the AMPS Zoom Socials John won new virtual friends among younger AMPS Members who had never met him.
The AMPS Council was planning a special celebration for his 100th birthday - sadly not to be. But our Vice Chair,  Andrew Wilson, recorded a Podcast with him in September 2020 which is available on the AMPS website. John's son Brian is hoping to organise a Memorial event next summer when possible.
John will be sadly missed by his family, which includes 13 grandchildren and 26 great grandchildren around the world.
I, like all who knew him, can reflect on fond memories.
Graham V. Hartstone AMPS FBKS
BBC at Pinewood:
https://youtu.be/Znwj_e_9b30
History Project Recording:
https://historyproject.org.uk/interview/john-aldred
History Project transcript:
https://historyproject.org.uk/sites/default/files/John%20Aldred.pdf
30 Items of Happy News, Anybody?

It's been a tough year. With one terrible headline after the next, reading the news might feel like it's taking a toll on your mental health. It's not all doom and gloom though! There's still plenty of good happening in the world. And thanks to illustrator Mauro Gatti, you can read about it all in one place. He's the maker behind The Happy Broadcast, an Instagram account that documents positive news. Each happy story is colorfully illustrated with a cute character, making it impossible not to smile back while scrolling through the feed.
Window Swap Could Change your Outlook on Life!

We're stuck at home, either working home-teaching or just passing the time of day, we've continually got the same garden/street/panoramic view…
Switch it up a bit, have a look at 'window-swap'. It's infectious.
Did you know that the Directory pages on the AMPS website are some of the most frequently visited?

 

Make sure that your profile is up to date - you never know where your next work enquiry will come from!

 

 
Can we help with your Professional Development?
We're keen to hear from you with ideas for seminars and training sessions which would contribute towards Continuing Professional Development.
We're very aware that keeping up with techniques and updates can be a full time job in itself, so if there's any way that AMPS can contribute towards maintaining and developing your industry knowledge and skills, please get in touch.
AMPS Address & Phone Number
27 Old Gloucester Street
London
WC1N 3AX
Tel: +44 (0)1753 669111
AMPS, 27 Old Gloucester Street, London, WC1N 3AX
www.amps.net / +44 (0)1753 669111