Flavor Bar
is not exactly, umm, high art (well....), but it is chock full o' ass-rumbling goodness. As for the lyrics, we swear we're not talking about sex. The title
Flavor Bar
comes from a line in The Simpson's
Treehouse of Horror IV
. In the song, "Bitte, baby" is of course a reference to the classic film,
Blazing Saddles
. And when Mayor Mike is talking about his Knob, he means the Intensity knob on our Roland Space Echo (see below). What did you think he meant? Really??? Y'all need to get your minds out of the gutter....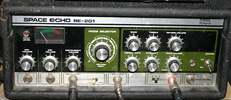 The Music
This is what happens when Beaker brings his
Roland Space Echo
over to the studio. In fact, I think there's a rule in the Official Musician's Handbook that says "When presented with the Roland RE-201 Space Echo, you must immediately write a dub song." We even went
one step beyond
for extra credit and used
Ohmforce's OhmBoyz
, our favorite software filter/delay, on the drum kit (with nods to Stewart Copeland - check out
Walking on the Moon
). Which leads to the question, can you really ever have enough dub delays? We think not.
Citizens
cover art: "cover #35" by Tone Deaf
Conrad St. Clair: bass, keys, programming
Mike Stehr: keys, vocal samples, The Knob
Lou Caldarola: drum kit, percussion
Chris Huntington: guitar
Beaker: percussion
Nafeesa Nichols: vocal samples