Why not bookmark this AMPS Newsletter and read at your leisure!

BLACK MIRROR 'USS CALLISTER' WINS AMPS TV AWARD
AMPS Newsletter April 2018
This month - Black Mirror 'USS Callister' wins AMPS TV award, Radio Mic Workshop, TV Awards rules update, Hearing Voices in Noise event report, members' feedback from Hearing Voices in Noise event, Steinberg release UR-RT interfaces, a few mono words from Glyn Johns, 10 field recordists, continuing boom operating tales, interview with Michael Carnes, the Gambler 500, the world's first squeezable metal bottle.
AMPS EVENTS
Explore the British Library's Archive - Tuesday 24 April
** Sorry, no more places available. **

The British Library, 96 Euston Road, London, NW1 2DB
Radio Mic Workshop - Saturday 28 April
NFTS, Beaconsfield, HP9 1LG
See further down the Newsletter for all information.
---
AMPS SOCIALS
Bristol Social - Wednesday 25 April 2018
Brewhouse & Kitchen, 31-35 Cotham Hill, Clifton, Bristol, BS6 6JY - 7.00pm on the last Wednesday of each month is the place to meet up with other AMPS members and like-minded people!
More about the venue here.
London Social - First Tuesday in every month
Make sure that you attend the AMPS Social at the De Lane Lea bar in Dean Street on the first Tuesday of every month - be social with your AMPS members! The first Tuesday in every month - 6.00pm.
Not in Bristol, Manchester, London…

Andrew Wilson reports, "Very pleased with AMPS 'Social' progress across the UK. If anyone elsewhere in the country would like to get something going in their region please let me know and I'll get you started. I'll do the admin and emails, we just need someone local to host!"
All events are open to AMPS members and guests. They are a great chance to put faces to names, to network and to chat. It's a rare opportunity for production sound and post sound folk to get together… plus there's beer and food.
Black Mirror 'USS Callister' wins the 5th Annual AMPS Award for Excellence in Sound for a Television Drama.
 

The winning show has been hailed by critics around the world as the best episode of the season. The story is a wild ride with plenty of thrills, tension, horror, and humour.

Congratulations to John Rodda AMPS, Matthew Skelding, Kenny Clark and Tim Cavagin for their worthy recognition by AMPS Members of an impressive soundtrack. We all know the sound is at least fifty percent responsible for the success of any drama ('seventy percent' according to Danny Boyle!).

AMPS recognises that a winning mix is the result of close collaboration among the members of talented teams. Our winners will each be asked for a list of contributing crew members who will be acknowledged with The Association's Certificates of Merit.

USS Callister has already garnered a CAS Award, and is nominated in the BAFTA Television Craft Awards. We congratulate all involved with this award winning soundtrack and wish the team further success at BAFTA. We hope the insight shown by their sound professional peers in CAS and AMPS has guided the BAFTA voting membership

 


This is Tim Cavagin's second AMPS Award this year, as he picked up the Film Sound trophy for
Baby Driver
. Double congratulations to Tim and his team at Twickenham.
AMPS Television Awards are sponsored by
TWICKENHAM FILM STUDIOS
and
GOLDCREST
.
Throughout the year AMPS Voting Members suggested Television Dramas with notable soundtracks to form the list of Eligible Titles. This list was voted on to decide the five nominated dramas. The final ballot determined the winner. Trophies and Certificates will be presented at an AMPS Social event to be arranged in due course.
Radio Mic Workshop/Playday Saturday 28 April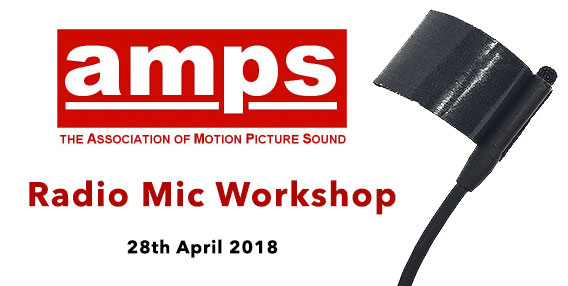 Silk ties, scratchy shirts, hairy chests… "I just need to make a small tweak to your radio mic."

We all rely heavily on radio mics these days, but often never get a chance to try out new ideas & techniques in non-mission critical situations. So we thought it might be fun to organise a radio mic playday to encourage AMPS members to come together and share their ideas on how to get the best sound from radio mics.

Attendees will be able to pick out costumes from a rail provided by a costumier who is with us for the day. We will also provide a wide selection of LAV microphones and accessories from all the leading brands and some new products too! But please bring your own headphones and any radio mic accessories you are willing to share with the group.

Simon Bysshe will be on hand to host the event and try to keep some order. Nibbles & refreshments will be provided and tables are booked at a lovely local pub for lunch. The day will be broken into two sessions roughly lasting two and a half hours each. Members can stay for one or both sessions or just drop in to say hello. Free parking is provided by the NFTS with over 30 spaces within their facility.

We hope that everyone can take at least one new idea away with them from the experience!


Date: Saturday 28 April
Location: NFTS Television Studio.

We are running two sessions on the day - 10.30am + 2.00pm.
** Numbers are now extremely limited but, please do register to go onto the cancellation list. **
AMPS Television Awards Rules Update

This year, our 6th year of AMPS Awards, we are making a small but significant change to the Television Drama Awards Rules. For the first time the whole membership will be invited to submit Television Dramas or Series for inclusion in 2018 Eligible List.
This will hopefully result in a more extensive list. The 'Call for Suggestions' is not a ballot, so involving the whole membership will not contravene the constitution. The ballot for nominations and the final ballot will still be held among Voting Members only.
All members will have recently received an email with a link to a form asking for their suggestions. These may include titles of dramas they have viewed, or worked on, that they feel worth of submission for this year's Award for Excellence in Sound for a Television Drama.
From the Eligible List, a ballot will be conducted among all AMPS Voting Members to determine the five Nominated titles. A further ballot will decide the winner.
Members should cast a critical ear when viewing Television Drama this year, and submit shows that they think deserve consideration for our award. There is no limit to suggestions, the form will allow for up to five entries, but multiple submissions of the form will be welcomed.
The first five years of AMPS Awards have consistently elicited comments from winners and nominees reflecting pride and honour when their work was recognised and acknowledged by their peers - AMPS Voting Sound Professionals. Members' support for our Awards is highly valued. We hope all will participate in the call for notable Television Drama soundtracks throughout 2018.
The closing date for the Eligible List suggestions will be issued in due course. The Television Drama Awards Rules can be found on the website.
The AMPS Television Awards Group.
AMPS Awards are sponsored by
DOLBY LABORATORIES
,
SENNHEISER
,
TWICKENHAM FILM STUDIOS
and
GOLDCREST
.
Adele Fletcher Reports on Hearing Voices in the Noise Event

Pianist John Sweeney improvising alongside animations.

The AMPS event team welcomed Mark Underwood to the screening room at WB De Lane Lea in March, for
Hearing Voices in the Noise
. Mark spoke enthusiastically about how we relate to the sounds we hear and how our brain translates them.  Through the use of brilliant soundscapes and film clips Mark demonstrated the phenomena of audio hallucinations and how we may perceive connections between sound and image. 
Mark also organized a pianist, John Sweeney, to be a part of the event. John delighted the audience with his improvisational playing alongside a series of animations. The patterns in both music and image were richly represented. 
The evening went down very well with the audience, with some interesting questions asked afterwards. The comment cards included thoughts such as, "Fascinating talk, so glad AMPS put things like this on. It reinvigorates my love of audio, which can get lost in the day-to-day" and "Amazing presentation. Definitely gave me some food for thought and new ideas for sound design." 
The AMPS event team are all ears to suggestions for future events so please get in touch with
Adele Fletcher
with any ideas you might have. The next event in April is a sold out tour of the sound archive of the British Library, focusing on their amazing project
Unlocking Our Sound Heritage
. See you there!
Member Feedback from Mark Underwood's
Hearing Voices in the Noise Event

We ask for feedback from each event that we host… as we want to maintain a standard (and improve) and offer interesting topics.
Here's some comments from the Hearing Voices in the Noise event held at WB De Lane Lea on 20 March.
"Found it very interesting and even better, extremely useful for our sound work.  It is surprising how even sound people are not always aware of all these ways to trick peoples'  minds. Definitely a topic that should be discussed in detail."
"Amazing presentation. Definitely gave me some food for thought and new ideas for sound design. It is fascinating to realise how much more there is to learn despite having worked in sound for a number of years. I will defiantly dig deeper into sound illusions now."
"That was a fantastic talk. Thank you! I'ts always interesting to me to go into the physiological and psychological in the audio work we do. Please do more talks like this!"
Steinberg Release New UR-RT Interfaces in Collaboration with Rupert Neve Designs

AMPS Sustaining Member Steinberg have very recently released their new UR-RT Audio Interfaces. Here's a four minute video talking about their collaboration with Rupert Neve Designs.
A blatant piece of promotion for The Rolling Stones mono box set released a few years ago, but amongst the rapidly immerging… Immersive Audio, here's a few refreshing words from Glyn Johns.
10 of the Most Interesting Field Recordists Working Across Aesthetic Boundaries
The roots of field recording go all the way back to early 1900s when pioneer musicologist John Lomax began recording cowboy songs in Texas. His son Alan eventually ended up taking recordings in almost every corner of the world and following in his footsteps.

Like everything in the audio-recording technology and cultural world, field recording has changed quite a bit over the past 115 years, and sound artists calling themselves 'phonographers' — inspired by the principles of deep listening proliferated by figures like Pauline Oliveros — continue to push the boundaries of how we capture and disseminate sounds of 'the field,' but the art form's core principles of capturing sounds from the outside world and bringing them to our listening attention for reflection remains unchanged.
Some (Distastrous) Tales of Boom Operating
AMPS member Pat Heigham offers us a few tales when events haven't particularly gone to plan.

 

I was working in the Michael Winner film Firepower. The last location of several in the Caribbean was in a real bungalow, with non-removable ceilings.

I was standing on a pile of grip's boxes in a corner and with the Panamic pole at full stretch, was trying for a dialogue line from Sophia Loren, positioned at the very back of the room. The pole whipped and the camera operator had to say that he caught the mike in shot. Winner immediately berated me and proceeded to give his opinion on how to boom operate. The grips said, "I told you, you needed a bigger box, Pat!" "Fine", I replied, "Can I help myself off your truck?"

 


I left the set, went outside to get a taller box, came back and rebuilt my stand, quietly asking the operator for a new top-of-frame limit. Winner was still shouting at me, and I had been off the set! I then realised that he wanted the spotlight on him!

Later, I wondered what might have happened if I had suggested, that as he knew so much about it, he should take over the boom, and I would direct!
Interview with Lexicon 'Reverb' Developer Michael Carnes
Michael Carnes has been developing surround reverbs for over 20 years. He was the lead developer behind what may have been the first true surround reverb – the Lexicon 960L, shipped in 2000.

A fully-loaded 960L could provide two 5.1 reverbs at 96kHz and cost a little under $20,000 – 30 times the cost of an Exponential Audio plug-in that will provide up to 22 channels of reverb at up to 384kHz with money left over for popcorn.

In this interview, he offers a few opinions on surround sound mixing, and how it differs from mixing in stereo.
Dropped the kids at school, been to the shops… I'll be back in a couple of days. Just off to do the Gambler 500. Yes please. 'Course it helps if the sun's shining.
Keego - The World's First Squeezable Metal Bottle
Apparently made with elastic titanium, keeps your water fresh and clean and your equipment light and easy-to-use.
Very cool idea - and there's still time to invest on Kickstarter.
AMPS has been running a Mentor Scheme for a number of years; we currently have a number of Members waiting for mentors.

If you think you can spare a couple of hours a month and would like to pass on your experience and knowledge to someone just starting out in the industry then please send an email the address below and we will send you an information pack about the AMPS Mentor Scheme.

We are particularly looking for Production Sound Mixers who are London based to mentor students based at the NFTS, Beaconsfield.
Did you know that the Directory pages on the AMPS website are some of the most frequently visited?

 

Make sure that your profile is up to date - you never know where your next work enquiry will come from!

 

 
Can we help with your Professional Development?
We're keen to hear from you with ideas for seminars and training sessions which would contribute towards Continuing Professional Development.
We're very aware that keeping up with techniques and updates can be a full time job in itself, so if there's any way that AMPS can contribute towards maintaining and developing your industry knowledge and skills, please get in touch.
AMPS Address & Phone Number
27 Old Gloucester Street
London
WC1N 3AX
Tel: +44 (0)1753 669111
AMPS, 27 Old Gloucester Street, London, WC1N 3AX
www.amps.net / +44 (0)1753 669111