Hopefully everyone has their plans made to vote! Join me Election Day evening for my Debate Watch Party at Bin 14 and bring your "I Voted" sticker for special discounts. More to come...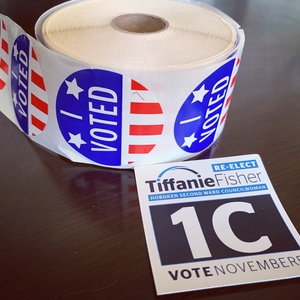 Make Sure you vote! Whether early with a vote by mail or early on Tuesday to get it out of the way! This email gives you everything you need to know for this year's election including:
HOW: Vote By Mails and Provisional Voting

WHO: Candidates / offices on the ballot (including me!)

WHAT: Ballot questions – what you need to know

WHERE: Find your polling location

WHEN: As Some Say in Hudson County vote early and...

WHY: Because Your Quality of Life Depends On It

WHY (PART2): Referendum on Attack Ads and Special Interest Money
HOW – VOTE BY MAIL, LAW CHANGES, AND PROVISIONAL VOTING
Get your ballots in – they need to be postmarked no later than Election Day! I am starting with this because as of this writing
only 141 out of 549 of you who have received ballots have cast them!
This is literally the easiest way to vote - you don't have to get off your couch. I hope this ratio increases dramatically between now and Tuesday…
The law recently changed and we saw more than a doubling of the VBM list and I am concerned that many of you on the list may not realize it (based on feedback I have received).
Reminder that if you voted by mail any time in 2016-2018, you have been mailed a ballot this year.
Which means you can either vote by mail, or vote provisionally at the polls. Don't worry, provisionally is basically filling out a ballot by hand at the polls and takes an extra 60 seconds so don't let this dissuade you.
WHO – CANDIDATES / OFFICES ON THE BALLOT (INCLUDING ME!)
You have up to TWELVE votes you can cast:
2 for State Assembly (legislative arm of our state government, partisan)

1 for County Executive (like a mayor of our county, partisan)

1 for County Sheriff (partisan)

1 for County Surrogate (

What is a surrogate you ask?

,

partisan)

1 for City Council Ward Representative (

me in the 2nd!

, non-partisan)

Up to 3 for Hoboken Board of Education (non-partisan)

1 for State level ballot question – about property tax credit for veterans

2 for Hoboken level ballot questions – about open space trust fund
Here is what the ballot looks like,
click here
to take you to the website where you can see a larger version. Familiarize yourself before you vote.
There are two columns each for State and County level candidates/offices - Column A is for Democrats and B is for Republicans.
City Council choices
are in the middle of the page and have either two or three columns depending on which ward race. In the 2nd Ward, please
VOTE
1C
for me
!

Hoboken Board of Education Candidates
are listed to the far right – there are five candidates and you get to choose three.
Even if you don't have kids (I don't) there are many reasons to vote with the most important being that a strong public school system is at the heart of all strong communities and our school board oversees almost 1/3 of our property taxes.
WHAT – THREE BALLOT QUESTIONS WORTH UNDERSTANDING & VOTING
State Level Ballot Question:
This is basically to allow certain veterans that qualify to receive a $250 property tax credit if they owned a home, to still receive the credit if they live in continuing care retirement communities where their ownership interest is not represented by a deed but it still operates like ownership. The state would then reimburse municipalities for this credit which is estimated to be approximate $500K statewide.
Long story short – more benefits for veterans. I am a yes.
Two Hoboken Ballot Questions:
As I said at the
debates last week
, I am a hesitant yes on #1, and a yes on #2.
Question #1
– This changes the allocation of how the fund can be used. Currently a minimum of 75% of the OSTF has to be used for acquisition of open space (the remainder can be for development). The proposed change now lowers this minimum to 25%, allowing more to be used for development of open space (and historic preservation if passed in Question#2).
Question #2
- This question accomplishes two things that in hindsight should have been separated into two questions.
First – it increases the amount you pay toward our open space trust fund from $.02 to $.03 for every $100 of assessed value. The financial impact based upon the current tax rate of $1.599 per $100 is that your overall property taxes will increase .63%. For a home valued at $400,000 this means you already pay $80 annually towards municipal open space, but now you would pay $120 annually. This increases the total annual amount raised from $2.3M to $3.5M and expands our capacity by about $50M (give or take).
Second – it expands the uses of the open space trust fund to now include Historic Preservation.
At the heart of this is whether you are a supporter of more open space and historic preservation. If you aren't, then vote no. If you are, then voting yes is much easier. The way I look at both is that these allow you more flexible sources to fund open space and related initiatives. However, be mindful that you, as taxpayers (whether as owners or passed through to renters), are the financial source of this and there is a little bit of a shell game going that has both pros and cons…
We are in a rising cost environment that is putting a lot of pressure on our municipal tax rate. So voting 'yes' on the proposed changes allows the City to move some of its obligations out of the municipal budget into this fund. In particular, the

$100M Northwest Resiliency Park

that is currently under construction. The annual debt service cost for this park is expected to easily be around $2-3M. You are paying for it either way, but how much you are paying becomes less transparent once the source of funding is the open space trust fund. This debt service would equate to about a 3-5% increase in the municipal tax rate to cover. Alternatively the increase would be much less if the debt service could instead be fully funded by the OSTF. And by moving expenses out of the municipal budget, you then don't have as much pressure on the municipal tax rate which is always both controversial and political (keep in mind there is another mayor race in two years).
I am a yes on #2 primarily because I like the addition of Historic Preservation to the uses.
Projects like restoring Court Street and Castle Point terrace, two that have lagged due to funding, and others like restoring City Hall or possibly contributing more to the restoration of the "Y" someday could all now be more readily funded through the OSTF because of this change.
But…I am a hesitant yes on #1
because with the proposed changes to allocation, I believe that the administration will push as much of the $100M Northwest Park through the OSTF to keep the municipal tax rate low and use all remaining capacity so no other projects can be funded through it.
Especially that $50M park my opponent says she wants to build (assuming Shipyard says no…)
It is a mayoral election in two years – no one wants to run on a significant tax rate increase…
WHERE: FIND YOUR POLLING LOCATION
If you are a registered voter you should have received your sample ballot in the mail with your polling location. Also, if you are a voter in the 2nd Ward you will receive a GOTV mailer from me with your polling location. Or you can use the
NJ Polling Place Locator Tool
as well.
As a reminder last year I was able to make two changes to 2nd Ward polling locations to make it easier to vote: W2D2 – Maxwell, Hudson St. W voters now vote in 1125 Maxwell Lobby, W2D5 – Shipyard voters now vote in the Historic Museum.
WHEN: AS SOME SAY IN HUDSON COUNTY VOTE EARLY AND...
But I don't, I say just vote once, vote early and Vote Tiffanie Fisher
1C
. Polls are open from 6am to 8pm. If you are standing in line at 8pm, you will be admitted to vote. If you get on line at 805pm, you will not be able to vote.
Vote early. Don't let the weather or a late meeting keep you away, so get it out of the way first thing.
WHY: BECAUSE YOUR QUALITY OF LIFE DEPENDS ON IT
This election is when your vote has the biggest impact on your day to day life from the effects of overdevelopment and a growing population to affordability and taxes. Given the lack of a federal office or Governor on the ballot, this is considered a low turnout election. In 2015 when I ran, ~1500 people voted and I received 49.9% of the votes in a three way race with no incumbents. Had we had runoffs at the time, just two more votes would have made the difference of me being in a runoff or not. And those two votes could have determined whether Washington St. got done, or if we got a new contract with Suez saving taxpayers $30M and ending water main breaks or a new Special Improvement District that will turn the tide on vacant stores on Washington St. There are just two candidates in the second ward race, so no runoffs but that just means your vote in a low turnout election matters even more.
WHY PART2: A REFERENDUM ON ATTACK ADS AND SPECIAL INTEREST MONEY - DEJA VU ALL OVER AGAIN
The 2017 Mayoral race was brutal for our community. It involved bullying that ended friendships and pulled the city apart in ways we never would have expected. It took over a year to recover and we were well on our way until the last couple of weeks reminded us again how ugly it can be. What should be startling to many reading this is where the negative attack ads and special interest monies are coming from and who they are supporting.
As you are thinking about who you want to represent you, please consider this about my opponent (and the same goes for Jen Giattino's opponent in the 6th Ward race):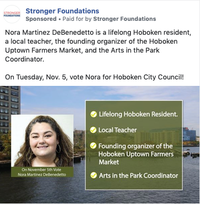 Additionally she has been pretty silent on all issues other than Monarch and a pedestrian safety plan that looks decidedly like the one I have been working with the administration and the County on and
already implementing
.
By contrast, I have sent out 5 mailers – an intro one on
my platform
, three issues based ones on development and the waterfront (and a GOTV one coming…), many
newsletters
/letters updating you on issues important to you and one
defending myself
against my opponents attacks.
As an FYI and not sure if you are aware but as expected,
Mack Cali, a public real estate company who owns property in Hoboken, contributed $30,000 through a SuperPAC called NJ Community Initiatives, affiliated with a Hoboken vendor, to put out attack ads that favored Team Bhalla candidates.
So far, $19,420 of this has been spent in the 1st ward just last week – 4 mailers already and counting. If you think this came to town uninvited, you are mistaken. In the past, this was never something those who considered themselves "reform" would do. Mayor Zimmer historically would not have tolerated this, but today she endorses candidates who do? The world is officially upside down.