Did you know if you #BookDirect you can save time & money?
Booking Direct through our Bed & Breakfast Innkeepers of Colorado (BBIC) InnsofColorado.org website which lists each of our members and direct links to the official individual websites, which not only provides more detailed info, up to date availability and other lodging options including great packages, as well as special offers you will only find if you #BookDirect. Our association website includes direct links to our member's individual websites so you can #BookDirect! It's the perfect central location to great B&B places to stay in Colorado.
#BOOKDIRECT is a wonderful way for innkeepers to show off their property via a great website design filled with every detail about the property and information about things to do when you get here. Pair that with one of the very best, secure, and user friendly booking engines which allows guests to book directly - safely and securely - and you are making good use of your time and resources. Inns would rather see you, the guest, reap the rewards of a special promotion rather than paying an Online Travel Agency (OTA) an undisclosed commission. And, you'll find great packages for bed and breakfast getaways that would not be included in an OTA website. In reality, BOOKING DIRECT is often much less expensive, easier and comes with the unique benefits each inn offers to their #BOOKDIRECT guests.
---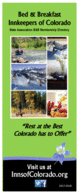 Just Released!!! Our new 2019 updated Bed & Breakfast Innkeepers of Colorado Directory provides information on our B&B member inns throughout Colorado, information on each property, direct contact information and links to visit their "official" websites. On our website, you'll find great recipes and a printable guide you can download so you'll have our brochure to take with you on your vacation, getaway or business travels.
Join Us! Are You a Colorado Innkeeper?
---

The Claremont Inn & Winery 2-Day GetAways and Weekend Deals! "An easy way to getaway and have some fun and get some rest…" It's easy… it's a great deal… and you get to customize your weekend getaway any way you wish… Take a break for yourselves… you deserve it! Each Claremont Weekends package includes 2 nights in the luxurious room of your choice, Wine Tastings each afternoon followed by delicious Chef's Menu Dinners each evening. Both mornings you will enjoy full Country Inn breakfasts… delivered right to your door for Breakfast-in-Bed if you like! For events throughout the year. www.ClaremontWineryEvents.com
Holden House 1902 Bed & Breakfast Inn April Showers Discount Deals offer a great savings package: Stay 2 nights midweek and receive the 2nd night 1/2 price or Stay 3 nights any days of the week and get the 3rd night FREE! Make a reservation at www.HoldenHouse.com today and reserve your special suite with private bath at this historic Victorian in located in Colorado Springs.
---
1/2 cup fresh lemon juice
4 egg whites (stiffly beaten)
Instructions:
Cream together butter and sugar in a large bowl until smooth.

Add egg yolks and beat until light.

In a separate bowl, sift flour, baking powder and salt together.

Add dry ingredients alternately with lemon juice to the creamed mixture. Stir after each addition but do not overmix.

Fold in stiffly beaten egg whites, poppy seeds and lemon peel.

Spoon batter into prepared muffin tins and bake at 375 degrees for 20 to 25 minutes.
Enjoy more Recipes from Bed & Breakfast Innkeepers of Colorado!
---
#BookDirect and Save at our Inns of Colorado Members!
#BOOKDIRECT
AND SAVE!
~
Visit our website with direct links to our bed and breakfast association members in Colorado
In This Issue
Quick Links:
~
Let's Get Social! Join us on
Social Media
~