Why not bookmark this AMPS Newsletter and read at your leisure!

AMPS Newsletter November 2016
This month - Vote now for AMPS TV Awards, Story of Sound 2016, AMPS Honorary Membership, AMPS Scholarship Bursary, Reel Angels events, New Members, Twickenham Studios vacancy, Aaton & Rycote products, First Women Filmmakers, Highland Projectionists remembered, AMPAS Masterclass at Sheffield University, Air Studios update, Film London…
Header image - courtesy of The Sound of Story 2016

AMPS SOCIALS
Bristol Social - Wed 30 November, 7.00pm

Beerd, 157-159 St Michaels Hill, Cotham, Bristol BS2 8DB, 7.00pm on the last Wednesday of each month is the place to meet up with other AMPS members and like-minded people! Great craft beers and amazing pizzas are available!
London Social - first Tuesday each month

Make sure that you attend the AMPS Social at the De Lane Lea bar in Dean Street on the first Tuesday of every month - be social with your AMPS members! The first Tuesday in every month - 6.00pm.
… not in Cardiff, Bristol, London or Leeds?
Andrew Wilson reports, "Very pleased with AMPS 'Social' progress across the UK. If anyone elsewhere in the country would like to get something going in their region please let me know and I'll get you started. I'll do the admin and emails, we just need someone local to host!"
All events are open to AMPS members and guests. They are a great chance to put faces to names, to network and to chat. It's a rare opportunity for production sound and post sound folk to get together… plus there's beer and food!
---
Retired Members Christmas Lunch - Wed 7 December

The White Swan, Riverside, Twickenham, Middlesex, TW1 3DN
AMPS Award for Excellence in Sound for a Television Drama
The Eligible List is now open to AMPS Voting Members (Full, Associate or Retired) for suggested titles. Please submit any Dramas you have viewed or worked on that you consider worthy of inclusion in this year's AMPS Awards; you may suggest as many titles as you wish. From the Final Eligible List created, a ballot will be conducted among all AMPS Voting Members to determine the five Nominated Titles. A further ballot will decide the winner.
Eligible Dramas must have been broadcast between 1st January and 31st December 2016 and meet the criteria detailed here:
Sound of Story 2016 -  Day 1 Women In Sound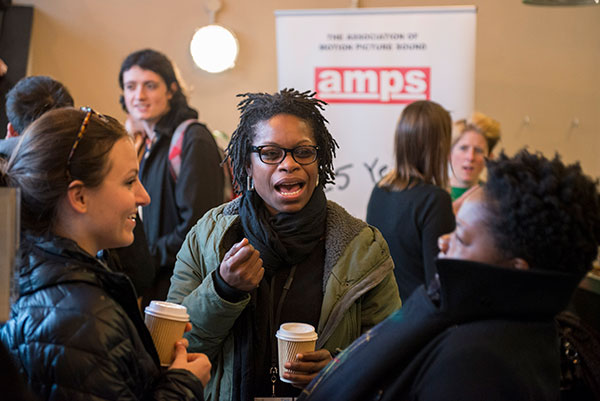 Report by Anna Sulley AMPS, Photography by adambronkhorst.com
The first day of Sound of Story 2016 at the Lighthouse Brighton, kicked off with 'The Women in Sound Forum' sponsored by AMPS and supported by creative Skillset. Designed to create an opportunity for women sound professionals to meet, exchange ideas and build new connections. It included a series of masterclasses and three month mentorship scheme. 15 lucky participants were selected from a list of 50 from all over the country. The Event curator was Emily Kyriakides.
The programme began with a bang with Ann Kroeber (Blue Velvet, Dead Poets Society), who played some early contact mic recordings from a microphone she had specially designed, including a capture used in David Lynch's Dune.  She also talked about how to get the best from your subjects when recording wildlife. Ann went on to speak in further detail at the Friday symposium.
Commenting on the event afterwards, speaker Catherine Hodgson said, "What a great event it all was. I got such a buzz from it all. And I absolutely loved Thursday - Women in Sound! Wow! Who would have thought? And to be able to talk alongside such amazing and inspiring ladies. I felt very humbled to have been invited and so strengthened by such a positive day. To all of my fellow sound women - it was so great to meet you and hear your stories."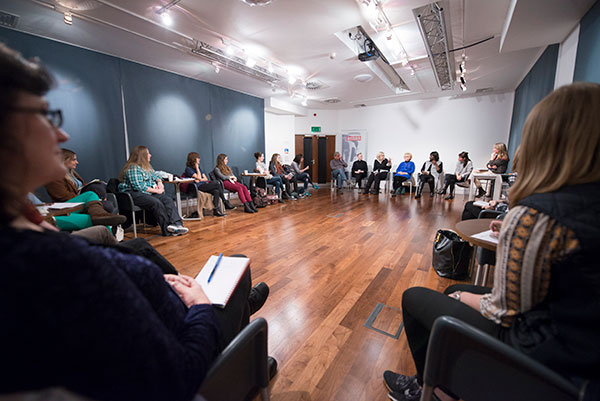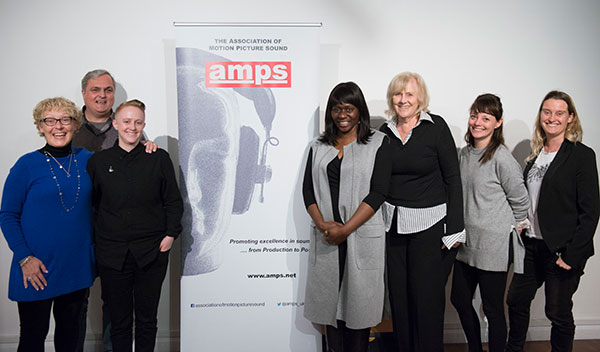 AMPS Honorary Membership Awarded to Ann Kroeber

L-R, Paul Davies, Ann Kroeber, Anna Sulley
Photography Adam Bronkorst - www.adambronkhorst.com

Shortly after speaking at the Sound of Story Symposium event at Brighton Dome, AMPS chairman Paul Davies invited Ann Kroeber on stage to award her with lifelong honorary membership in recognition of her outstanding achievements both in location recording and sound design.

Ann's extensive credits include Blue Velvet, The Elephant Man, Dead Poets Society and Dirty Rotten Scoundrels. Her approach to making unique and evocative ambient sounds has helped revolutionize the way we hear and experience films.

Commenting afterwards Ann said, "The trip was so special to me I still feel like I'm in a dream. I could go on and on about all the amazing, inspiring and delightful experiences I've had. And then at the end perhaps the surprise of my life when I was offered that AMPS Honorary Membership in recognition of my achievements by Paul Davies, who I've admired for years from afar. It brought up so many powerful emotions that it's hard to write about it. I am profoundly grateful to you all!"
AMPS Scholarship Bursary Awarded to Daniella Smith
As reported in last month's AMPS Newsletter, we introduced the 'AMPS Scholarship', which awards a modest £1,000 bursary to one of the students from this year's intake at NFTS - helping to introduce the next generation of film makers to our industry.

 

Hot on the heels of the announcement, we are extremely happy to confirm that the inaugural recipient is Daniella Smith who is on the 'Production Sound For Film & TV' diploma course.

 

Daniella commented, "I am honoured and feel very appreciative  as this will help me so much during the course of my studies. I am very grateful, thank you so much!"

 

AMPS Chair Paul Davies will make the presentation in the very near future.

 
Twickenham Studios - Job Opportunity for
AMPS Sustaining Member Twickenham Studios is home to some of the most well known film and television programming in the world. They are currently looking to recruit a Senior Engineer to join their busy team. The successful candidate will be responsible for technical support, project management and maintenance across our entire site.

This position is ideally suited to an experienced engineer with a background in post production engineering, who has a strong interest in all aspects of technology and engineering, but are equally keen to hear from you if you feel that you have an engineering skillset that would be relevant and transferable to our media-based operation.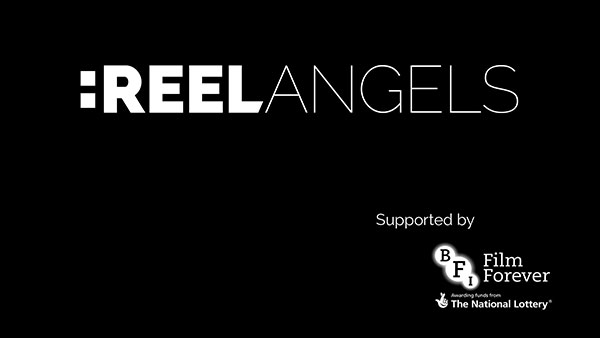 Reel Angels (an agency and network that support women in technical roles -
www.reelangels.tv
- have recently received support from the BFI Diversity Fund (which awards funds from The National Lottery).
We are holding some meet and greet sessions with Heads of Departments (HoDs) and Reel Angels crew. With introductions hosted by Lulu from Reel Angels, screening some work samples, followed by a Q & A with cake and fizz. We are actively looking for HoDs to generously offer their time and take part.
It's a scaled down and more personal event, so the HoDs and Real Angel Crew can fully engage and the event has more a direct impact, through info shared and connections made.
Its also a great opportunity for the HoDs to give something back, support women in these roles and possible meet future assistants or trainees.
We have morning (10am till 1pm) and afternoon (2pm to 5pm) sessions, running on the 24th and 29th November on the Southbank, 89 Upper Ground, London SE1 9PP - please do get in touch for more info.
creative@reelangels.tv
Tel: 00 44 797 212 9854
New AMPS Member No. 1 - Kirsty Wright

Kirsty Wright is a second year Production Sound for Film and Television student at the National Film and Television School. She began the course in September 2015, and will complete the course in December 2016.

 

At the NFTS Kirsty has worked on a number of short films, documentaries and television productions as a sound mixer and boom operator and has also received Fisher boom training.

 

Before attending the National Film and Television School, Kirsty attained a First Class degree in Classical Studies at Newcastle University whilst simultaneously gaining two years of experience in numerous sound roles on short and feature films, corporate videos and short documentaries.

 

 

 
New AMPS Member No. 2 - Stefan Jacobsen

 

 

Hi, my name is Stefan Jacobsen, a North West based 1st Assistant available for work across the country.

I've had the pleasure to meet and work alongside current A.M.P.S members already and look forward to further opportunities to do so in the near future.

I have been working within the industry for over 8 years and have have experience in Television Drama, Kids Drama, Prime Time Comedy, Commercials, Soaps, Short Film and Documentary.

I'm enthusiastic to meet fellow professionals from whom I can learn and work to the best professional standards.

 
Giant Sound Announce Cantaress Fader Panel for X3
The Aaton Cantaress advanced fader panel announced at NAB earlier this year has taken shape and will be available next year. Aaton designers have cleverly balanced innovation with a conventional feel that will make the Cantar X3 / Cantaress combination a really powerful recording tool.

Larger SSDs have now been tested at Aaton and the Cantar X3 can now be used with either the current 256gb, a 512gb or a 1TB SSD. We have stocks of 512gb and 1TB fitted to the Aaton interface board, formatted and ready to drop in. We also have the new coloured 'soft top' fader sets that fit both the Cantar and the Cantarem 2 and the Cantar X2 and Cantarem in stock with a very special bundle price.
Rycote Goes Small (and light) for Schoeps MiniCMIT…
Rycote has just launched the latest edition to their 'Perfect for' range of microphone specific windshields. Based on their industry-standard Modular windshield, the diminutive Windshield Kit, MiniCMIT has been optimised for the brand new Schoeps MiniCMIT microphone.

Speaking about this new product, Simon Davies (Rycote, MD) told us, "We were delighted to work with Schoeps in developing this fabulous kit. Our customers tell us that they want 'small and light' – and this little windshield absolutely delivers on that! We've included a lightweight short XLR connector and the Lyre configuration (62-Shore front/72-Shore rear) has been optimised for balance and performance. I think when people try this out, they will be genuinely surprised by how compact and lightweight this mic/windshield kit combo actually is." 
   
Overall length = 28cm (11") / Kit weight = 338g
Pioneers: First Women Filmmakers
In early 2015, Kino Lorber mounted a successful crowd-funding campaign for Pioneers of African-American Cinema. The overwhelming support of its Kickstarter supporters allowed the project to expand from from a modest collection of films into a monumental five-disc collection, fully loaded with extras and accompanied by an 80-page booklet.
Because of the groundswell of interest and enthusiasm of its supporters, Pioneers became a film history phenomenon: spawning theatrical retrospectives, garnering praise in mainstream media outlets (National Public Radio, The New York Times, The Guardian, Turner Classic Movies, and others), and earning a video release in the United Kingdom.
Now, Kino Lorber continues the legacy begun by Pioneers of African-American Cinema with a new project, equally ambitious in scale, and every bit as historically significant: Pioneers: First Women Filmmakers.
'Heroic' Highlands and Islands film
Projectionists Remembered
A group of academics are recording people's memories of the "heroic" film projectionists of the Highlands and Islands Film Guild and the screenings they put on in make-shift venues across the region.

The guild was set up after World War Two to take cinema to remote locations, giving many people their first experience of seeing the world depicted on the screen.

Their visits were loved by many, but at times they generated controversy.

After securing funding to record the history of the service, the academics will try to recreate the atmosphere of a 1940s show with a screening at this year's Inverness Film Festival.
AMPAS to Deliver Masterclasses at Sheffield
The Academy of Motion Picture Arts and Sciences has linked up with media group 360 Degrees Media to launch an Academy Masterclass program at Sheffield Hallam University in Northern England.

The masterclasses will focus on the technical aspects of film-making, and will be led by such Academy members as production sound mixers Simon Hayes, who won an Oscar for Les Miserables, and Chris Munro, who won statuettes for Black Hawk Down and Gravity.

"We are keen to work with our members to reach out to as wide and diverse a cross-section of young people as possible," said Carola Ash, director of the Academy in Europe. "It makes sense to extend this program, which started in London, now to the North of England. This is one of a number of initiatives across the U.K. as the Academy seeks to execute its educational remit, and these Academy members, many of whom are Oscar winners, are keen to share their years of experience."

Alistair Maclean-Clark, 360's managing director, said the masterclasses would give "students of all backgrounds an opportunity to meet with the top film technicians and craftspeople in the film world, which we hope will inspire a whole new generation of film and television professionals."

He added: "With the huge demand for crews from major U.S. and U.K. production companies, there has never been a better time to become a technician in the film and TV business in the U.K."
Many people have supported these world renown studios during their fight against their neighbours who want to build a basement, the noise and vibrations of which could put Air Studios out of business.

The latest twist in this saga is that Mr and Mrs Jefferies, Air's neighbours, have appealed to the Inspector in relation to their first application on the basis that Camden has not made a decision on their application within the normal time limits.

Currently Air is making the appropriate representations against this appeal.

Camden Council has now issued a letter confirming that they object to the plans which is helpful to Air's case. Below is a note from Air's owners -

"We have received a copy of Camden's statement to the Planning Inspectorate for the Appeal against non-determination of the basement development at 11 Rosslyn Hill.
We are very pleased to see that the planning department now object to the development on the grounds that the impact on Air Studios has not been properly considered or addressed. This is in contrast to the planning department's original support for the development proposals and this change of position has no doubt been driven by the sustained objection from so many people who have supported us.
We are sincerely appreciative of the help. It is of course still a matter for the Planning Inspectorate to determine the Appeal unless the matter is reserved for ultimate determination by the Secretary of State (which our solicitors have lobbied for).
In either case, the final decision is still not certain, but it is certainly helpful that the council now recognises the need to protect the Studios and the work that goes on here."
New Senior Inward Investment Manager at Film London
Recently announced by Film London and the British Film Commission -
As you may know we will be saying a fond farewell to David Shepheard as he departs the UK to Canada and becomes the first Film Commissioner for Vancouver. We will be sad to see him go as he has done a sterling job.

However as one door closes another one opens and we are extremely delighted to announce his replacement. The role of Senior Inward Investment Manager will be taken by James Waller who was previously running the Met Police Film Services Unit. He has extensive on the ground knowledge on production in London, he understands the logistics and sensitivities involved in a major shoot and has worked with many of you over the last six years.

He will start with us on Monday 9th January 2017 and will report to Helena Mackenzie, Head of Inward Investment & Business Development.
FOCUS: Location Production Event 6 + 7 December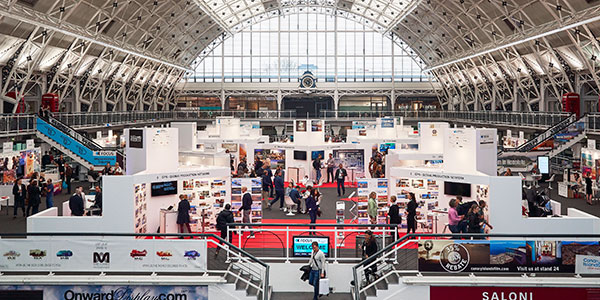 FOCUS, the world's most international location production event, is set to take place on the 6th and 7th December at the Business Design Centre in London. Following a hugely successful inaugural event last year which saw over 181 exhibiting organisations from 44 countries, the trade show and accompanying content programme will now be completely free to attend for members of the production industry.
Designed as a knowledge-sharing and peer-networking platform, FOCUS aims to help filmmakers and producers across entertainment and advertising content discover incentives and production solutions to help maximise screen value for all budgets.
The 2016 event will feature content across three distinct strands: Film & Television, Commercials and Online & Digital. The two days of content strands will include industry leaders sharing learnings, inspiration and insight through a programme of seminars, workshops, presentations and screenings.
AMPS has been running a Mentor Scheme for a number of years; we currently have a number of Members waiting for mentors.

If you think you can spare a couple of hours a month and would like to pass on your experience and knowledge to someone just starting out in the industry then please send an email the address below and we will send you an information pack about the AMPS Mentor Scheme.

We are particularly looking for Production Sound Mixers who are London based to mentor students based at the NFTS, Beaconsfield.
Did you know that the Directory pages on the AMPS website are some of the most frequently visited?

 

Make sure that your profile is up to date - you never know where your next work enquiry will come from!

 

 
Can we help with your Professional Development?
We're keen to hear from you with ideas for seminars and training sessions which would contribute towards Continuing Professional Development.
We're very aware that keeping up with techniques and updates can be a full time job in itself, so if there's any way that AMPS can contribute towards maintaining and developing your industry knowledge and skills, please get in touch.
AMPS Address & Phone Number
27 Old Gloucester Street
London
WC1N 3AX
Tel: +44 (0)1753 669111
AMPS, 27 Old Gloucester Street, London, WC1N 3AX
www.amps.net / +44 (0)1753 669111