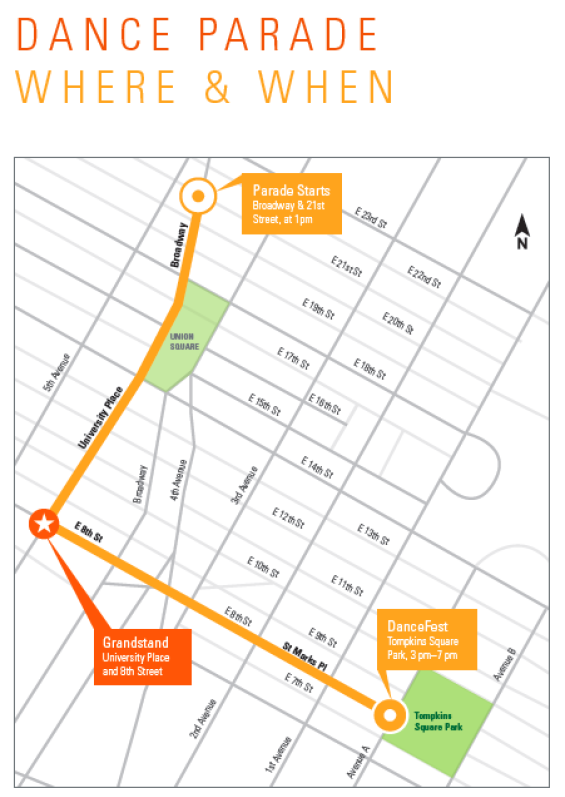 The 8th Annual New York City Dance Parade Kicks Off at 21st Street  and Broadway at 1:00pm!  Colorful costumes from countless cultures and crisp choreography join beautifully crafted floats celebrating all things dance!  This year, the parade leads off with a Ukrainian group and bends and bows through over 75 unique styles of dance with a final crescendo from the internationally acclaimed club beats from Erick Morillo courtesy of Pacha.  
Catch Grand Marshals Savion Glover,  Jawole Zollar and Hex Hector on their own respective floats as we honor their individual contributions to the dance community.  You will see Burning Man style art cars and buses,  Bolivian Tinkus to Tap,  Brazilian Zouk to Zumba,  Waacking,  Korean, Contemporary, Japanese, African to Ballet and Breakdance and so much more.   Dance Parade has it all!
1 Iskra Ukranian Dance Ensemble Ukranian
2 Lei Pasifika Lotus Music & Dance Tahitian
3 Paul Taylor Teen Ensemble Modern
4 MIYABI Wind Japanese
5 GRAND MARSHAL Savion Glover FLOAT Tap
6 NYC Dance Arts Afro house
7 Navatman Dance Indian Bharatnatyam
8 Fraternidad Cultural Pachamama Bolivian Tinkus
9 Dance for Life Jazz
10 NYC Bhangra Bhangra
11 Danse Sur le Rouge Contemporary
12 Fully Focused Dance Intensive Hip-hop
13 Aveia Dance Polynesian
14 Morenada Transpeco USA Bolivian Morenada
15 GRAND MARSHAL Jawole Jo Willa Zollar FLOAT Contemporary
16 TapUnity Tap
17 Chelsea Recreation Center African
18 Center of Lennox Hill Neighborhood House African
19 Fusha Dance Company African
20 Educational Alliance/Sirovich Center Step
21 Mazarte Mexican Carnival
22 Trinity Movement Choir Butoh
23 Manhattan Andaaz Bollywood
24 Eglevsky Ballet of Long Island Ballet
25 Syncopated City Dance Company Lindy Hop
26 Manhattan Tribal American Tribal
27 Marsha Parrilla Danza Organica Contemporary
28 Fraternidad Cultural Pasion Boliviana Bolivian Tinkus
29 BSTAR Music & Barbara Tucker "Queen of House Music" FLOAT House
30 Spiral Effect Flaggers
31 GRAND MARSHAL DJ Hex Hector FLOAT House
32 Connecticut Dance Center Hip-Hop
33 Seekers of Knowledge Inc Hip-Hop
34 Queens Dance Fusion Hip-Hop
35 Batala NYC afrobrazilian samba reggae Afro-Brazilian
36 The MarquisElite Group Jazz
37 Na Oiwi NYC Polynesian
38 Pink Tutu Ballet Ballet
39 Ballet Folklorico Xochiquetzal Mexican Carnival
40 Alma Boliviana Bolivian Tinkus
41 Medgar Evers College Prep Band Marching Band
42 Rick Longs Dancehall Explosion-Street Grooves Dance Class Jamaican Dancehall
43 Dancing Rubies Bellydance
44 Bellydance America – Jehans Bellydance Raks Stars Bellydance
45 Sabor – Columbia University Salsa
46 Shushi Armenian Dance Ensemble Armenian
47 Church of the Village Dance Ministries Liturgical
48 House of the Roses Creative Movement
49 Saung Budaya Indonesian
50 Princess Lockerooo Soul Train Waacking
51 Breaking Ground Dance Center Jazz
52 The Shakedown Funk
53 Jules Legacy Dancers Hip-Hop
54 Anabella Lenzu/DanceDrama Modern
55 Syncopated City Dance Company Lindy-Hop
56 Swing Dancers Celebrate Frankie's 100th Birthday FLOAT Swing
57 Blues dance NY Blues Dance
58 NY USA Dance Ballroom
59 Dance2HeartBeat NYC Kizomba
60 The Bridge for Dance Company Contemporary
61 PURE (Public Urban Ritual Experiment) Bellydance
62 Moving for Life Aerobic
63 Ting Dance & Dancers (Taiwan) Contemporary
64 DPPS Democracy Prep Public Schools Korean
65 Korean Traditional Music and Dance Institute Korean
66 World Dance Initiative – Karen Kriegel World Dance Korean
67 AS Ballet NY Ballet
68 Kat Wildish Ballet
69 Metropolidance Ballet
70 Kathakas Indian Kathak
71 Neville Dance Theatre Contemporary
72 92Y Harkness Dance Center International
73 Xianix Barrera & Sabor Flamenco Flamenco
74 Red Silk Dancers Chinese
75 Oasis Dream Dancers Bellydance
76 Caporales Centralistas San Miguel VA USA Caporales
77 Fraternidad Tinkus San Simon VA Bolivian Tinkus
78 Capoeira Brasil NYC Capoeira
79 Zouk Nation Brazilian Zouk
80 Vaydras Dance Fusion Zumba
81 Punk Rope Skip Hop
82 Something Untouchable Dance Company Acro Jazz Hip-Hop
83 Latin Dance Connection Hustle Dancers Hustle
84 Brooklyn International High School Dance Company Contemporary
85 Herencia Salsa
86 Yosakoi Dance Project – 10tecomai Japanese
87 High Definition Dance Hip-Hop
88 San Simon USA Caporales
89 Electric Daisy Carnival (BUS) Techno
90 The Blackbird Squaddron Hoopers
91 The Hoop Movement and Return to Roots Hoopers
92 Mortal Beasts & Deities Stilt Dance
93 5 Rhythms – FLOAT 5 Rhythms
94 TOAD Armada Tech House
95 Kostume Kult Burner Freestyle
96 Bluebyrd (BUS) Burner Dance
97 La Luz and HaRV Love Muscle Disco
98 Boom Trike Breakbeats
99 The Door Creative Movement
100 Fraternidad Folklorika y Cultural Universitarios de San Simon Bloque NY Caporales
101 Divas Beyond Belief Hip-Hop
102 Smoothskate Entertainment Rollerdisco
103 House Coalition "Funk Time"
104 Energy in the Middle Roller Disco
105 Body Roll Work Out Body Roll
106 Walk & Roll Creative Movement
107 Tecuanes Orgullo Acateco Mexican Carnival
108 Live Love Dance Salsa
109 Samba Freaks Samba
110 PS. 165 Edith K. Bergtraum Dance Company Jazz
111 Saare Vikat Estonian
112 Thrill the World FLOAT Micheal Jackson
113 Urban Dance League Hip-Hop
114 New York Music in Motion House
115 Meidu Belly Dance Orient Group Bellydance
116 Inner Spirit Dance Middle Eastern
117 Dancing Mindfulness Conscious Dance
118 Jo-me dance Contemporary
119 The MarquisElite Group Jazz
120 Tinkus Chaukas Filial VA USA Bolivian Tinkus
121 Cheer New York Cheerleading
122 The New York Raqs Sharqi All Stars Bellydance
123 Caporales San Simon NY Caporales
124 Tinkus Cochabamba VA USA Bolivian Tinkus
125 On-Site Dance Contemporary
126 Christ the King Catholic Secondary School/Ellison Travel and Tours Jazz
127 Jazzercise NYC Jazzercise
128 305 Fitness Aerobic
129 Caporales Universitarios San Simon Bloque NY Caporales
130 Caporales San Simon Virginia Caporales
131 Sol Dance Center Salsa-Bellydance
132 Sisters of Amal Bellydance
133 Murrowettes Cheer Team Cheerleading
134 Uptown Dance Academy Acro Jazz Hip-hop
135 Mother Glitter Earth Improv
136 Fraternidad Cultural Incallajta New York Bolivian Tinkus
137 Golden Hearts Dance Krewe Hip-Hop
138 Dream Makers Dance Studios Hip-Hop
139 Bollywood Dance Factory Bollywood
140 The Studio Brooklyn Various
141 Flash Mob Fitness Zumba
142 Erick Morrillo on the Pacha FLOAT House 
Special Thanks to New York City Mayor Bill de Blasio, Manhattan Borough President Gale Brewer, City Council Member Rosie Mendez, Members of Community Board 3, Board Chair Gigi Li and District Manager Susan Stetzer and Arts & Cultural Affairs Task Force Chair Ricky Leung, NYC Parks and Recreation Department District Manager Robert McLean, Director of Special Events & Permits Claudia Pepe, Special Event Coordinator Venus Melo, District Supervisor Mark Schulz and Tompkins Square Park Manager Terese Flores, NYPD Lt Stissi and Sgt McGuire, NYC Department of Sanitation Superintendent Thomas Lincoln, NYC Department for the Aging, Department of Transportation Event Coordinator Ivory Henderson-Robb and G.I.S. / Events Coordinator Shaun Bruney, Putnam County Government, Dance Parade Board, Steering Committee and all of the volunteers of Team Dance Parade: We value your support and thank YOU!