Welcome to Dutch Offshore Insights
First digital newsletter
As part of our own expansion and growth, we are pleased to launch our first Dutch Offshore Insights newsletter today. Each month we will feature different articles, upcoming events and activities of our company.
Dutch Offshore
Your maritime and offshore partner
Dutch Offshore provides (offshore) crawler cranes, special offshore equipment, a fleet of dynamic positioning vessels, heavy lift crane capacity up to 1400 ton and has three strategic locations in both the main port of Rotterdam, Zwolle and Amsterdam.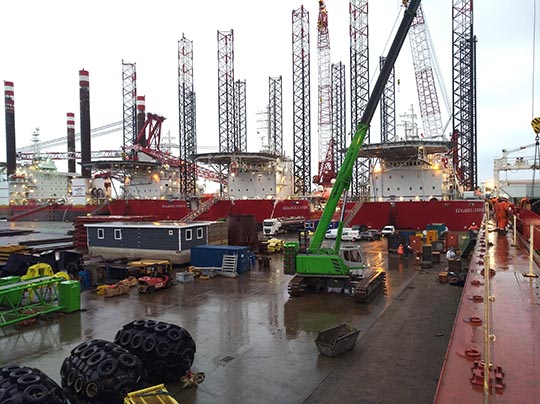 Mobilisation at Dutch Offshore Base
4 jack ups of Seajacks are positioned
The self-propelled jack-up sister vessels 'Leviathan', 'Hydra', 'Kraken' and 'Zaratan' required the necessary maintenance and are being prepared for the next season. Also the Multipurpose DP vessel Eems Dover has been mobilised for her next job.
Dutch Offshore Base provides enough crane capacity, jacking up facility and 800 m of quays for mobilisation without any influence of tides.
Offshore Energy 2017

Participation a big success

Thank you to everyone who was able to stop by our stand at Offshore Energy 2017. We are pleased to introduce our equipment and business services to our partners, existing and new clients.
Sennebogen 6300

300 ton heavy duty crawler crane

Our Sennebogen 6300 hydraulic crawler crane will be available from the 16th of November from our yard in Amsterdam. With a capacity of 300 ton, 45 ton line pull and 42mm wire, 1000 HP the crane can be mobilised anywhere in the world for offshore, marine and dredging works. Dutch Offshore also provides the official Sennebogen factory installed offshore load charts.
New brochure

Dutch Offshore brochure available

Please take a look at our new brochure and contact us for more information. We also have a hardcopy or full presentation available on request.
Conquest
Successful dry dock recovery in the Caribbean
During the passing of Hurricane Irma, a 580-metric ton dry dock sank at the side of the pier in St. Thomas, US Virgin Islands. The Resolve Marine Group mobilised the Conquest MB1 from Louisiana and moored the MB 1 alongside the pier adjacent to the casualty. As special rigging arrangement was developed to reduce the risk of damaging the shell plating of the dry dock.
Finally, the dry dock was rigged to the 1400 ton crane of the Conquest MB1 and lifted to the surface where she was dewatered and restored to a floating condition. Conquest next job is the salvage of a ferry.
New company cars

Mercedes cars for crane drivers

Two of our crane drivers got their new Mercedes cars. The cars are outfitted with the company logos and ready to do their necessary mileage to get them to the net job.
With kind regards,

Dutch Offshore

Ruijgoordweg 80

Westpoort 7070

1047 HM Amsterdam

The Netherlands

Phone

+31 20 74 00 527

Email

Website