Why not bookmark this AMPS Newsletter and read at your leisure!

AMPS Newsletter December 2017
This month - Paul Davies wishes everyone Merry Christmas, last call for Council nominations 2018, AMPS Cable Clinic, suggestions for AMPS TV Award, Save the Cinema Museum, new AMPS member, where shall we eat tonight, from dream to reality, The Normal People, re-inventing the SLR camera.
Image courtesy of Halo.
AMPS SOCIALS
Bristol Social - Wednesday 31 January 2018

Brewhouse & Kitchen, 31-35 Cotham Hill, Clifton, Bristol, BS6 6JY - 7.00pm on the last Wednesday of each month is the place to meet up with other AMPS members and like-minded people!
More about the venue here.
London Social - Tuesday 16 January 2018 - NOTE NOT FIRST TUESDAY IN JANUARY

Make sure that you attend the AMPS Social at the De Lane Lea bar in Dean Street on the first Tuesday of every month - be social with your AMPS members! The first Tuesday in every month - 6.00pm.
Media City Social, Manchester - NEXT SOCIAL TO BE ANNOUNCED

The next AMPS Media City Social will possibly be in February, date to be announced. Same venue as before - Digital World Centre, 1 Lowry Plaza, Salford Quays, Manchester, M50 3UB. All welcome.
Not in Bristol, Manchester, London…

Andrew Wilson reports, "Very pleased with AMPS 'Social' progress across the UK. If anyone elsewhere in the country would like to get something going in their region please let me know and I'll get you started. I'll do the admin and emails, we just need someone local to host!"
All events are open to AMPS members and guests. They are a great chance to put faces to names, to network and to chat. It's a rare opportunity for production sound and post sound folk to get together… plus there's beer and food!
---
AMPS Accredited Cable Clinic - starting Saturday 27 January 2018

NFTS, Beaconsfield.
More information below.
AMPS AGM Sunday 25 February 2018

NFTS, Beaconsfield.
More information to follow.
Merry Christmas from all at AMPS
On behalf of myself and the AMPS Council, I'd like to wish you all a very happy Christmas and a rewarding and successful New Year. The past year has seen the continuing success of the AMPS Film and Television Drama awards, for which the association has achieved the valuable status of IMDB recognition. Over the coming year Council will seek to expand and develop the awards.
We now have a revitalised Events group and have recently held several events which have attracted a good turnout by members; our aim is to hold even more in 2018. An AMPS Cable Clinic was held earlier in 2017 with another planned in the New Year, and AMPS Socials are now held regularly in a number of cities throughout the UK.
As ever the association is keen to encourage the participation of the membership, so if you have ideas for events or training courses that you'd like to see held, please do let Council know.
Paul Davies AMPS
Chair
Last Chance Call for Council Nominations 2018

As ever, we are keen to encourage new blood onto the Council, so you are invited to propose any Full, Retired (formerly Full) or Fellow Member whom you think would make a good Council Member. There will be five vacancies to fill next year.
Further information about the nomination process and nomination form for AMPS Council 2018 can be found
by clicking here.
But hurry! All nominations must be submitted not later than 31 December 2017!
AMPS Accredited Cable Clinic


AMPS is pleased to announce that it will be holding its 4th Cable Clinic at the NFTS, Beaconsfield and will be composed of four 'Saturdays' beginning on Saturday 27th January 2018.
Planned itinerary:
Day One - Because it has the right plugs doesn't mean it's the right cable
Day Two: Making Cables
Day Three: Cable Clinic
Day Four: End of the line?
Each participant will receive as part of the course fee the following:
* A basic tool kit and soldering station for fault finding and cable making
* A collection of cables that are made during the 4 day clinic
* An AMPS accreditation that you can put on their CV
* Printouts for reference of radio mic connector pinouts and other common plug and cable wiring data.
The clinic is open to anyone involved in the sound industry. Each day will start at 9.30 am and finish at 4.30 pm, lunch will be provided. The course fee is £300 for AMPS members and £400 for non-AMPS members.
Suggestions for AMPS TV Award Now Open

5th ANNUAL AMPS AWARDS
AMPS Award for Excellence in Sound for a Television Drama
The Eligible List is now open to AMPS Voting Members (FULL, ASSOCIATE or RETIRED) for suggested titles. Please submit any Dramas you have viewed or worked on that you consider worthy of inclusion in this year's AMPS Awards. You may suggest as many titles as you wish. From the Final Eligible List created from these suggestions, a ballot will be conducted among all AMPS Voting Members to determine the five Nominated Titles. A further ballot will decide the winner.

Eligible Dramas must have been broadcast between 1st January and 31st December 2017 and meet the criteria detailed here:
Rules for the AMPS TV Awards (PDF).
The Form allows for up to 5 entries but if you wish to submit more than this, please make a second submission. There is no limit. The closing date and a full ballot timetable will be issued later in the year.
AMPS AWARDS are gaining recognition and prestige, helping to raise the profile of AMPS and promoting the valuable contribution made by all in the Sound community so please use your vote. AMPS Awards are now recognised for inclusion in IMDb entries.
Last Chance to Help Save The Cinema Museum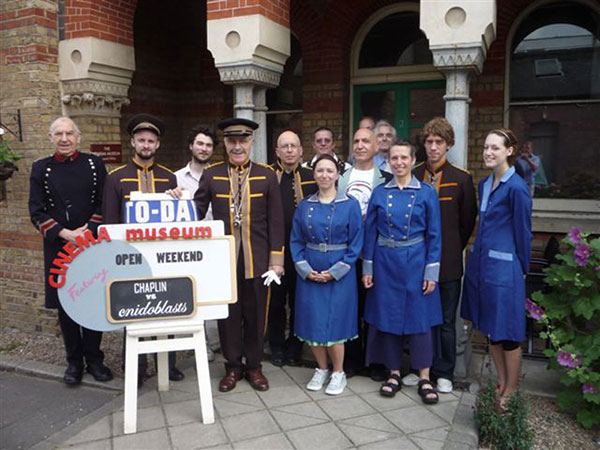 The old Lambeth Workhouse where filmmaker Charlie Chaplin spent some of his childhood has been home to The Cinema Museum for 19 years. That local historic film connection makes it a perfect home for us.

Despite numerous attempts to buy the building over the years and promises in writing from SLaM (South London and Maudsley NHS Trust) that they would sell it to the Museum for a fair and independent price, they are now planning to sell at speed to the highest bidder, telling them The Cinema Museum's lease expires in March 2018, implying that we can be easily evicted.

The Museum has never asked SLaM for charity – it is prepared to pay a fair price to secure its home and its future, so why does SLaM keep refusing to do that? The Cinema Museum is willing to work with potential developers to find a solution that provides affordable housing without destroying cinema heritage, our Museum and our important community-wellbeing work.
You may also remember that AMPS held its 25th Anniversary celebration at this venue back in 2014.
New AMPS Member - Lina Peertum

Hi, I'm Lina Peertum and a Mauritian born, production sound mixer and sound designer.


Recently, I worked on the award-winning short film PAWNS. The film was accepted in over nine film festivals, winning at the 'Los Angeles Film Awards' and 'The Monthly Film Festival' and was nominated at the 'Southampton International Film Festival' and 'Sacramento International Film Festival'.

 

I have experience in recording, designing, editing and dubbing sound and specialise in transforming sound into an almost tangible atmosphere, reflecting the moving images.


Currently based in Southampton, UK, I am undertaking my MA in Film Production at Southampton Solent University.

 
Where Shall We Eat Tonight… Let's Ask TripAdvisor!
"I made my shed the top-rated restaurant on TripAdvisor… and then served customers Iceland ready-meals on its opening night!"
"Have you ever had a crazy idea that wouldn't go away?" Here's a seven minute video that saw that 'crazy idea' through.
The Normal People and The Race of Gentlemen
Ok, ok… a bit of an interest of mine, but The Normal People is a beautiful piece of film! Best quote, "Of all the things that have come and gone… the house, the wife, the dog, the cats, they're all gone! This ain't gonna go!"
Careful, questionable language in certain scenes.
Re-Inventing the SLR 35mm Camera
Reflex is a modern update of the timeless manual SLR 35mm film camera. Distinctive in its modular design, it combines contemporary mechanical and electrical engineering with the classic design of an analogue camera, making it the first newly designed manual SLR system in over 25 years.
When developing the concept for Reflex, it had occurred to us that the easiest thing to do would be to reverse-engineer an existing camera system and add new technology to it. This, however, felt like a missed opportunity to build a completely new system from the ground up with modern design philosophies considered from the start.
AMPS has been running a Mentor Scheme for a number of years; we currently have a number of Members waiting for mentors.

If you think you can spare a couple of hours a month and would like to pass on your experience and knowledge to someone just starting out in the industry then please send an email the address below and we will send you an information pack about the AMPS Mentor Scheme.

We are particularly looking for Production Sound Mixers who are London based to mentor students based at the NFTS, Beaconsfield.
Did you know that the Directory pages on the AMPS website are some of the most frequently visited?

 

Make sure that your profile is up to date - you never know where your next work enquiry will come from!

 

 
Can we help with your Professional Development?
We're keen to hear from you with ideas for seminars and training sessions which would contribute towards Continuing Professional Development.
We're very aware that keeping up with techniques and updates can be a full time job in itself, so if there's any way that AMPS can contribute towards maintaining and developing your industry knowledge and skills, please get in touch.
AMPS Address & Phone Number
27 Old Gloucester Street
London
WC1N 3AX
Tel: +44 (0)1753 669111
AMPS, 27 Old Gloucester Street, London, WC1N 3AX
www.amps.net / +44 (0)1753 669111