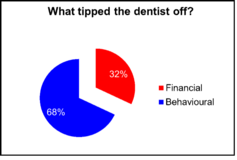 When we speak to dentists, one thing that always surprises audiences is what gives embezzlers away.  Most dentists expect that the majority of thieves are caught due to some kind of financial irregularity.  However, a 2007 ADA survey of embezzlement victims revealed that this wasn't true.  In fact over 2/3 of embezzlement is caught based on some aspect of the thief's BEHAVIOR.  Most thieves employ several methodologies and, based on their knowledge of their dentist's habits, carefully plan their embezzlement to evade scrutiny. 
The plethora of financial controls and self-auditing that have been suggested to dentist for many years for controlling embezzlement have been spectacularly unsuccessful.  In part, this is because dentists lack the time and training to properly use these tools.  However, a bigger factor may be that this approach bypasses a dentist's best opportunity to spot embezzlement.
Most of you know about our Embezzlement Risk Assessment Questionnaire.  This questionnaire takes about 15 minutes to complete, and assists a dentist in identifying behavioral telltales of embezzlement.  The Questionnaire is scored, so that a dentist can receive immediate feedback about the embezzlement risk that he or she faces. 
We periodically fine-tune the Questionnaire based on what we see in the field.  In September, we made some significant improvements. 
If you are using an older version of the Questionnaire, or if you have never used it, please request the updated version by clicking here. Completing the Questionnaire might be the best 15 minutes you ever invest in your practice. And don't worry -- we promise not to scold you

Want to dazzle an audience for your next speaking event? Bring in a Prosperident speaker!
Here's what someone who hired us as a speaker had to say recently:
"Having you here to present proved to be one of the most successful events we have ever hosted... Thanks again for an incredible seminar!"

Sincerely,
Theodore C .Schumann, CPA CFP
The DBS Companies, Bay City, MI
 

 

 

Jennifer is one of the most versatile consultants you can find.  She is a fusion of clinical and managerial knowledge.  She has been a hygienist, a software trainer, a certified HR expert, and has been involved in practice transitions.  Her true niche is in helping dentists manage their practice and their teams.  We value Jen in situations where an office faces multiple issues simultaneously and needs someone with her breadth of experience to work through them. In addition to her broad knowledge, her outgoing nature and earnest personality make it hard not to like her.  Let's hear what Jennifer has to say about understanding practice finances ...
There is a ministry for couples struggling with finances that I volunteer with.  Recently I met with a couple who lost their home to foreclosure and moved in with her parents.  They told me that they lost their home because they couldn't afford their house payment.  The first step in working with a couple for financial mentoring is to have them list all of their expenses and write down everything they spend for one month.  After reviewing this couple's information I noticed that they spent $875 on their son's birthday party and gift.  When I asked them how much they thought they spent they answered "about $300".  The mortgage of the home that they lost was $580 a month.  When I showed them the numbers, they realized that the mortgage really wasn't too high for their income, but their spending was.  Having the data made it very clear to see what the root cause of their financial situation was from.  Without tracking their expenses they would not have understood so easily what the cause and solutions were.  Tracking the numbers facilitates data based decisions.  The alternative is decisions based on our emotions.  Our emotions fluctuate however, the numbers don't lie.
Tracking practice statistics in a dental office is very important as well.  Without the numbers, practice decisions are often based on emotion or what happened in the last few days.  For example, Dr. Brown noticed that his collections have not been what they should be.   He remembered seeing a report last month that listed all the adjustments and was shocked by how much is written off due to his contracts with insurance companies.  Dr. Brown determined that the insurance write offs are the reason why his collections are low.  While this may be true, it is quite possible that there are other protocols affecting his low collections.  They could be any of the following:
·        Payment on day of service
·        Collection calls and letters
·        Insurance claim follow up
·        Case presentation
·        Payment options for patients
·        Cancellations/no shows
Without tracking and reviewing practice statistics it is difficult to understand the real reason(s) behind the successes and challenges in a practice.  Without understanding the root cause of a challenge, finding a solution will take considerably longer.  However when statistics are tracked it makes it easy to identify the needed changes, and when the new protocols are successful.  The next time you have a challenge in your practice, focus on what your practice statistics are identifying as the root cause.

This is our last newsletter of 2013, and I want to thank those of you who have made a point of letting me know that you appreciate our newsletter.  I'm always pleased (and I'll confess, a bit surprised) at the frequency of comments like "yours is the one newsletter I actually take the time to read".
When we started our newsletter about a year and a half ago, I couldn't have imagined that readership would grow fivefold (I'm pleased to say that our readership now exceeds 10,000), and that, just like the TV show CSI, would spawn a number of spin-offs, as we now also have a newsletter specifically for consultants and others who advise dentists, and another designed for meeting planners and study club coordinators.
While I am pleased with the effect that this newsletter and our other outreach efforts are having on raising awareness of the embezzlement problem facing dentistry, embezzlement continues to victimize far too many dentists.  Published statistics suggest that the probability of a dentist being embezzled in his or her career is 60%, and that the average amount embezzled exceeds $100,000.  While these statistics should alarm and enrage every practicing dentist, they don't even tell the full story.  Embezzlement does far more than empty dentists' pockets; it terminates friendships, causes people to lose their jobs and pushes dentists into bankruptcy.  It has ended marriages.  It also destroys the ability for victims to trust the people around them.  I consider practicing dentistry to be a stressful environment anyway, and an inability to trust creates another layer of pressure on top of what is already there.  For some, this represents the breaking point.
So with that preamble, Santa, here is my list.  I have tried to be good all year.  I understand that I probably won't get everything I ask for, but I thought I should ask anyway:
1.  I'd like dentists to understand that it CAN happen to them.  A major enabling factor is that many dentists believe that there is something in their circumstances that makes them "embezzlement-proof".  Take it from me that there is no such thing.

2.  I wish that dentists would respond more decisively to symptoms.  Far too many dentists ignore glaring indications of embezzlement because they refuse to believe that their "extended family" of staff would ever steal. 

3.  I'd like to see the criminal justice system move WAY more quickly to deal with embezzlers. 

4.  Since my mom taught me not to be greedy and to also wish for things for others, on behalf of all of us at Prosperident, I wish that the rest of 2013 is safe, prosperous and enjoyable for all of you. 


David Harris, CFE

Emergency Coverage Over Holidays
While our switchboard isn't staffed between Christmas and New Years' Day, our embezzlement hotline,
emergency@dentalembezzlement.com
is monitored daily 365 days per year. 

Prosperident -- The world's largest dental investigation embezzlement firm