If you cannot read this newsletter, click here to view this email in your browser
| | | | |
| --- | --- | --- | --- |
| | | | March 2022 |
Dear ,
Thank you for reading our newsletter.
The past years, we have implemented many online training sessions. But after organizing the first study tour last October many more study tours and live training sessions were carried out or planned. We have also been granted a new project that aims to empower Iraqi women. Therefore we expect 2022 to be a very busy year for our expert-team.
So, if you're planning to visit the Netherlands, or want us to organize a tailor-made training, we advise you to contact us well in advance so you can book your study tour or training at your preferred time.
Let's start connecting the agro-world again!
| | |
| --- | --- |
| Ties between Georgia and the Netherlands strengthened | |
HollandDoor gave 14 visitors from Georgia a lively and inspiring study visit to the Netherlands in December 2021. The tour was commissioned by
the
Georgian Farmers Association
(GFA) which unites about 4,000 farmers across Georgia and acts as a facilitator between the government and farmers. GFA takes an active role in various development projects along the value chain.
The program has provided great insights into practical education and partnerships between organizations in the education and private sectors. Moreover, this visit strengthened ties between the 14 Georgian teachers from agricultural colleges, students, private sector instructors, the staff of GFA and the donor UNDP with education and agribusiness in the Netherlands.
The program also introduced participants to Dutch educational methods used at
HAS University
(applied sciences level) and
Yuverta
(vocational level). The visit was enriched by student meetings, a visit to the European Parliament and site visits to agribusinesses in the Venlo region that specialize in plant breeding and propagation, fruit cultivation, dairy, veterinary, gardening and food processing.
| | |
| --- | --- |
| Revitalizing vocational education in Indonesia | |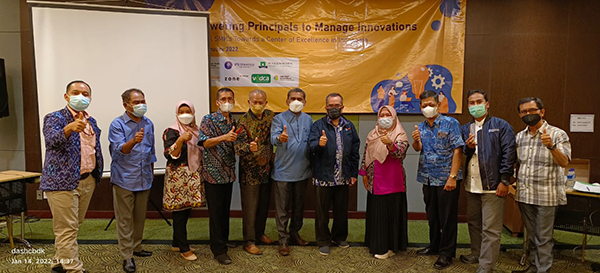 In February, more than 85 teachers from 13 sekolah menengah kejuruans SMK's (vocational upper-secondary schools) from all over Indonesia followed a six-day training program on horticulture, poultry and food processing at the Vocational Education Development Center for Agriculture (VEDCA) in Cianjur. Each program combined practical training in the field, online discussions with Dutch experts, workshops and action plans on how to revitalize their teaching programs.
Earlier this year, 10 principals followed a program at IPB University in Bogor and 3 principals followed a program in Jember. It gave them the opportunity to learn more about:
how to stimulate their team with teaching innovations and how to meet market needs,
how to embed entrepreneurship in their teaching system,
how to create partnerships with a number of agricultural industries.
Are you an educational policymaker, principal, dean, or teacher and are you interested in learning how your educational programs can better meet the needs and developments of the labor market? Contact
Engelie Beenen
for further information and to find out how we support the revitalization of (vocational) education in your region or at your school(s).
| | |
| --- | --- |
| Training program in Jordan has entered a new phase | |
The Nuffic-funded training program "Jordan's Horticulture: A business that matters" has just started its second phase. It involves training in the fields of hydroponics, aquaponics, integrated pest management and value chain management for the final target group in Jordan: farmers and other stakeholders.
In the past two years, we have provided regular updates via this newsletter about the training courses that HollandDoor offered, in collaboration with the Jordanian Agricultural Engineers Association, to a group of selected "master trainers" in Jordan. Eighteen experts from Jordan expanded their knowledge during training courses on aspects of cultivation and value chain management and through a mission to the Netherlands. Subsequently, they launched the first of a series of training courses for farmers.
The farmer courses consist of a theoretical part in addition to field applications at the modern JAEA Training Station in Jordan Valley. In recent months, this station was equipped with several modern hydroponic and aquaponic systems derived from Jordan suppliers, which makes the systems more accessible to the sector.
| | |
| --- | --- |
| Benin horticulture explores hydroponic cultivation | |
| | | |
| --- | --- | --- |
| | | |
In 2020, HollandDoor started an OKP TMT+ Project in Benin to upgrade the vocational education capacities of teachers at 4 technical agrarian high schools. The project is divided into three work groups: animal production, horticulture and irrigation.
In January, trainers of HollandDoor were able to train the irrigation teachers in person in Benin. The training activities were enhanced by daily field visits to irrigation projects. These projects were research projects and commercial projects involving tomato crops. The visits showed what is required to start producing a crop with irrigation.
In the third quarter of 2021, the Horticulture group held several online sessions. These included lectures on IPM, plant physiology in relation to the climate, and soil health. Although online training has its merits, it can't really live up to the experience of a live training session. That's why a company called
Benin Fertilisant Sarl
organized a one-week practical training course in February in Porto Novo. Various lectures and many practical sessions took place on the farm of Benin Fertilisant Sarl. In addition to the important content that was discussed, it was a unique event because it brought together 20 horticultural teachers from 4 different schools.