Alternatives Conference 2018
Meet our keynote speakers!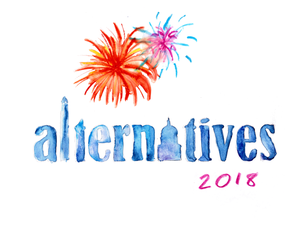 *Thank you to Libby Hartigan, our logo design winner.
Don't miss this rare opportunity to have an impact in the nation's capital. 
Now more than ever we need to join together to make positive change in our country.
The Alternatives conference is the oldest and largest conference of its kind, organized and hosted for more than three decades by peers for peers (people with lived experience of the behavioral health system, emotional distress/crisis, trauma, or substance use/addiction). Alternatives is renowned for offering the latest and best information in the peer recovery movement, and provides an invaluable opportunity for peers to network with and learn from one another. This will be a

'

people's Alternatives,

'

 funded entirely through registration fees and donations. We will be 'on our own' again, connecting to the roots of our movement.
The Alternatives planning committee would like to introduce
the keynote speakers.
Tuesday, July 31, 7:00 pm – 8:30 pm
Crazy Lives Matter Too: Imagining a World Where Everyone Is Valued
In this keynote, Wilda will discuss her vision of a successful Mad Pride movement that puts at the center of our activism the most marginalized among us, how to get there, and what the world looks like when we succeed.

Wilda L. White
 is the outgoing executive director of Vermont Psychiatric Survivors (VPS), Inc., a statewide mutual support and civil rights advocacy organization whose mission is to end p
sychiatric coercion, discrimination, and oppression. She is also chair of the Vermont Mental Health Crisis Response Commission, created by the Vermont legislature to review and improve law enforcement interactions with persons believed to be in a mental health crisis. She is licensed to practice law in New York, California, and Massachusetts.
Reclaiming the Terms of Engagement:
A Vision for User/Survivor Leadership in Research
Drawing on examples of work happening in Canada and the UK, Nev will sketch a vision for the reclamation of academic understandings and conceptualizations of "mental health" through user- and survivor-led research initiatives. 

Nev Jones is an assistant professor of mental health law & policy at the University of South Florida, affiliate faculty of the Louis de la Parte Florida Mental Health Services Institute, and affiliate faculty at the Yale University Program for Recovery and Community Health. She has co-founded/co-led two regional hearing voices movement networks, and is actively engaged in working to transform response to individuals experiencing voices and extreme states across the areas of research, policy and practice and has led multiple initiatives designed to help shift power and voice back to those with direct personal experience of the public mental health system.
Wednesday, August 1, 9:00 am – 9:45 am
How My Experiences as a Mental Health Client
Shaped My Later Work as a Therapist
This keynote will address how Daniel's first experience in therapy led him to explore alternatives to traditional mental health services, including 12-step programs, peer support, and self-therapy. 

Daniel Mackler was a psychotherapist in New York City for 10 years. He is the director of four documentary films on recovery from psychosis and schizophrenia without medication and is co-author of two books. Daniel has spent the last several years traveling the world giving lectures, workshops, and film screenings on mental health-related subjects—and studying the inner workings of international mental health systems. Daniel is a survivor of childhood trauma and a survivor of a lot of confusing and painful therapy.
Shery Mead, Chris Hansen, and Sera Davidow  
Creating Alternatives to Hospitalization
Speakers will introduce their Peer Respite Handbook, which gets at the heart of what peer respite is, how it's different from options offered by the traditional mental health system, and how to develop and sustain a respite in ways that are true to the vision. 

Shery Mead, past director of three New Hampshire Peer Support Programs, including a peer-run hospital alternative, is an internationally known speaker on alternative approaches to crisis, trauma-informed peer services, systems change, and the development and implementation of peer-operated services. Shery's Intentional Peer Support has been adopted by several states as a "best practice." This trauma-informed approach sees connections and relationships as the core of healing and growth.

Chris Hansen, 
a native New Zealander, is the director of Intentional Peer Support, and has been co-teaching and developing Intentional Peer Support in the US and in other countries with Shery Mead for the past 11 years. Chris has spent 20 years involved in local, regional, national, and international peer support and advocacy initiatives, and in mental health sector planning and politics from a service user perspective.

Sera Davidow is a filmmaker, activist, advocate, chocolate lover, and mother of two very busy kids. She spends much of her time working with the Western Massachusetts Recovery Learning Community, serving on the board of Hearing Voices USA, and blogging at www.MadinAmerica.com. 
Thursday, August 2nd, 9:00 am – 9:45 am: Keynote and Presentation of Awards
The Power of the Local: Building a Future Beyond the Mental Health System, One Grassroots Community at a Time
Laura Delano will lay out her vision for what is possible in a future beyond the "mental illness" and "mental health" models.

Laura Delano
 is an ex-psychiatric patient and co-founder and executive director of Inner Compass Initiative (ICI). ICI shares information to facilitate informed "mental health" choices and provides resources to support people who wish to leave, bypass, or build community beyond the mental health system. She also leads ICI's 
The Withdrawal Project
(TWP)
, a comprehensive web-based resource for safer psychiatric drug tapering and withdrawal. You can find out more about Laura, ICI, and TWP at 
www.theinnercompass.org
.
New at the Alternatives Website: 
Register now to get the best rates for the conference. 
♦
Honor peer leaders in your community. At each Alternatives Conference, awards are given to people who have contributed to our community. You are invited to honor peer leaders in your community by sending nominations for the awards by
June 30, 2018
at the following link:
https://goo.gl/forms/G0JunOkcHlMF31hS2
The Alternatives Conference has been
approved by the National Association of Social Workers (NASW Approval #886758713-8997) for 10.5 continuing education contact hours (CEs) 
for workshop attendance. Many organizations accept their approval. For people who are working as Certified Peer Specialists, your local organization may have requirements for continuing education units. Most accept a certificate that lists contact hours which can be obtained at the conference.
Individuals and organizations may sign up for exhibits. Exhibit applications are due by July 15 (or whenever the available space sells out).
Sponsors are needed. Please encourage organizations or individuals to become sponsors.
Dorm room registration for lodging on campus is available now.
Follow this link to register
 (There is air conditioning in all meeting rooms and the dorm rooms.)
We look forward to seeing you at Alternatives 2018!
Questions? Write info@ncmhr.org
Follow @AltCon_2018 on Twitter; the hashtag is #Alternatives2018. For the Alternatives 2018 Facebook page, click here.

National Coalition for Mental Health Recovery
Email: info@ncmhr.org