Why not bookmark this AMPS Newsletter and read at your leisure!

AMPS Newsletter April 2017
This month - AMPS TV Award winner announced, IMDb recognises AMPS awards, AMPS Fellow's lunch, BAFTA nominees, new Sustaining Member, inside refurbished BBC, Abbey Road transformation, Wembley Park Studios, Dark Side of the Moon console sold, new AMPS members, Curzon Mayfair saved.
AMPS SOCIALS
Bristol Social - Wednesday 26 April - NEW VENUE

Brewhouse & Kitchen, 31-35 Cotham Hill, Clifton, Bristol, BS6 6JY - 7.00pm on the last Wednesday of each month is the place to meet up with other AMPS members and like-minded people!
More about the venue here.
London Social - first Tuesday each month

Make sure that you attend the AMPS Social at the De Lane Lea bar in Dean Street on the first Tuesday of every month - be social with your AMPS members! The first Tuesday in every month - 6.00pm.
… not in Cardiff, Bristol, London or Leeds?
Andrew Wilson reports, "Very pleased with AMPS 'Social' progress across the UK. If anyone elsewhere in the country would like to get something going in their region please let me know and I'll get you started. I'll do the admin and emails, we just need someone local to host!"
All events are open to AMPS members and guests. They are a great chance to put faces to names, to network and to chat. It's a rare opportunity for production sound and post sound folk to get together… plus there's beer and food!
---
AMPS Golf Day

David Stephenson is arranging another golfing event, either 2 or 9 September. Please get in touch to show your interest and date preference -
dasmix.sound@gmail.com
Media Production Show
13-14 June 2017
Olympia, London
Visit to Hearing Dogs Trust
15 June 2017, 2.30pm
Princes Riseborough, Bucks, HP27 9NS
AMPS are presenting our charity cheque to the Hearing Dogs Trust at 2:30pm on 15 June 2017 and also to take a tour of the premises to meet the puppies and see what great work goes on at their Headquarters. For more info and to book your place please email
admin@amps.net
The Night Manager Wins AMPS Television Drama Award
The 4th Annual AMPS Award - 'Excellence in Sound for a Television Drama' has been won by The Night Manager; we congratulate the winners.
The Final Ballot was conducted among five worthy nominated soundtracks - The Crown, Game of Thrones, House of Cards, The Night Manager and Stranger Things. Congratulations to all the Nominees, it's great to be recognised by your peers.
The aim of the awards is to promote the creative craft of Sound for Film and Television. We conduct our ballots and announce our results ahead of the BAFTAs. We hope this will influence all the BAFTA 'non-sound' voting members, who may take notice of the decisions made by Sound Professionals when casting their votes.

The Television Drama Award is sponsored by Twickenham Film Studios and Goldcrest.
AMPS Awards Gain IMDb Recognition
Thanks to the diligence of two Council members, Chris Munro and Jules Woods, AMPS Film and TV Awards will now be included in the 'Awards' section of IMDb listings. This is a giant step forward for our awards and AMPS. We are steadily gaining international recognition. Many of the Nominees and Winners over the past four years have emphasised their particular pride in being honoured solely by peers - the creative sound professionals that are the AMPS Voting Membership.

The Council is actively pursuing the extension of our Awards to include more categories. This has to be undertaken prudently year on year - there are other bodies that present numerous trophies annually, sometimes diminishing their value. Our aim is to maintain the prestige we enjoy by rewarding those at the top of their craft who oversee the teams that create the excellent soundtracks we honour.

As always, Council welcomes feedback from the membership, and suggestions as to how we might proceed in the future.
AMPS Fellows Welcome New Member over Lunch
Welcoming new member John Rudling, the AMPS Fellows recently celebrated with a slap-up lunch at Brasserie Blanc in London.
And there was no going home for a late-afternoon nap, as four of the Fellows carried straight on to the AMPS Social at Warner Bros. De Lane Lea that evening!
Pictured clockwise from left: Ivan Sharrock, Peter Hodges, Brian Simmons, Andrew Boulton, Walter Murch, Graham Hartstone, John Iles, Eddy Joseph and John Rudling.
AMPS Member BAFTA TV Craft Nominees
BAFTA have recently announced their 2017 TV Craft Awards nominations. AMPS once again have a number of nominated members.
Chris Ashworth; War and Peace, Howard Bargroff; The Night Manager and Howard Bargroff & John Mooney; Sherlock: The Abominable Bride
AMPS offers congratulations and best of luck to all.
Cordwallis Group Becomes Sustaining Member
Volkswagon commercial vehicle dealership Cordwallis Group have very recently confirmed their place as an AMPS Sustaining Member. We also view them as a Preferred Partner, so we encourage members to contact them as a 'first choice'.
"The exciting all-new Crafter has just been launched and orders can be placed for early delivery."
Inside the Refurbished BBC Televison Centre

David Conway, Managing Director of BBC Studios and Post Production Ltd reports on the redevelopment of 'TVC'.
"It's been nearly three years since we closed the studio doors at Television Centre and decamped BBC Studios and Post Production to Elstree. The move has been more successful than we could have hoped for, thanks to the tremendous support from all of the productions, talent and staff who made the journey with us.

Despite this, not a week goes by without somebody asking me how the Television Centre redevelopment is coming along, or the building known as 'TVC'. In this regard, we have just passed a major milestone – structural works in our part of the building have been completed and the keys have been officially handed over to us for our tech fit-out.
So we thought now was a good time to open the studio doors and show people our progress so far. At the end of January, I was joined by clients from across the TV industry for a sneak preview of the revamped studios and post-production facilities ahead of the official opening in spring 2017. It was a great moment and undoubtedly the highlight of my year so far."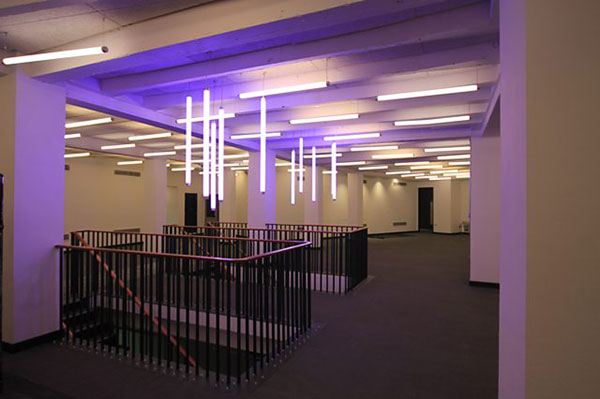 Abbey Road Unveils 'Biggest Transformation'
Calling it 'the biggest transformation since the studios opened', London's Abbey Road Studios has opened a Dolby Atmos Premier Accredited mix stage and two new 'contemporary' studios ­ The Gatehouse and Thew Front Room.

Configured for Imax audio compatibility, the Mix Stage handles 4K projection and is equipped with a 44-speaker set-up and an AMS Neve DFC3D mixing console accompanied by seven Pro Tools systems and a dedicated HDX picture playback machine.

The hybrid structure of the mix stage console – which was conceived by Abbey Road engineers and is housed by a Frozen Fish Designs custom frame – allows the interchange of DFC3D and Avid S6 buckets. 'What this means in layman's terms,' says the studio, 'is that, for the first time ever, filmmakers and sound crews have everything that they need for pre and final mixing for film, all within the walls of Abbey Road Studios.
That's a Wrap! The Story of Wembley Park Studios

AMPS member Ian Sands recently brought this wonderful footage to our attention.
The Story of Wembley Park Studios tells the fascinating history of the film and television studios located at Wembley Park in North West London. Recorded throughout 2016 before the studio's closure the film talks to those who were involved from the early days of independent television right through to modern day shows such as The X Factor and Britain's Got Talent.
Abbey Road Dark Side of the Moon Console Sold for $1.8m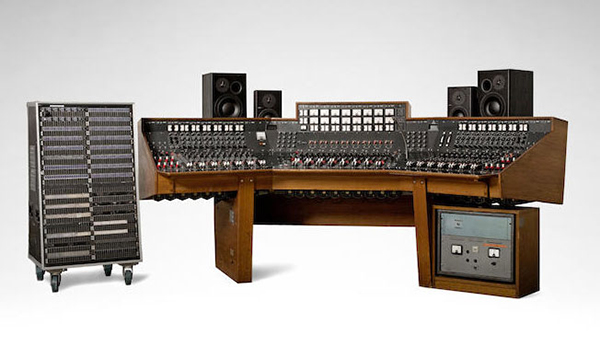 Bonhams Auction House has recently reported that the recording console used to record Pink Floyd's 1972, 15–times platinum album Dark Side of the Moon has just sold at auction for $1,807,500.

The 'absolutely massive' 40–channel EMI TG12345 MK IV was built for and used by Abbey Road Studios from 1971 through to 1983. According to Bonhams, the console was also used on recordings by Paul McCartney and Wings, George Harrison, The Cure, and Kate Bush, who was herself discovered as a teen by David Gilmour.

This recording console was at the cutting edge of audio technology at the time that it was built in collaboration between Abbey Road and EMI, but the $1.8 million price tag is surely a reflection of its status as a holy grail artifact of rock and roll history.

The console is being sold by producer Mike Hedges, who bought it off of Abbey Road when the studio was revamping its equipment in 1983. No information about the buyer has been disclosed.
New AMPS Member No. 1 -

Ashley Sinani
Hi all, I'm a London-based new graduate from the NFTS Production Sound course of 2016. Having been assisting and traineeing occasionally on Drama and Features for a couple of years, and doing corporate and one man band stuff for a little longer, (all part time through my degree and postgrad). I am now shooting full time, and would welcome contact from any members whom I may be able to form working relationships with, assist for and learn from.

Thanks very much for accepting me in the community; it is nice to be here.
New AMPS Member No. 2 - Chris Durfy
Hello, I'm Chris Durfy. Let me start off by saying that I'm very proud to be one of the newest members of AMPS. Thank you for having me. I recently moved to the southwest of England from Atlanta, Georgia to be nearer to my wife's family in beautiful Devon.

 

I've been a sound mixer for 15 years, mostly focusing on drama and feature work. While most of my work has been for the American market, one of my shows, Stranger Things, did make it's way over here as well. I look forward to meeting and collaborating with fellow members. Cheers!

 
Curzon Mayfair Cinema Saved!

AMPS member Peter Hodges recently brought to my attention that the Curzon Mayfair cinema has been under threat from developers. I was there only a few months ago and you can't help but be amazed at the interior design. Great news, pay a visit if you can.
West End Community Activist Pancho Lewis reports -
I've just received some fantastic news: the Curzon Mayfair is no longer under threat of closure. The developers and cinema have come to an agreement, and so the venue will continue to operate as normal.
I therefore want to say a huge thank you for getting behind the campaign to save the cinema. Without your support and the 27,000 others who signed the petition, we almost certainly wouldn't be making this announcement today. It shows that by pulling together, we can help protect the West End's cultural heritage.
But the campaign to protect the West End's cultural heritage doesn't end here. A toxic mix of rent increases, luxury housing developments and new transport infrastructure continues to present an unprecedented challenge for cultural venues and places of historical value in the West End.
So, over the coming months I'll be working with the local community to keep the campaign going. Events and screenings will be hosted to look at how a sustainable future can be built for the West End's cultural heritage.
Add you details here to keep up to date about ongoing campaign activities.
And if you live in the West End and want to flag other threats to our cultural heritage which you're concerned about, please don't hesitate to get in touch. My email is
pancho.westend@gmail.com
.
AMPS has been running a Mentor Scheme for a number of years; we currently have a number of Members waiting for mentors.

If you think you can spare a couple of hours a month and would like to pass on your experience and knowledge to someone just starting out in the industry then please send an email the address below and we will send you an information pack about the AMPS Mentor Scheme.

We are particularly looking for Production Sound Mixers who are London based to mentor students based at the NFTS, Beaconsfield.
Did you know that the Directory pages on the AMPS website are some of the most frequently visited?

 

Make sure that your profile is up to date - you never know where your next work enquiry will come from!

 

 
Can we help with your Professional Development?
We're keen to hear from you with ideas for seminars and training sessions which would contribute towards Continuing Professional Development.
We're very aware that keeping up with techniques and updates can be a full time job in itself, so if there's any way that AMPS can contribute towards maintaining and developing your industry knowledge and skills, please get in touch.
AMPS Address & Phone Number
27 Old Gloucester Street
London
WC1N 3AX
Tel: +44 (0)1753 669111
AMPS, 27 Old Gloucester Street, London, WC1N 3AX
www.amps.net / +44 (0)1753 669111