Here are some of the places you can hear us speak in the next few months:
| | |
| --- | --- |
| Sep 5 | Patterson Dental, Biloxi MS |
| Sep 11 | Island Pursuit of Dental Excellence, Nanaimo BC |
| Sep 19 | Santa Monica Oral and Maxillofacial Study Club, Santa Monica CA |
| Sep 21 | New Jersey Health Professionals Development Institute, River Edge NJ |
| Oct 5 | Pacific Coast Society of Orthodontists, Anaheim CA |
| Oct 11 | Southern Association of Orthodontists, Nassau Bahamas |
| Nov 15 | Dalhousie University, Halifax NS |
| 2015 | |
| Jan 29 | topsFest, Atlanta GA |
| Feb 20 | Ortho2 User Group Meeting, Scottsdale AZ |
| May 8 | American Association of Endodontists, Seattle WA |
| Sept 11 | Northeastern Society of Orthodontists, Providence RI |
| Nov 5 | ADA Annual Meeting, Washington DC |
To book a great speaker for your meeting or study club, please send an email
here
  or call us at 888-398-2327.
Dr. Little Goes to Washington
One of Prosperident's most accomplished speakers, Dr. Pat Little FAGD, has been confirmed as a speaker for ADA 2015 at the Walter E. Washington Convention Center in Washington, DC.  Congratulations, Pat! 

 "We eliminate uncertainty for dentists with embezzlement concerns and maximize financial and emotional recovery for victims."
"Improvise, adapt and overcome" (with apologies to Clint Eastwood's character in the 1986 movie Heartbreak Ridge). An embezzler in your office makes a careful study of your controls and procedures, and plans an embezzlement methodology that will circumvent them. With many, many opportunities in your practice, a thief is almost certain to find an embezzlement "pathway".
A thief can defeat any set of controls.  The "embezzlement-proof practice" simply doesn't exist.
A great interview on embezzlement with David Harris on Marilee Sears' excellent
The Future of Dentistry
series is available by clicking here:
Check out our web store

One of our most popular items is our Embezzlement Risk Assessment Questionnaire.  Spending 15 minutes completing this questionnaire is the absolute best use of a dentist's time for controlling embezzlement.
We've recently updated the Questionnaire based on our ongoing experience with embezzlement.  If your questionnaire is more than a year old, we'd definitely recommend obtaining the updated version.
For the month of July, the questionnaire can be purchased at a 25% discount by using the Offer Code JULY25SALE when selecting the Questionnaire.
 

 

Andy Jensen is a very interesting guy.  He spent almost 20 years with Henry Schein in the software area before becoming the VP Marketing for Curve Dental, the upstart practice management software that has led the pack in the move to cloud-based computing.

 

We at Prosperident see major advantages to cloud-based practice management software and are thrilled to have Andy join our illustrious group of guest columnists.
Bad Things Happen to Good Practices
By Andy Jensen
Bad things do happen, even to good people. Tornadoes have a funny way of indiscriminately targeting whatever gets in their path. National news of spring flooding seems to always surprise us. That last big hurricane made land fall without a care for you and your efforts to board up the practice. And something that affects us all: A thief in need of cash turns a blind eye to how often you volunteer at the local shelter.
Preparation for disaster is the key solution for every unfortunate incident. But there's one big drawback: To prepare for uninterrupted service and a quick recovery the practice would need to spend oodles of money on equipment, configuration, line and power services, monitoring and continued maintenance to get the job done correctly. The amount of life energy and financial resources to spend on this problem makes it somewhat unreasonable for the dentist and their team to realize the perfect disaster recovery plan.
Fortunately, there is a solution that provides adequate protection and is financially reasonable: The cloud provides the overall best business continuity solution. In the event of a disaster the practice can regain access to ALL of its data in a matter of minutes. And the cost of utilizing a web-based application, both in terms of dollars and mindshare is a fraction of what it would be otherwise.
Take, for example, the experience of Drs. Chung and Aurora of Vancouver, who utilize a web-based application, Curve Dental, to help them manage their practice. Upon arriving one morning ready for a new day, Dr. Aurora quickly discovered that all of his computers had been stolen during the night. With patients set to arrive soon, Dr. Aurora called his wife, who brought him a personal laptop from home. Within minutes Dr. Aurora had access to the day's schedule and it was mostly business as usual.
"It takes time and expertise to re-install and set up traditional client-server management software," says Dr. Chung. Theft is not an uncommon disaster for dental practices, and for good reason. Thieves are confident they'll find computers, servers, networking equipment, and drugs, all of which can be easily sold for a quick profit. Without computers, a dental practice using client-server software would lose at best half a day of production—and cross their fingers for an off-site data backup that will restore correctly.  Dr. Chung says that with their software "all one needs is a computer with an Internet browser."
To prepare for the worst, practices would be faced with spending unreasonable amounts of energy and resources to keep their data safe and available. Web-based applications offer the overall best business continuity solution for the typical practice. Web-based dental software, that has been appropriately architected, is inherently more secure and available than client-server software.
Curve Dental has prepared several whitepapers and a real life case study on how web-based dental software can be a lifesaver for practices struck by disaster. Doctors can call 888-910-4376 to receive these papers or visit www.curvedental.com/whitepapers.

Prosperident had a visitor on the weekend -- Hurricane Arthur traveled up the East Coast and walloped us on Saturday.  Fortunately, our extensive computer infrastructure didn't miss a beat and remained in full operation throughout the storm.  Others weren't so lucky.  At the peak, 140,000 Nova Scotia households were without electricity, and as I write this (two beautiful sunny days after Arthur hit) there are still about 30,000 households more-or-less patiently waiting for power.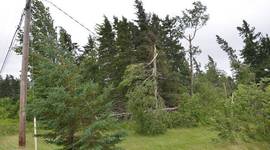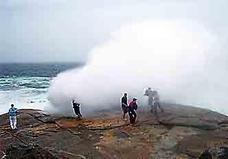 Interesting, but what does this have to do with embezzlement, you might ask?  The sheer power of nature is at different times wondrous and frightening.  While the determination and ingenuity of a motivated embezzler will not knock down trees or cause boats to sink, measured against the scale of human emotions it ranks somewhere between a tropical storm and a hurricane.
And kind of like the people in the picture by the rocks at Peggy's Cove who have placed themselves in (possibly mortal) danger by underestimating nature's power, underestimating embezzlers is also perilous.
I encourage you to take advantage of the summer months to give careful thought to whether anyone in your office is demonstrating embezzlement-like behavior.  The Association of Certified Fraud Examiners recently released its 2014 Report to the Nations, which gave some very interesting statistics -- over 90% of embezzlers displayed at least one such behavior, and over 60% presented two or more behaviors consistent with embezzlement.  Our popular ERAQ is a tremendous help in organizing your thoughts and analyzing the results.  If you don't have one, or yours is more than a year old, please take advantage of our special July offer.
I hope you have a great summer that is hurricane and embezzlement free.

S
S

David Harris, MBA CMA CFE


Prosperident -- The world's largest dental investigation embezzlement firm