Compassionate Approaches to Crisis Webinar Series
Over the next several months, the National Empowerment Center will be offering several webinars on peer-run services serving individuals experiencing an emotional 
crisis
. Topics covered will include peer-staffed warmlines, peer respites, and the 
living
room
 model.
Our next webinar in the series is scheduled for Thursday, December 9th, from 4-5:30pm ET.
Thursday, December 9th, 2021
Art-making as an Alternative Philosophy of Care During Emotional Crisis
In this workshop, we will explore several conditions and intentions in art-making practice which can create spaces that support healing for ourselves and for those in emotional crisis. We will talk about art-making as a container for suffering, anger, altered states and other experiences; how to facilitate flow within this space; and what obstacles can appear like fear, judgement, shame and paralysis. We will talk also a bit about lowering stakes in self-expression by encouraging and incorporating play and mistakes as powerful learning experiences. I will offer tools and ideas that together use art-making practices and concepts as a framework for a philosophy of care and compassion in the presence of our own and other's suffering, and create portability of these practices so that we can bring these ideas and intentions into our lives and relationships day to day to create positive change within our selves and our larger communities.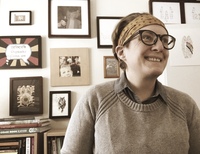 Karin Jervert
Karin Jervert is an artist, author, and psychiatric survivor. Writing and art-making have been passed down to her through two generations of women artists, along with a respect for the artist's powerful role in society and for the creative force itself. She strongly believes, telling our stories is a revolutionary act, one that reinforces the immeasurable value of each our lives and moves us towards collective justice. Karin currently is the Art's Editor at Mad in America Foundation. Her art work and writing includes essays, graphic narratives and poetry and explores self empowerment, empathy, identity, normalization of suffering and the power of creative expression to transform trauma. Her study of Buddhism and improvisational comedy find their way into her work as well. You can find her work at 
https://www.something-wonderful.net
Moderator: Shira Collings
Youth Coordinator, National Empowerment Center
This flyer was developed [in part] under grant number

SM082648

 from the Substance Abuse and Mental Health Services Administration (SAMHSA), U.S. Department of Health and Human Services. The views, policies, and opinions expressed are those of the authors and do not necessarily reflect those of SAMHSA or HHS.