Dear friends and neighbors,
The upcoming election is an important one for Hoboken because we get to elect the next City Council who will make decisions on our behalf for the next four years. I have a lot to say on this topic as you can imagine, but I am going to give you the cliff notes for now. I'll follow with more information over the next few weeks.
First and foremost, I am supporting for City Council - three incredible City Council Candidates - Cheryl Fallick, Sheila Brennan and Paul Presinzano who make up the
Independently Together
slate.
They are running a grass roots campaign and could use any and all of your support. I am all in and you will soon see me wearing their T-Shirts every day until Election Day.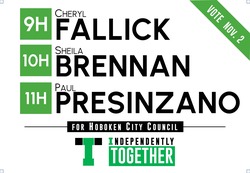 How to vote for them:
TODAY! for those who got their mail in ballot, choose Column H on the second page and vote 9-10-11 for Cheryl, Sheila and Paul respectively. For the rest, early e-voting begins on 10/23 for 10 days and Election Day is 11/2.
Why should you consider voting for them?
As a Hoboken resident and voter, it is simple. You have to ask yourself:
Do I want a City Council weighted to rubber stamp the mayor's agenda? or
Do I want a City Council weighted with independent voices who will support all good policy on the mayor's agenda, but are willing to stand up and take a different view when necessary on issues that are important to you and bring new ideas on issues where the same approach isn't working?
This is not a popularity contest. This is about voting for people who want to be on the dais representing you and will always take a stand to put your interests first.
Why am I supporting Cheryl, Sheila and Paul, the Independently Together slate
? First and foremost, before I could get behind these three, I had to make sure that what was most important to 2nd Ward residents, was important to them as well – COVID and measures to protect public health, keeping our waterfront for the public, ensuring our streets and sidewalks are safe and clean, and maintaining availability of street parking. I can tell you that all three candidates fully support these priorities. With that, here are some brief thoughts on why I am supporting the Independently Together slate. You can click on their names to bring you to their website for more information.
Cheryl

started her advocacy fighting to keep our waterfront for the public, which resulted in what is now Pier A and Pier C. She is already singly the biggest watchdog in our community today for you on development, taxes and spending, and housing and affordability issues and has often influenced the outcome of City Council votes given her strong relationship with all Councilmembers. Cheryl brings to this race and the role, an unrivaled passion for Hoboken for over three decades.
Sheila

to me is a warrior. She is a long-time advocate on quality-of-life issues for her neighbors, a breast cancer survivor and someone with new ideas and a no-nonsense approach to address issues that need solving like flooding, parking, and overdevelopment. She doesn't accept, for example, that residents are expected to accept everyday flooding as the new reality or that out-of-scale developments are somehow not a contributor to our flooding issues. And, she is the most optimistic person you will find and like the rest of us, believes Hoboken is the best place to live.
Paul

has a finance background like me, is a 25-year resident, a dad, and thinks and breathes solutions. He is so eager to listen to residents city wide and help craft solutions to the issues they raise like

parking

, taxes,

recreation

and preserving Hoboken's historic charm that we all love. His energy is limitless and is all in for Hoboken all the time.
These fresh faces with new ideas are what Hoboken deserves and why I support them.
Who not to vote for.
Let me first say, I have never done this before. But after speaking with so many of our neighbors who expressed interest in running for office and represent our community, including most of those on the ballot this year running for the first time, I feel so strongly that Hoboken residents deserve representatives who are eager to serve on the City Council, engage with residents on important issues and spend the next four years working for you. IT IS EXACTLY WHAT HOBOKEN DESERVES.
One candidate though didn't want to run originally and only decided last minute to run as a favor to the mayor once one of his candidates stepped down.
And let me be very clear, this has zero to do with the mayor and I would have done exactly the same thing if I were in his shoes.
Howver, Councilman Doyle was appointed to the City Council in 2012 and is now running for his third term even though he first stated he did not want to run again. Ironically, he has been a vocal supporter of term limits and has blasted another Councilmember for blocking a handful of critics on social media, yet Councilman Doyle has no social media footprint or demonstrated public outreach to speak of. Of your three votes, I ask that if you had one reserved for Jim, that you choose any of the other candidates, preferrably Cheryl, Sheila or Paul, who all bring new energy and want to work tirelessly for you.
If the environment and/or preserving Hoboken's historic character are your big issues, which Jim has been a strong voice and vote for, these same strong voices and votes can be found in Cheryl, Sheila and Paul and possibly other candidates as well. My point is that if these are your issues that you look to Jim for, you can find the same votes in others.
This is about your representation for the next four years being someone who wants to serve you, not someone who is just doing a favor by running.
Please know this is not a referendum on Jim's past commitment at all, on the contrary I believe he has served the city well for the nine years he has been on the City Council and in fact, he and I have agreed on about 90% of policy positions. This is a referendum on his future commitment. I know after this goes out, they will say he is committed, but the fact that he didn't want to run originally and only agreed when the mayor asked to me should be what is most informative.
I sent this before, but I am recirculating the math of the City Council so you can have a sense of what the implications of your votes are. Out of 9 possible votes (3 At Large, 6 Ward seats):
It takes 5 votes to pass legislation

which means 5 votes when working together can make legislation better before it passes.
It takes 6 votes to pass any bonding

the city does. In my 5.5 years on the City Council this actually has never been an issue because the City Council is typically in lockstep with the administration on large, bondable projects like Northwest Park, for example.
It takes 6 votes to override a mayoral veto

. The Council did this in 2018, as example, when Mayor Bhalla vetoed an ordinance to reinstate runoffs in our elections so we ensure that at least 50%+1 of our residents support the elected candidates.
Second ward residents elected me to be an independent voice on the City Council. Independent does not mean anti-mayor. It means supporting all good government legislation and actions but not afraid to question and push back when it is in the best interest of Hoboken. Which you know I am not afraid to do. What this translates to is voting 9-0 on about 90+% of what the mayor puts before the City Council. It is the remaining <10% where the issues require a robust discussion and sometimes are voted against or amended to be made better for you. Even if you love the mayor, I hope you recognize that fealty and lack of debate are not good for democracy.
As a reminder of what a City Council would have looked like without independent voices....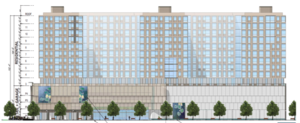 Working with first time candidates is so exciting because they are each filled with ideas about how to make positive change in our community. It reminds me when I ran the first time and just wanted to get more traffic calming measures on 15th street! Cheryl, Sheila and Paul each offer their own independent voice, but share the common view of putting Hoboken before politics; working together with everyone to advance all good policy, and bringing new ideas to address issues that our community faces where the old approach isn't working like pedestrian safety, flooding, out of scale development, parking and displacement of long time Hoboken residents.

As always, please forward to anyone you think may be interested in receiving this. Feel free to email me at councilwomanfisher2@gmail.com or call me at 201-208-1674 to discuss what you have read or anything else that is important to you.
Hoboken City Council, 2nd Ward
Engage
.
Inform
.
Advocate
.