Marcos Siega directs Jimmy Smits in a new NBC series 
Cinematography by Tom Kaufman

Tom was 2nd Unit Director of Photography this month, filming DC exteriors for this new show, shooting on the Canon D5.
This month Tom has also shot political ads in Michigan, Florida, Illinois, Pennsylvania, and Missouri, as well as programming for AARP, PSA's for Paralyzed Veterans of America, and web videos for Fleishman Hillard
Filming along the Susquehanna River (flowered hat optional)


(Hey , kid, the first digital file is free.) Once clients start using the Nanoflash, they never go back. Ask us about using the Nanoflash HD recorder, and how it can save you time and money.
---
The Kojo Nnamdi Show will feature Tom as a guest this coming Wednesday, September 1st at 1:00 P.M. on WAMU radio.
---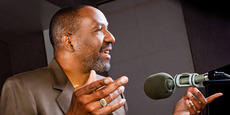 ---
The reviews continue...

"...

a person really cannot help but adore Willis Gidney. He's a good one. And I'll be watching for his next appearance.

"
"Not the usual ex-cop or soldier, Willis Gidney used to be a con-man and in Youth Centers where he learned to take of himself until he was adopted by a cop."