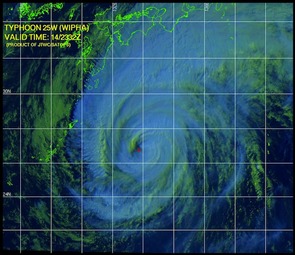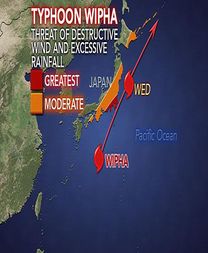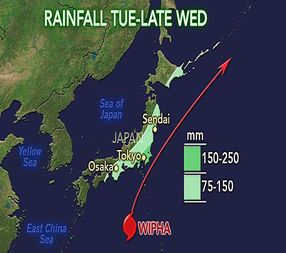 IAHF List: I'm up at 5:30 am monitoring what could be the last straw for planet earth, a massive, once in a century typhoon currently expected to roll directly over the damaged Fukushima nuclear power plant tomorrow afternoon. I am asking all of you to pray..... HARD.
I am scheduled to drive to Seattle today, to fly out Seattle tommorrow (Wednesday) at noon, then out of Tokyo (for Manila) on Thursday October 17th, and I am seriously considering booking a different flight... one that gives a very wide berth to the island of Japan.... Already All Nippon Airways has been cancelling flights, and I am trying to figure out what to do because I'm scheduled to fly out of Tokyo on an ANA flight on Thursday.

On the one hand, I want to get to the Philippines, because even though Japan is relatively nearby geographically, in the event that the
spent fuel pool collap
es, due to the
prevailing winds
people in North America would be far more in harm's way from what could be a massive amou
nts
of radiation heading our way SOON!!!
Do you REALLY want to take the chance that you could be caught flat footed and unprepared?
I'm hoping I can rebook a different flight via Hawaii, even if I get routed to Manila via Hawaii and Guam and Hong Kong and it takes a lot longer, hell, I'd rather be

ALIVE

than to possibly get

STUCK in Tokyo

, unable to get a plane out. What would

YOU

do if you were in MY shoes?
Well I know what I'd do if I weren't gonna leave, if I were going to be ANYWHERE in North America, or even northern Europe, given the way the prevailing winds blow around the world, if I had this heads up, I'd be putting in one HUGE order for Sulfur!
Although I won't be here, Craig will be here shipping sulfur out of my office.
SPECIAL LIFE SAVING OFFER THIS WEEK ONLY!!!
You can see the pub med studies proving that Sulfur protects against radiation in this previous alert I sent out!
I don't normally allow just anyone to put in wholesale orders for 20 or more pounds at the bargain basement price of just $22/ lb, but due to this extenuating circumstances, for the next week, I will change that policy because I want you all to feel the

peace of mind

I know you'd have if you could lay in a good stock of pr
otection
from radiation!
Use the third paypal button down at this
link
if you'd like to place a 20 lb order for the awesome price of just $22/lb

this week only!

(US shipping on 20 lbs is $16.85 for a large flat rate priority mail box. ($440+ $16.85= $466.85, life is CHEAP, eh? Well it sure beats possibly glowin' in the dark if Typhoon Wipha causes the spent fuel pool at Fukshima to collapse, and that could really happen!
BETTER TO BE

SAFE

WITH ENOUGH SULFUR TO LAST A YEAR OR MORE THAN

DIE FROM RADIATION POISONING!!



If you live outside the USA you can calculate your shipping cost here, and use this link to pay. (You would be better off with even 1 or 2 lbs than with NONE, and you may want to sign up for monthly autoshipping if you can't afford to buy in bulk now!!)

Get it now before I sell out, and please pray I find an alternative air route to my destination, because this is no laughing matter! If Wipha hits Fukushima hard, this could be

all she wrote for the human race!