Here are some of the places we are speaking soon.  We'd love to see you at one of them.
| | |
| --- | --- |
| Sept 11 | Northeastern Society of Orthodontists, Providence RI |
| Sept 11 | Davis Dental Lab, Wyoming MI |
| Sept 15 | Limestone City Study Club, Kingston ON |
| Sept 17 | Windy City Study Club, Elmwood Park IL |
| Sept 25 | Sikka Summit San Francisco CA |
| Oct 30 | Team Orthodontics, Phoenix AZ |
| Nov 5 | ADA Annual Meeting, Washington DC |
| Nov 6 | Dr. Bruce Fraser Study Club, Columbus OH |
| Nov 11 | Yakima Valley Dental Society, Yakima WA |
| Nov 13 | Academy for Orthodontic Excellence, Newport Beach, CA |
| Nov 24 | Lexington Oral Surgery Study Group, Lexington KY |
| Dec 1 | American Association of Orthodontist, webinar |
| 2016 | |
| Jan 15 | North Eastern District, Duluth MN |
| Jan 22 | Long Island Dental Forum, Hauppage, NY |
| Feb 27 | Ortho2 User Group Meeting, Las Vegas NV |
| Mar 4 | American Academy of Dental Practice Administration, Beverly Hills, CA |
| Mar 25 | Presenting to four study clubs, Plantation FL |
| May 5 | Ontario Dental Association, Toronto ON |
| May 29 | Journees dentiare internationales du Quebec, Montreal QC |
Our presentations have great titles like "How To Steal From A dentist" and "How NOT to Hire the Wrong People in your Practice".
To book a great speaker for your meeting or study club, please click
here
or call us at
888-398-2327
.
 "We eliminate uncertainty for dentists with embezzlement concerns and maximize financial and emotional recovery for victims."
 

 

See David Harris' video interview with Dr. Suham Alexander of the Canadian Dental Association

here.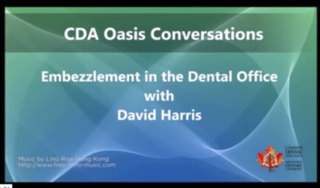 EXTENDED -- Take our assessment questionnaire for FREE!

 

 

 
Our last offer to take our Embezzlement Risk Assessment Questionnaire (which normally sells for $79) for FREE sold out quickly, so the boss agreed to extend the offer until the end of August.
The Questionnaire takes ten minutes or less to complete, and is the most reliable indicator of whether a dentist has an embezzlement issue.
You can take the Questionnaire by clicking
here.
  We will email you back with your score and our recommendations.
Why does it take YEARS for someone who embezzles to go to jail?
Something that surprises victims is the painful slowness with which the justice system operates.  Many victims expect, on making a complaint, that the police to immediately appear at their office or the suspect's home and remove them in handcuffs.  What actually happens is quite different.
Before they arrest someone, the police need to investigate.  In a complex white collar crime like embezzlement, few police departments have the expertise to analyze transactions conducted in practice management software, so they normally wait for us to complete our investigation and provide them with a report.  Using our report as a starting point, they will then conduct their own investigation, which might include questioning the suspect, interviewing witnesses and possibly compelling banks to supply information on transactions through the suspect's account.
Every police department exists in a climate of limited resources, so it must determine its priorities.  As you might expect, public pressure to deal with violent crime often diverts resources away from non-violent crime like embezzlement.  As a result, it might take six months or more after you have made a complaint before a detective is assigned, and then several more months before their investigation is complete.  Then the detective will review his or her findings with their supervisor to make a decision about whether there is sufficient evidence to meet with the District Attorney or US Attorney about moving the case into the court system.
As a result, it may take a year or so after police work is complete before an accused steps into a courtroom and an equal amount of time for someone to be tried, convicted, and sentenced.  So the entire process may take 3-4 years to conclude, and as I mentioned first-time offenders often receive seemingly light sentences. While I share the frustration of many victims about the speed and end results, I also understand the reasons why the system functions as it does, and how unlikely these factors are to change.
If you have embezzlement concerns about your practice, a great place to start is to take our Embezzlement Risk Assessment Questionnaire, which is free until the end of August.  Please click here to be taken to the Questionnaire.  It's now quicker than ever to complete the Questionnaire, and investing a few minutes of your time can save you a bundle.

Regards,


David Harris, MBA, CPA, CMA, CFE, CFF

Prosperident -- The world's largest dental investigation embezzlement firm