MORE REACTION TO NEW LEGISLATION
ARROW OFFERS TO RESTORE OTHERRS
MORE BLOCKBUSTER MEMORIES
FACT ACTS, STREAMING SITES BLOCKED
…AND ORDERS FOUR MORE SERIES
INFLATION BASKET ADDS SVOD
---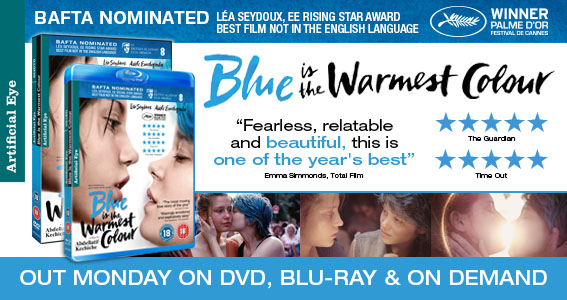 ---
I
f you can't read this news
letter or see the ads, please click
here
It Was A Good Week For…

ERA figures made for great reading and some positive PR coverage…
It Was A Bad Week For…
Four streaming sites, blocked by ISPs at the behest of the courts…
After a few outstanding weeks of sales, you'd have forgiven the industry for taking a bit of a breather, especially after the double whammy of Thor: The Dark World and Gravity. But some of the new titles out on Monday March 10 have performed very well, thank you. Take, for example, eOne's Ender's Game. The sci-fi tale had, some pundits thought, under-performed at cinemas on its release last year, but the company had faith in its potential at retail and its belief has paid off in spades. eOne's head of marketing Matt Brightwell said: "Ender's Game is going well. We've on target to sell 100,000 units and it's above forecast. We had a 20 second spot on Wednesday in the Barcelona versus Manchester City game in the break into kick off. We've gone for some large scale outdoor sites in key cities to drive stature and focus on the eye-catching creative. We have also targeted an older consumer than the books, which go younger, playing on the popularity of Harrison Ford and the Star Wars connection, that was certainly echoed in the creative."
And the run continues with the Monday March 17 release of the next instalment in The Hunger Games franchise Catching Fire. In case you missed it, we sent out a special edition of the newsletter focusing entirely on this blockbuster release, you can see it here…
Some heartening figures from the Entertainment Retailers Association, which unveiled its Yearbook with a triumphant fanfare this week – and saw the national press actually reporting some good news about the home entertainment sector for a change. ERA figures in the Yearbook show that subscription services, including the likes of LOVEFiLM, now Amazon Prime Instant Video, and Netflix, as well as assorted music services, accounted for a quarter of the total entertainment market. Sales of all Internet-based product, from product mailed to homes to assorted services now outstrip those of entertainment goods from physical stores, accounting for some 60 per cent of the £5.3 billion entertainment market. Physical is still thriving though – the number of outlets stocking video and music reached its highest ever total in 2013 and ERA said independent retailers are blossoming. There are now a whopping 8,803 stores selling video.
---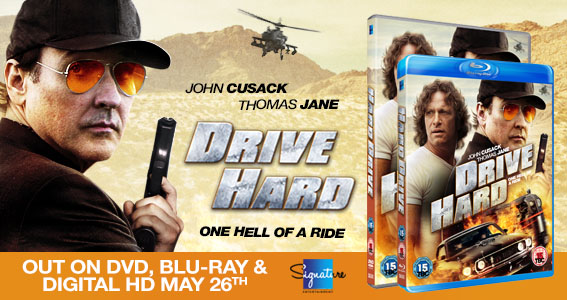 ---
We'll be going through the Yearbook with a fine toothcomb in the next few days, so keep checking our website next week, but in the meantime, commenting on the Yearbook, ERA's Kim Bayley said: "This is stark evidence of the revolution in entertainment consumption being driven by entertainment retailers. The fact that 60p in the entertainment pound is now spent online and 26p in the pound is for access to content rather than ownership is a testament to the huge investment and technological ingenuity of retailers in providing consumers with new ways to enjoy the music, video and games they love." Also commenting on the figures was hmv's head of video Rudy Osorio, flying the flag for physical sales. He said: "We continue to be struck by the strong resilience of the physical market in the UK. Early adopters' enthusiasm for streaming may grab the headlines, but sales of £2.1bn through store-based retailers of entertainment product show there is still a substantial mainstream market of consumers who value the convenience of disc-based formats, particularly for gifting and impulse buys."
Some twenty years ago the world – or rather our industry – was a very different place. Rental still dominated the landscape, although the retail sector was growing, stores such as Our Price, Our Price Video, Virgin and Woolworths were thriving. VHS was king, The Raygun's Tim Murray was about to launch timecode magazine and Lavinia Carey joined the BVA as its new director general. Now, after 20 years at the helm of the organisation she joined in 1993, she has announced plans to step down in July to setup her own business. Announcing her intentions at the BVA's March council meeting, she told members: "After months of serious discussions about how best to structure the video industry's trade bodies at a time of rapid change in our sector I felt that this was a great opportunity for me to hand the reigns to a successor who will bring a fresh pair of eyes, energy and enthusiasm, as I did when I joined the BVA from the cotton industry in 1993. I have been considering a change of career for some time and have a number of ideas which I need head-space to develop. I will miss the BVA hugely, we have a great team and excellent relationships with the membership as well as external bodies. I'm extremely grateful for what has been a fantastic 20 years." A new DG is now being sought. Carey won't be winding down before her departure – there's still the small matter of the impending awards, the BVA Yearbook to publish and an office move to Soho Square, as well as trying to find a successor.


Also at the BVA, chairman Charlie McAuley, who has held the post for the last three years, is also stepping down as soon as a successor is found. McAuley said: "I have enjoyed the opportunity over the last three year to contribute to the BVA at a time when the traditional physical retail and rental landscape has rapidly changed and emerging digital models are enabling consumers more access, choice and ways in which to enjoy content. I will continue to support the BVA in every way I can."

---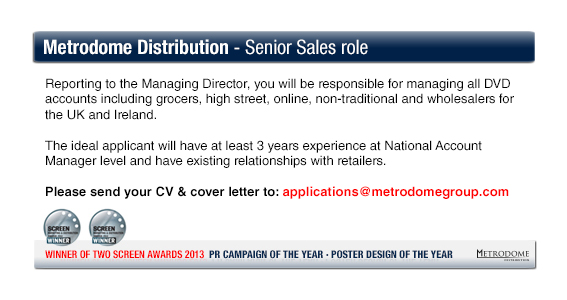 ---
More on the story we broke last week about the new classification law, which will, many independent labels believe, have serious implications for their future. We spoke to Francesco Simeoni, from the wonderful Arrow Video imprint. He very lucidly said: "The new legislation has serious implications for niche labels where our audience is very much on an international level and so we must compete with territories that do not have to contend with such costs. Whether we choose to include content for our releases has a whole new set of financial considerations which means we are at a significant disadvantage to our competitors, yet all this content could go on YouTube with no classification and that would be ok. The BBFC's remit is to protect children but these new guidelines only cover home entertainment media not anything on the internet, which is where most children will see offending material whether they be watching music videos or films/TV so instead of protecting children it's really just penalising companies that still have a vested interest in physical media. This is especially crushing for smaller companies operating on tight budgets. The BBFC also does not take into consideration the kind of film or TV show being submitted, a studio tent pole which will sell hundreds of thousands of units vs a niche film likely to sell less than a thousand units pays the same and if that film is long, say Jacques Rivette's celebrated OUT 1, at 15 hours long would incur a BBFC fee of £6570. With an expense like this distributors are not going to license risky films meaning many UK cineastes will simply never see films that are freely available in other countries which is a terrible shame."
As noted last week, a group of independent labels are looking to join forces to protect their interests going forward. To get involved, please email Tim at The Raygun at the usual address.
While we're on the BBFC, we note with interest that the organisation this week gave the first ever certificate to an app as part of its ongoing online classification work. Hopster is a subscription based TV and learning app, aimed at children aged between two and six-years-old. Assistant director of the BBFC David Austin said: "Age rating the Hopster app for children is a further demonstration of how classification can be used to help parents ensure their children are consuming age appropriate material online. We saw our online classification work double during 2013 compared to 2012 in terms of the number of online works we classified and a similar increase was seen in the number of companies submitting work to us. Our recent research into public attitudes to classification showed real concern amongst parents about what their children are exposed to online and it is encouraging to work with content providers, like Hopster, who provide a service in which parents can be confident their children are consuming age appropriate material."
---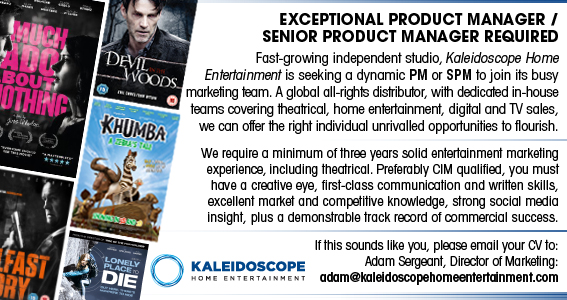 ---
Back to Arrow Films and the company has announced its intention to offer its award-winning restoration and remastering services to third party labels working on restoration projects. It has appointed a new head of technical and restoration, James White, formerly at the BFI and most recently a freelancer. He needs no introduction to the company having worked on many of Arrow's excellent releases in recent years, but his appointment will enable Arrow to offer its expertise out to other independents. Commenting on the appointment, Arrow Films md Alex Agran said: "James joins Arrow with an amazing reputation as the best in the business in restoration, James has been working with Arrow on a freelance basis for the past 12 months overseeing and controlling the restoration process on all of our releases and will now continue his excellent work permanently for Arrow. It is largely due to James' efforts on our restorations in the visual and sound quality in our films that our reputation continues to grow at such a pace as the market leader for cult films through our Arrow Video label." White added: "Having worked with Arrow in a freelance capacity for two years now, I've been continually impressed with its commitment to restoration and to releasing classic and cult cinema at the highest quality standards possible. With so many great projects in the works and such dedicated people on staff, it's a very exciting place to be and I'm thrilled to be made an official member of the team."
Also on the job front, a revitalised Icon Film Distribution continues to ramp up its team, with a brace of appointments. Sophie Wong has rejoined the company om the new role of head of TV and digital sales, she's most recently worked at Sony Pictures Entertainment where she was territory digital account manager for the UK and Ireland. Also joining is Jeremy Baum, due to start in April as head of theatrical sales. He has most recently been at eOne. Icon ceo Ian Dawson said: "We are delighted to be joined by
Jeremy and Sophie whose expertise in theatrical and digital sales will be invaluable as we strive to deliver the best possible result in all media for the company and its licensors."
Monday March 17 sees Curzon and its Artificial Eye imprint continuing their winning streak with the release of one of the most talked about films of the past 12 months, Blue Is The Warmest colour. As the company's Paul Diment said: "After the home ent successes of recent Oscar winner The Great Beauty, Le Week-end and The Selfish Giant, this Q1 is shaping up to become one of our biggest yet. We end the quarter with one of the most important foreign language films of 2013 - the Palme d'Or winning Blue Is The Warmest Colour. Since its Cannes debut last year, much has been made of the film's explicit content, but it's the exceptional performances from BAFTA Rising Star nominee Léa Seydoux and Adèle Exarchopoulos (who recently picked up the most promising actress award at this year's César Awards in France) that have helped elevate Blue… into becoming one of the essential theatrical releases of last year. We began our targeted press campaign earlier this month, and we'll follow that with a national press and online campaign over the next two weeks."
---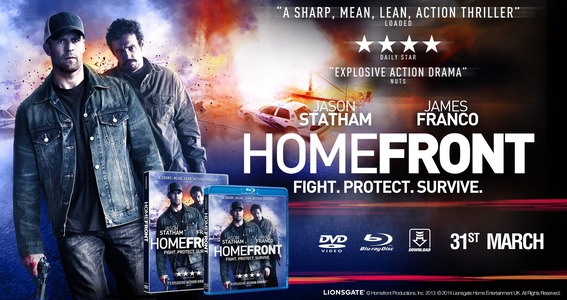 ---
To Soho's Old Compton Street where, at one of its many bars, agency What Is Bobo was celebrating its 10
th
birthday in style, with a cracking cake, plenty of guests from across the industry and a nice goodie bag to take home. It was good to see our old pal Did Dilley, previously at the likes of TM and Kee Scott, who has joined the team at What Is Bobo. Commenting on its anniversary, Bobo's Robyn Larkin said: "In 10 years What is Bobo has gone from strength to strength, growing in size, statue and range, and I am eternally grateful to every person who has ever entrusted us with their projects. We are very lucky to have been able to combine our love of both film and design and look forward to continue working with so many great people for another decade and beyond."
"It's a shame that we hadn't launched digital - the plans were advanced, I'm probably still sworn to secrecy but they would have been absolutely fantastic - I have no doubt that if allowed to have continued, we would have given the likes of blinkbox a run for its money…" More from Blockbuster, with the final part of our series from former staffers looking back at their time with the retail is up on our site, with an excellent piece from Mal Simons. Recommended reading, even if we say so ourselves.
FACT and other anti-piracy bodies have been busy working against some of the worst copyright infringing streaming sites. They went to the High Court this week and have persuaded judges to order the six biggest ISPs to block access to a quartet of streaming sites, Mega share, Viooz, Watch32 and Zmovie. Viooz is in the top 500 most visited websites in the UK. A FACT spokesman said: FACT and the Motion Picture Association (MPA) wrote to four websites asking them to stop infringing creative content. Collectively, these sites provide access to an enormous collection of films with no permission from the copyright owners. FACT, supported by the MPA, therefore took this court action. Illegitimate sites hold the growth of the legal online market back. We want an Internet that works for everyone, where the creative property of artists and creators is protected along with the privacy and security of all users. The internet must be a place for investment, innovation and creativity and today's verdict represents a step towards realizing this."
---
---
It's been another hectic week in the digital world with both Amazon Prime Instant Video (ne LOVEFiLM) and Netflix debuting new shows. Let's start with the former, whose series Betas made its bow today (Friday March 14) in the service. The series stars Ed Begley Jr and follows a series of start-ups in Silicon Valley. The series was commissioned for a full 11 episodes after proving popular in pilot form on the service. Commenting on its arrival, head of programming at Amazon Instant Video UK Helen Cowley said: "Betas was an incredibly popular pilot when it was released in the UK last April and the show has already gone on to be a huge hit in the US. It's punchy, funny and captures the fast-moving world of tech-start-ups in a comical and entertaining way. The humour is very similar to The Inbetweeners and Big Bang Theory… but at the same time in a class of its own. Fans of great comedy should definitely take a look. We think they'll love it."
From the US, Amazon Studios is said to have ordered four new series, with Chris Carter's The After, Gael Garcia Bernal starring in comedy Mozart In The Jungle, dark comedy Transparent and cop drama Bosch. The reports appeared in US trade variety.
Over on the rival Netflix, meanwhile, the service has had a busy week. It has inked a deal with Fox which sees American Horror Story and Homeland arriving for UK viewers this week. As Netflix's chief content officer Ted Sarandos said: "We are excited to bring both of these brilliant series, Homeland and American Horror Story to our members in the UK and Ireland. These global smash series are two of the most talked about shows in entertainment and we think that our members are going to love these latest additions."
Also at Netflix: there's a further deal inked with DreamWorks Animation that will see two series based around the company's franchises appearing exclusively on the service later this year. Prince Julien is a spin-off of Madagascar, while Puss In Boots follows the Shrek character's further adventures after his own feature film appearance. A new series of Turbo is also set for the service. And as if that wasn't enough, Netflix has also debuted another exclusive this week, with the arrival of a TV series based on From Dusk Till Dawn. We'll be watching both Amazon Prime Instant Video and Netflix UK arrivals over the weekend and will report on them in the regular Week In Video column on our website shortly…
And we'll end with Amazon Prime Instant Video and Netflix, as it has this week been announced that the Official for National Statistics (ONS) has added subscription video on demand services to its basket of goods used to calculate inflation. It was the element that appealed most to newspapers everywhere. Nice PR, admittedly, but given that Netflix and LOVEFiLM, as was, have been relatively stable in price and are unlikely to rise, one could argue that they've been put in there just to try and keep inflation down…
---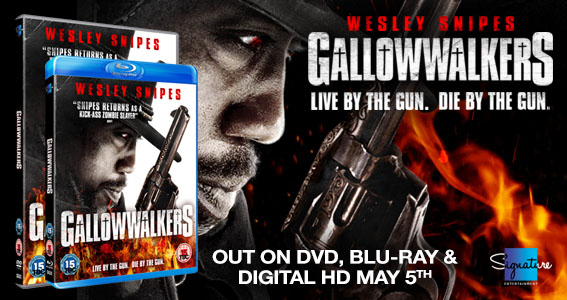 ---
"Due to overwhelmingly popular demand for #TrueDectective, we've been made aware of an issue affecting some users. Please try again soon."
The series finale of True Detective was so popular that it crashed the HBO Go app. HBO made the above announcement via Twitter…
It was Warner versus Warner at the UK box office, as the major's 300: Rise Of An Empire replaced The Lego Movie at the top of the charts, the former took £2.76 million in its opening frame, the latter has now earned almost £29 million. And fair play to Fox, its faith in The Grand Budapest Hotel paid off, with £1.5 million taken in its first frame it is Wes Anderson's most successful opening ever.
The only new entry was Escape From Planet Earth.
After their successful stint in Glasgow, thoughts are turning again to the summer's Film4 FrightFest event and the team behind the event, as well as Ne'er Do Well Films, have launched this year's Turn Off Your Phone competition. The idents before films have become a tradition at the horror event in little more than two years, with filmmakers, both established and wannabes, coming up with increasingly witty and gory ways to remind the crowd to ensure their mobiles are switched off. This year as well as the mobile element, the competition is being expanded to other elements of cinema etiquette. It's now open and runs until August 11, with the five best being screened at this year's event. Budding filmmakers can head to
www.frightfest.co.uk
for more.
Right, you're not getting any Star Wars news this week, but we will give you a Fantastic Four update. For Fox is narrowing down potential Doctor Dooms to play the quartet's nemesis for the impending reboot of the Marvel characters, due in 2015. And it's a very British looking shortlist, which includes Domnhall Gleeson, Sam Riley, Eddie Redmayne and Toby Kebbell. Never mind that Doom comes from the Teutonic made-up land of Latveria, why break with Hollywood convention of having a Brit-baddie?
Helena Bonham Carter is said to have signed up for the Alice In Wonderland sequel Through The Looking Glass, due in 2016. She'll join original cast members Mia Wasikowska and Johnny Depp. It's all the more surprising given that the film isn't being directed by Tim Burton.
Another West Memphis film…
To subscribe to The Raygun newsletter, please email
info@theraygun.co.uk
with subscribe in the subject matter
To unsubscribe, email
info@theraygun.co.uk
with unsubscribe in the subject
For editorial or advertising queries, contact
tim@theraygun.co.uk