Special Edition: Immigrants & Refugees
Looking for an alternative to all the noise out there? W
hat with people ranting, the information overload, and all of it contributing to a general sense of confusion, Portland Story Theater offers something different. We give people a place to connect as a community, face to face, eye to eye, and heart to heart. Often, the quiet stories of tenacity and resilience articulate what many of us yearn to hear.
Friend of PST, come join us for this month's Urban Tellers® Special Edition Immigrants & Refugees featuring Victor Bencomo, Onyeka Jones, Sankar Raman, Ivan Hernandez, Israa Hasani, and Wafa Almaktari. They have discovered and crafted personal stories of real significance --
stories about things that have shaped them and made them who they are.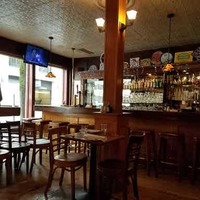 Higgins is the perfect spot to grab a bite before the show (opens at 5pm) or afterwards for a nightcap at their bar (open late). It's just down the street from our show, located at 1239 SW Broadway. Tell them we sent you!
(503) 222-9070.
Portland Story Theater's 2018-2019 Season is generously supported by The McIvor Family Charitable Fund; Tonkon Torp; Diane Ponti and Ward Greene; Ronni Lacroute; John Moe; Polk Family Charitable Fund; Dana and Steve Dennis; members of the Portland Story Theater Board, Founding Circle, and Narrative Network, and many other individual supporters, as well as by the Oregon Community Foundation; The Collins Foundation; James F. and Marion L. Miller Foundation; Meyer Memorial Trust; The Kinsman Foundation; The Autzen Foundation;
NW Natural Gas; and
The Oregon Cultural Trust. Thank you!