Why not bookmark this AMPS Newsletter and read at your leisure!

Winners of Excellence in Sound for a Television Drama Award 2018 for Black Mirror : USS Callister.
L-R Matthew Skelding, Tim Cavagin AMPS, Kenny Clark, John Rodda AMPS CAS

AMPS Newsletter January 2019 - Happy New Year!

In this month's issue -
5th Annual AMPS Awards celebrations plus all winners, a report on the AMPS Women's Christmas lunch, crew recognition and product/hardware category added to AMPS Awards, submit your TV drama suggestions, suggest your nominations for 2019 AMPS Council, Dates for Your Diary, AMPS Social Round-Up, New Members, new member benefits from Mindbox and Sennheiser, Helios console sold, BBC sound effects archive, Pete Drake and talking steel guitar.
5th Annual AMPS Awards Celebration and Presentations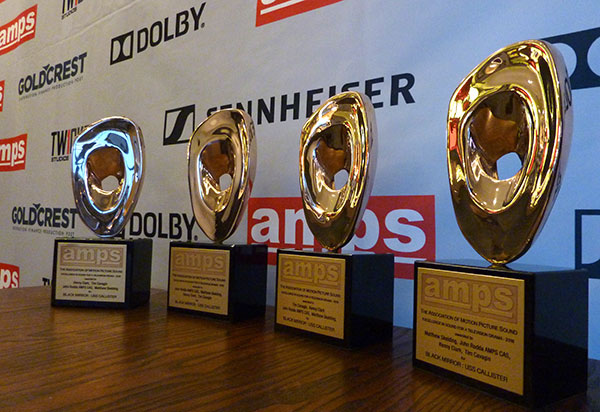 On 25th October, AMPS hosted a convivial evening in The Lounge at Twickenham Studios to celebrate the 5th Annual AMPS Awards - 'Excellence in Sound for a Television Drama'. The winners, John Rodda AMPS CAS, Matthew Skelding, Kenny Clark and Tim Cavagin AMPS received their prestigious bronze trophies for Black Mirror : USS Callister.

Along with the four winners' awards, the Television Drama Nominees received Certificates for The Crown, Game of Thrones, Line of Duty and Stranger Things. 'Certificates of Merit' were presented to those crew members who creatively contributed to the winning soundtrack. All can be proud to have received the recognition of their peers involved in professional sound.

Chairman Rob Walker said he was delighted to be able to present the awards. He added, "It is heartening to see that creativity and technical excellence is as important as it ever has been. This episode gave an affectionate nod to the past while keeping the show's critical eye on how technology can warp our lives." He went on to add his warmest congratulations on behalf of the membership to all involved in creating this fine soundtrack.

On receiving the award Kenny Clark said, "It was a great honour to be recognised for our work on USS Callister by my fellow professionals. It is rare that you work on a production where you work hard, it is a success and then it is recognised, but this was one of those moments. It was also great fun to work on, so truly a dream job."

Tim Cavagin, on picking up his second AMPS Award confirmed, "They are by far the best things on my mantelpiece!" Tim also paid tribute to everyone on the sound teams, and added, "The director's perfectionism lead to the episode picking up so many awards across the board."

John Rodda explained how the director liked to bunch several scenes together, which sometimes lead to up to eleven pages of dialogue being shot in one take. With all the artists miked up, no rehearsal and two cameras rolling, he would just go for it. For John, "It was like a live show, and certainly got the adrenaline pumping."

Matthew Skelding said he shared the credit for the dialogue editing with Michael Maroussas and Craig Irving.

Throughout the year AMPS Members suggest Television Dramas for consideration. Ballots among the voting membership decide the nominations and finally the winner.

AMPS 'Certificates of Merit' are conferred on those crew members who have creatively contributed to the winning soundtracks for both the Feature Films and Television Dramas. This year, twenty three worthy candidates for this honour were identified for their work on Baby Driver and Black Mirror : USS Callister. A further example of how AMPS Awards recognises the importance of all those in the creative teams that collaborate to produce the excellent winning and memorable soundtracks.

Our thanks go to Twickenham Studios for the use of The Lounge, to James and Helen Bain for recording and photography, and to the sponsors of our Awards, Dolby Laboratories, Sennheiser, Twickenham Studios and Goldcrest.

Congratulations to winners, nominees and all on the winning sound teams:
Excellence in Sound for a Television Drama - 2018

Award Winners:
John Rodda AMPS CAS
Matthew Skelding
Kenny Clark
Timothy Cavagin AMPS

Nomination Certificates:
Christopher Ashworth AMPS
Iain Eyre
Lee Walpole
Stuart Hilliker AMPS
Martin Jensen
Barry O'Sullivan AMPS
Paul Maynes
Ian Wilkinson AMPS
Pietro Dalmaso
Richard Dyer AMPS
Ronan Hill AMPS
Paul Bercovitch
Tim Kimmel
Onnalee Blank
Michael P. Clark
Tiffany S. Griffith
Bradley North
Joe Barnett

Certificates of Merit:
Michael Maroussas
Craig Irving
Kyle Pickford
Emma Chilton
Dafydd Archard
Sophia Hardman
Adam Mendez
Dario Swade
Oliver Ferris
Ricky Butt
Adam Davidson
Nick Baldock
 

Excellence in Sound for a

Feature Film - 2018

Award Winners:
Mary H. Ellis
Julian Slater
Timothy Cavagin AMPS

Nomination Certificates:
Mac Ruth
Mark A. Mangini
Ron Bartlett
Mark Weingarten
Richard King
Greg Landaker
Glen Gauthier
Nathan Robitaille
Christian T. Cook
Johnathan S. Gaynor
Joakim Sundström
Chris Burdon

Certificates of Merit:
Jeremy Price
Dan Morgan
Martin Cantwell
Arthur Graley
Buster Flaws
Rowan Watson
Peter Hanson
Glen Gathard
James Peterson
Thomas Doolittle
Alex Lowe
AMPS Women's Christmas Lunch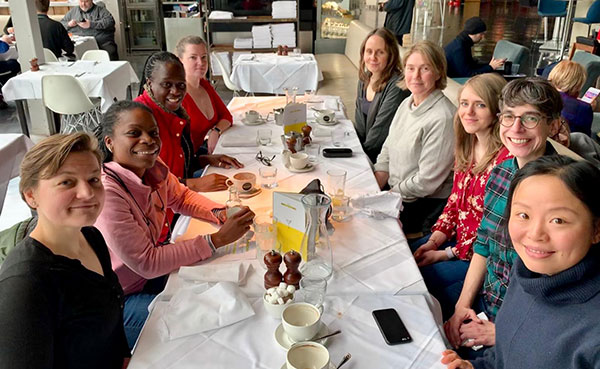 AMPS Event Organiser Adele Fletcher reports on the recent AMPS Women's Christmas Lunch.
The festive season began with a bang for our female AMPS members, with a Christmas lunch at the BFI restaurant on the Southbank, London. It was the second time a lunch was organised due to the first one being such a success. The attendees were a great mix of both Location Mixers and and also those of us who work in Post, so there were lots of interesting conversations about the 'what, where and how's' of the different parts of our roles.

It's such a rare occasion that both sides of production actually have a chance to catch up and discuss the intricacies of our jobs, that it was a thoroughly enjoyable Sunday afternoon. Everyone made the most of the opportunity by swapping stories about events on set or insights into ADR recording sessions.

It was also encouraging to hear about how well everyone was doing and the developments in people's careers since the summer lunch we had in June. All the women have been working hard on some great projects, which is always good to hear. We all agreed that the lunch was so enjoyable that it's something we want to continue doing, so watch this space! As always, if anyone has any ideas or suggestions for other future events then please do get in touch with me via Connect.
New Addition to AMPS Award Categories plus Submit your TV Drama Suggestions

AMPS INCREASES CREW RECOGNITION
The invaluable contributions of 1st Assistants (Boom Operators) and Dialogue Editors will be included in AMPS Award trophy recipients this year. AMPS is the ideal organisation to champion the invaluable input of these talented sound professionals. For too long they have been overlooked and under-rewarded by sound awards. Accordingly, we are adding these crew members to the honours in the 6th Annual Film and Television Drama Awards.

We want to raise respect for the imaginative and highly experienced people working in Sound. It is the Council's aim to continue to promote the important role that good sound plays in all motion picture media. These are your Awards, recognised in IMDb listings and increasingly respected internationally.
SUBMIT YOUR SUGGESTIONS FOR THE 6TH AMPS TV DRAMA AWARD

You can enter titles of single dramas, drama series or particular episodes of a series. There is no limit to your submissions, and it is not a secret - discuss possible eligible soundtracks with your colleagues and friends! All eligible titles will be included in the ballot for Nominations.
AMPS Awards are the only IMDb recognised annual Sound Awards for Film and Television decided by solely peers, and honour creative professionals in each area  (production mixing, sound editing and re-recording).


AMPS Awards are sponsored by Dolby Laboratories, Sennheiser, Twickenham Studios and Goldcrest.

2019 AMPS Award for Excellence in a Hardware or
Software Audio Product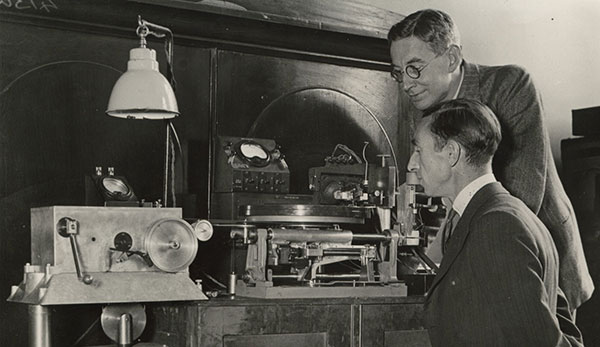 Following on from the success of our Film and Television Awards, AMPS is delighted to announce the introduction of a new awards category -
Excellence in a Hardware or Software Audio Product and is open to nominations for new products released during 2018 for use in production and/or post-production sound.

The eligible award candidates will be nominated and balloted by full voting members of the association. From the voting rounds, we will establish five nominees and from this list a winner will be chosen.
Header image courtesy of the 'Centre for the History and Analysis of Recorded Music' -
www.charm.rhul.ac.uk
AMPS Council 2019 Nominations
At the AMPS general meeting in February we will elect new members to Council.

Being on Council is a rewarding way to give back to the Association, your industry and raise your profile. Most AMPS initiatives are created by the ideas and passion of someone driving them forward - that can be you.

As well as helping to shape decisions about running the association, you'll also take on a specific responsibility which suits your skills and the time you can give. This could be getting involved in events organising, liaising with sustaining members, dealing with new Memberships, PR, Social Media, TV and Film Awards, IT, developing the website, finance, podcasts or video production. You can also bring your own ideas to the table.
You are invited to propose any Full, Retired (formerly Full) or Fellow Member who you think would make a good Council Member. There will be five vacancies to fill next year. Further information and full details about the nomination process for AMPS Council 2019 can be found on the Nominations Form by clicking the link below.
AMPS SOCIALS
Birmingham, Manchester, Cardiff and Leeds Socials -
2019 dates and information coming soon.
Bristol Social - Now confirmed for last Thursday in every month
The Robin Hood, 56 St Michaels Hill, Bristol, BS2 8DX - 7.00pm onwards. There's a wide range of interesting beers (other drinks are available) and the kitchen is open until 9.00pm.
London Social - First Tuesday in every month
Make sure that you attend the AMPS Social at the De Lane Lea bar in Dean Street on the first Tuesday of every month - be social with your AMPS members! The first Tuesday in every month - 6.00pm.
All events are open to AMPS members and guests. They are a great chance to put faces to names, to network and to chat. It's a rare opportunity for production sound and post sound folk to get together… plus there's beer and food.
AMPS AGM 2019
Sunday 24 February, once again at the NFTS.
More information to follow.
Andrew Wilson reports on AMPS Socials around the UK -
It's been a busy few weeks for the Socials outside London. November saw the first AMPS Midlands meet up - thanks to Luke Elliot getting the ball rolling there. With an almost 50:50 split between production and post-production sound there was plenty to chat about, and a great chance to put faces to names. Everyone seemed in favour of meeting up again, so watch this space in the New Year.

December saw another social in Manchester, and thanks are due to Robin Cowap and Dean Covill for this one. Now running every couple of months, the latest Manchester event coincided with the local Boom Ops having their pre-Christmas meet-up and calling in on the AMPS one. Again a good mix of roles led to some 'lively chat' - a good result for all those that attended as well as the landlord.

The Bristol event is settling down nicely after a change of venue, and sees a nice turnout of local members plus one or two regular guests. We had new member Martin Chappell visit Bristol from Loughborough last month - it's possibly the current record so can anyone beat it?

It's worth mentioning that guests are welcome at all the AMPS Socials, so feel free to bring along your sound chums (or even your non-sound chums) for a beer and a natter. I even take my dog along on occasion. His chat isn't so good but he probably has the best hearing at the event. We're always looking for new opportunities to hold socials - events pencilled for the New Year include Cardiff and Leeds - if you'd like to see an event near you please get in touch and I'll get you up and running.
New AMPS Member No. 1 - Jack Simpson

After graduating from the University of Central Lancashire in 2016, I began working as a sound assistant in indie feature films. Over the last 18 months I've been advancing my career as a sound assistant with work in features, short films, and television.
In March 2018 I was accepted into the Creative Skillset Trainee Finder scheme as a sound trainee, which has brought about a wealth of opportunities to improve my skills, through placements on drama productions and a training course at the NFTS.
I'm excited to begin networking through AMPS, and hopefully find more opportunities to develop my craft.
New AMPS Member No. 2 - Martin Chappell

I recently returned to the UK after 22 years living and working in Asia – had a terrific time and I was fortunate enough to work with some of the top ranking Directors in Hong Kong.

I graduated from University College Salford in '93, left to go back-packing after a brief stint in live sound. I broke in to post on landing in Hong Kong on the return leg of Australian/SE Asia adventure.

Hopped onto a Fairlight at TNT and Cartoon Network and a few years later jumped into Milkyway Image; it was exciting being part of small crew – and I was totally blown away to be nominated for MPSE award up against Lord of the Rings.

Eventually I started a family which led me on the path back to the UK - where I have done few more HK features and documentaries, and carved my way thru hundreds of cartoons (Mouk, Elliot Kid Cornelius and Bernie) letting my fingers do the walking with lots of home-brewed footstep and SFX patches - I also blast my way thru World Peace Keepers and GGO Football completing Foley SFX and MIx.
Most recently, I've been working on a Danish Viking feature.
New Member Benefits from Mindbox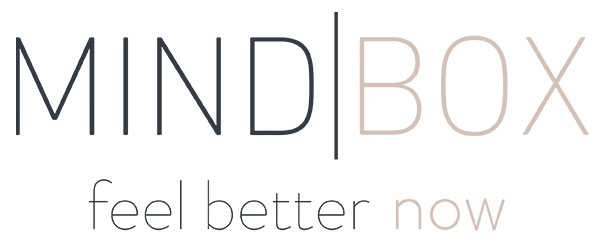 AMPS are proud to have partnered with Mindbox to offer all members discounts on their services.

Mindbox is the UK's first 24hr instant access online therapy centre. With a team of 30 certified specialists available around the clock and a subscription offering with pre-produced content, Mindbox exists to provide the best therapy, in the right place, when you need it the most.
The service was built on a simple idea, to remove all obstacles and create an easy route to effective mental health treatment for everyone. Minbox comes in two parts. Mindbox Live and Mindbox Now.
Mindbox Now is a subscription based service which gives you unlimited access to five self guided treatment programmes covering general stress, social anxiety, performance nerves, panic attacks and confidence building. Each programme comprises audio and video sessions, alongside written exercises based on recognised therapeutic practise. Members can benefit from a
50% discount
on all Mindbox Now services.
Mindbox Live offers clients 24hrs access to a pay-as-you-use team of experienced and accredited therapists. Clients can book telephone, webcam or web chat sessions without the need for an appointment. Members can benefit from a
10% discount
on all Mindbox Live services.
Please note, utter discretion is assured. All members privacy will be respected.
The discount code can be accessed by going to the members benefits section of the website.
More information on Mindbox can be found here.
New Member Benefits from Sennheiser
 

Sennheiser have offered AMPS members discount on their products and Sound Academy courses.

15% discount (from MSRP) on Sennheiser and Neumann products are available through the Pro Audio Solutions channel.

 
To take advantage of this offer, the member will have to purchase the product through one of the dealers below and mention your AMPS Membership Number at the time of ordering -
Audio Department
Everything Audio
Pinknoise Systems
Sound Kit
Wendy's Broadcast Services
In addition Sennheiser have also offered a
50% discount
on Sound Academy courses.
A full list can be found here.
Members can also sign up on this page to be notified of upcoming courses, which we strongly recommend.
Classic Helios Console Breathes a New Life
HeliosCentric Studios' Helios console has very recently found a new owner via Bonhams Auctions. 
Constructed in 1996 through an amalgamation of part of the Island Records Basing Street Studio 2 Helios Console (1970-1974) used by artists such as; Led Zeppelin to record their 'Album IV' which includes the timeless hit "Stairway To Heaven", and Bob Marley & The Wailers to record the albums 'Burnin' and 'Catch a Fire'; with the other part being from Alvin Lee's Helios console from Space Studios (1973-1979); with the final construction installed at HeliosCentric Studios (1996-present).
BBC Sound Effects Archive
I may very well be years behind the times, but this BBC Sound Effects Archive is free to all and it seems, has some useful effects in its 16,000 sound files.
Pete Drake and his Talking Steel Guitar
So it seems that Peter Frampton was about ten years behind the times with his 'voice box' on Show Me The Way!
Did you know that the Directory pages on the AMPS website are some of the most frequently visited?

 

Make sure that your profile is up to date - you never know where your next work enquiry will come from!

 

 
Can we help with your Professional Development?
We're keen to hear from you with ideas for seminars and training sessions which would contribute towards Continuing Professional Development.
We're very aware that keeping up with techniques and updates can be a full time job in itself, so if there's any way that AMPS can contribute towards maintaining and developing your industry knowledge and skills, please get in touch.
AMPS Address & Phone Number
27 Old Gloucester Street
London
WC1N 3AX
Tel: +44 (0)1753 669111
AMPS, 27 Old Gloucester Street, London, WC1N 3AX
www.amps.net / +44 (0)1753 669111