Why not bookmark this AMPS Newsletter and read at your leisure!

The Killing Eve sound team with their awards at the recent AMPS ceremony.

AMPS Newsletter October 2019

In this month's issue - AMPS awards presentation evening, TV award suggestions, AMPS member Emmy winner, AMPS golf day, Loudspeaker Orchestra, Dates for your Diary, New Members, Trash Artist, ASMR YouTube sensation.
AMPS Awards Presentation Evening

On Friday 20​ September, at a ceremony held at the Dolby Theatre in Soho, London, AMPS announced its 2019 award winners -

Free Solo​ wins 2019 AMPS Award for 'Excellence in Sound for a Factual Film'.
Killing Eve​ sound team win 'Excellence in Sound for a Television Drama'.
iZotope RX 7​ wins 2019 AMPS Award for 'Excellence in a Hardware or Software
product'.
Upon accepting the Free Solo award remotely, Emmy Award winner Deborah Wallach praised her team saying, "I feel both honoured and grateful for this recognition. I'd like to thank my talented sound team, Filipe, Roland, Nuno and Jim, and re-recording mixers Tom Fleischman and Ric Schnupp, who were essential in bringing this extraordinary film to life.'"
AMPS Chairman Rob Walker said of the event, "​The AMPS Awards recognise and throw the spotlight entirely on the people and companies that make film and TV sound. I was honoured this evening to be able to present awards to some of the world's best sound talent for producing soundtracks that have elevated every aspect of story, character, excitement, drama and performance.

I'm also pleased to see more productions nominated with women at the core of their creative sound teams. I hope this signals that overdue change is happening within our wider industry."

AMPS would like to thank the Award sponsors Dolby, Sennheiser, Goldcrest and Twickenham Studios for their continued support.
And finally, many thanks to SoundRadix who sponsored the evening's refreshments.
AMPS TV Awards 2019 Suggestions

AMPS Award for Excellence in Sound for a Television Drama.

The Eligible List is now open to all AMPS Members for suggested titles. Please submit any Dramas that you have viewed or worked on that you consider worthy of inclusion in this year's AMPS Awards.
You may suggest as many titles as you wish. From the Final Eligible List created from these suggestions, a ballot will be conducted among all AMPS Voting Members to determine the five Nominated Titles. A further ballot will decide the winner.

Eligible Dramas must have been broadcast between 1st January and 31st December 2019.
AMPS Member Wins Primetime Emmy… again!

AMPS member Ronan Hill has recently won his fifth Primetime Emmy (Outstanding Sound Mixing for a Comedy or Drama One Hour) at the Creative Emmys in Los Angeles for his work on Game of Thrones Season 8 The Long Night. The award is shared with fellow Production Sound Mixers Simon Kerr and Danny Crowley and Re-recording Mixers Onnalee Blank and Matt Waters.

It's Ronan's seventh Emmy nomination for the show having previously won the award for Game Of Thrones S7 Beyond the Wall, GOT S6 Battle of the Bastards, GOT S5 Hardhome and GOT S2 Blackwater.
Amazing Ronan. Congratulations once again!

AMPS Golf Day Sunday 22 September 2019

AMPS member David Stephenson reports on another very successful Golf Day.
On Sunday the 22nd September some keen AMPS golfers and their guests descended on Pine Ridge Golf Club for the annual Golf Day.
 
After coffee and a nice bacon roll we set out onto the course with full hopes of a fine day's golf. Fine it was not, no sooner had the first group set off the heavens opened up. We spent the next nine holes battling the elements.
 
This of course, did not deter us golfers, well at least not all of us! Eventually the weather calmed down a little and we managed to complete the round in relatively dry conditions.

Having completed the round we all returned to the bar for a well deserved drink and prize giving.
This year's winner - David Stephenson (Dare I say it!)
Runner up - George Thompson
Longest drive - George Thompson
Nearest the hole - Shaun Mills
 
Apart from the weather we had a fantastic day. Many thanks to all the team at Pine Ridge.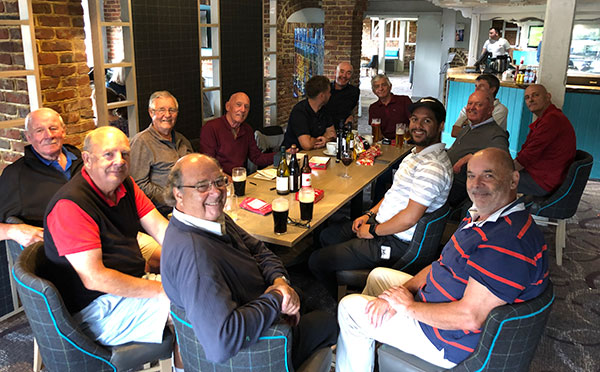 University of Greenwich Announce Loudspeaker Orchestra Concert Series

AMPS Sustaining Members, the University of Greenwich are proud to announce the Immersive Acoustic Experience by the Loudspeaker Orchestra.
The Loudspeaker Orchestra presents immersive acoustic experiences through programmed concerts of multichannel sound design, sonic art and electroacoustic music.

The 2019/20 concert series celebrates European community through contemporary music, welcoming leading international artists to present their work in the historic musical church of St Alfege in Greenwich.
To book your tickets please click on the 'information' link below and use special discount code SOUND19 as a valued AMPS member.
AMPS SOCIALS
Manchester, Birmingham, Cardiff and Leeds Socials -
2019 dates and information coming soon.
Bristol Socials - Friday 1 November + Thursday 28 November

And then we're back to the last Thursday in every month.

The Robin Hood, 56 St Michaels Hill, Bristol, BS2 8DX - 7.00pm onwards. There's a wide range of interesting beers (other drinks are available) and the kitchen is open until 9.00pm.
Soho Social - 5 November

The first Tuesday in each month.

New Venue - The George, 1 D'Arblay Street, London W1F 8DG
Everyone welcome, 7.00pm onwards.
All events are open to AMPS members and guests. They are a great chance to put faces to names, to network and to chat. It's a rare opportunity for production sound and post sound folk to get together… plus there's beer and food.
New AMPS Member No. 1: Janet Grab

Hi there everyone! I am a freelance recording and mixing engineer with a keen interest in music editing for film and 3D recording techniques.

 

Apart from assisting Simon Kiln, Jonathan Allen, and Tony Faulkner, I was lucky to have had the chance to work previously for Manfred Eicher at ECM Records as his production assistant.

 

However, having started as a violinist and violist, my background is mostly based on classical orchestral music which at first made me study music performance in Berlin with Wilfried Strehle (solo violist Berlin Philharmonic) before attending the music supervision programme at Berklee College of Music.

 
Can't wait to meet you soon!
New AMPS Member No. 2: Dane Cody

 

 

I'm a Production Sound Mixer based in Australia, but often traveling. Recently I've been to Cambodia, Singapore, China and Finland in the last couple of years.

 

My next production takes me to India for a couple of months. I love the adventure.

 

Thanks for having me onboard AMPS, it is an honour & I look forward to it.

 

 

 
Thomas Deininger. Trash Artist.

So this guy is really not happy about consumption and waste… single-use plastic bags, etc, etc. But he saw a creative outlet for some of the trash he collected.
* Advisory… there are a few swears/disparaging remarks towards humanity… so please proceed with caution.
ASMR: Welsh Stone Carver is Unintentional YouTube Star
ASMR (Autonomous Sensory Meridian Response) is an experience characterized by a static-like or tingling sensation on the skin that typically begins on the scalp and moves down the back of the neck and upper spine.
Veteran stone carver Ieuan Rees, 78, from Wales, has become an unintentional ASMR star, with a video of him practising his craft amassing more than 2 million views. A video to show off his craft was filmed in 2012 and he "forgot all about it".
Did you know that the Directory pages on the AMPS website are some of the most frequently visited?

 

Make sure that your profile is up to date - you never know where your next work enquiry will come from!

 

 
Can we help with your Professional Development?
We're keen to hear from you with ideas for seminars and training sessions which would contribute towards Continuing Professional Development.
We're very aware that keeping up with techniques and updates can be a full time job in itself, so if there's any way that AMPS can contribute towards maintaining and developing your industry knowledge and skills, please get in touch.
AMPS Address & Phone Number
27 Old Gloucester Street
London
WC1N 3AX
Tel: +44 (0)1753 669111
AMPS, 27 Old Gloucester Street, London, WC1N 3AX
www.amps.net / +44 (0)1753 669111