Why not bookmark this AMPS Newsletter and read at your leisure!

The team that recently participated in the AMPS Cable Clinic at NFTS.

AMPS Newsletter September 2019

In this month's issue - Nominees for the AMPS Sixth Annual Awards, AMPS Award Presentation evening, TV Award 2019 suggestions, report on AMPS Cable Clinic, AMPS Member Emmy nominated, AES interview with Lucy Mitchell, AMPS Golf Day, New Sustaining Members Nugen and University of Greenwich, HARBOR launches in the UK, Dates for your diary, new AMPS members, Buster Keaton's amazing stunts and a rather nice omelette recipe.
AMPS Congratulates the Nominees for the
Sixth Annual Awards

Following our recent membership ballot, AMPS is delighted to congratulate the following nominees for the 6th Annual Awards:
Excellence in Sound for a Factual Film
Blue Planet 2 - Oceans of Wonder
Classic Albums - Amy Winehouse Back to Black
Eric Clapton -  Life in 12 Bars
Free Solo
They Shall Not Grow Old

Excellence in a Hardware or Software Audio Product
DPA Microphones - 6060 Miniature Microphone
Audio Limited - A10 Radio Microphone System
Sound Radix - Auto Align Post
Cinela - Cosi Suspension
iZotope - iZotope Rx7
The results will be announced and the awards presentations made at an AMPS Awards Ceremony to be held in the Dolby Theatre, Soho Square on Friday 20th September 2019.

With grateful thanks to our awards sponsors:
AMPS Awards Presentation Evening

We would like to invite you to attend our Annual Awards Event at Dolby Europe, Soho Square, London on the evening of the 20th September 2019 from 7pm.
As well as the presentation of trophies and certificates to the winners of our TV Drama Award, we will also announce the winners of our new Factual Film Award and Achievement in a Hardware or Software Audio Product.
AMPS TV Awards 2019 Suggestions

AMPS Award for Excellence in Sound for a Television Drama.

The Eligible List is now open to all AMPS Members for suggested titles. Please submit any Dramas that you have viewed or worked on that you consider worthy of inclusion in this year's AMPS Awards.
You may suggest as many titles as you wish. From the Final Eligible List created from these suggestions, a ballot will be conducted among all AMPS Voting Members to determine the five Nominated Titles. A further ballot will decide the winner.

Eligible Dramas must have been broadcast between 1st January and 31st December 2019.
Another Very Successful AMPS Cable Clinic
Alex Collin reports on the four day event at NFTS -
I attended the AMPS Cable Clinic during the summer period gaining a detailed knowledge in the preparation and soldering of cables and connectors, including XLR, timecode and lavalier terminations.
There was a good atmosphere within the group and the level of instruction provided by Jim and Mark McBride was informative and commensurate within the dynamic Film and TV industry. Since completing the training I have fixed equipment on set for the sound team as well as colleagues within the camera and video departments.
All students left with an AMPS accreditation and the ability to fault find and repair intricate signal cables. Also I established useful contacts with other like minded Sound Assistants as well as leaving with a functional tool kit and soldering station.
My thanks to go AMPS and NFTS.
AMPS Member Nominated for Primetime Emmy… again!

AMPS member Ronan Hill has been nominated for a Primetime Emmy (Outstanding Sound Mixing for a Comedy or Drama One Hour), with fellow Production Sound Mixers Simon Kerr and Danny Crowley and Re-recording Mixers, Onnalee Blank and Matt Waters for their work on Game of Thrones Season 8.

It's Ronan's seventh Emmy nomination for the show having previously won the award four times - for Game Of Thrones S7 Beyond the Wall, GOT S6 Battle of the Bastards, GOT S5 Hardhome and GOT S2 Blackwater.
All our congratulations to everyone.

AES Interview with AMPS Member Lucy Mitchell-
Wednesday 2 October

Fancy an interesting evening out on Wednesday 2 October? A good option would be to attend the AES interview with freelance Sound Editor and Dubbing Mixer AMPS member Lucy Mitchell.
Lucy started her career at Envy Post Production as a Runner in 2009 after graduating University with a Classical Music and Musicology degree. Whilst at Envy she was named one of the Top 30 Under 30 in Broadcast Magazine's Broadcast Hotshot feature in 2013 and went freelance in 2015, where she has worked for multiple post-houses, film production companies and independent directors.
Wednesday 2 October 2019, 6.30pm - 8.00pm
University of York
Department of Theatre, Film, Television and Interactive Media
Baird Lane, Heslington
Yorkshire, YO10 5GB
AMPS Golf Day Sunday 22 September 2019

AMPS are pleased to announce this year's date for the Annual Golf Day and would love if you could join us on Sunday 22 Serptember.
Location -
Pine Ridge Golf Course
Old Bisley Road
Frimley, Camberley
GU16 9NX
Itinerary -
* Arrive at the venue for Coffee and a Bacon Bap - 9:30-10:00am.
* Tee Time will be advised closer to the event.
* Adjourn to the bar for after match drinks, prize giving and winners trophy.
The cost will be £45 to enjoy this great event, (this includes 18 holes with a coffee and a Breakfast Bap). Please contact David Stephenson or Shelly Jones to register your interest where more information will be given.
New AMPS Sustaining Member No. 1 - Nugen

NUGEN Audio creates intuitive professional audio software for high-end music producers, post-production engineers and broadcasters - used worldwide to create leading TV, films, music and games.
We are a product-led, dedicated, close-knit team, with an emphasis on quality, constantly seeking to innovate for the benefit of our users. Our tools for audio analysis, loudness metering, mixing/mastering and tracking are used by the world's top names in broadcast, music and audio production. 
With NUGEN Audio products in everyday use within thousands of music, mastering, film and broadcast studios, the results speak for themselves. NUGEN can be found at most major trade shows, always looking forward to connecting with others and hearing feedback to continue providing the best audio solutions for the post-production industry. 
For more information click here to visit website.
New AMPS Sustaining Member No. 2 -
University of Greenwich

School of Design at University of Greenwich is an interdisciplinary environment for study and research into the creative professions. With over 1500 students studying across a range of programmes – including Animation, Architecture, Film Production, Media and Communications, Graphic Design & Sound Design – the school hosts regular activities and events from gallery exhibitions to public lectures.
 
Sound Design at Greenwich is committed to introducing new audiences to diverse sonic practices. Its popular public concert series presents regular events featuring world leading electroacoustic music practitioners, the annual SOUND/IMAGE conference explores audiovisual practices, while its lecture series welcomes top industry professionals working in Post-Production sound.
HARBOR Expands US Operations and Launches in UK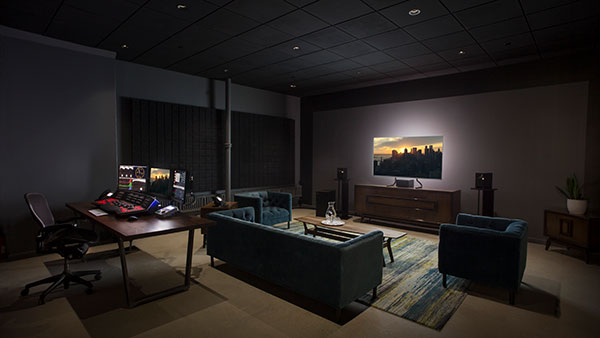 Since its 2012 foundation in New York, HARBOR has been quietly disrupting the old, fragmented approach to filmmaking, consolidating production and post-production under one roof to provide an elevated creative experience. After establishing a reputation for its award-winning talent, service excellence, technical innovation and collaborative culture, HARBOR has expanded its facilities to Los Angeles and London.
Industry veteran Russ Robertson joins HARBOR's new Los Angeles operation as EVP of Sales, Features & Episodic, after a 20-year career with Deluxe and Panavision. James Corless, Commercial Director, and Thom Berryman, Operations Director, will spearhead HARBOR's new UK presence, following distinguished careers with Pinewood Studios, supporting clients such as Disney, Netflix, Paramount, Sony, Marvel and Lucasfilm.
HARBOR's modern, state-of-the-art Los Angeles studio supports five grading theaters for feature film, episodic and commercial productions, offering private connectivity to HARBOR NY and HARBOR UK, with real-time color-grading sessions, VFX reviews and options to conform and final deliver in any location.

The new UK operation, based out of London and Windsor, will offer in-lab and near-set dailies services along with robust and automated VFX pulls and delivery system, ANCHOR™, as well as drawing from HARBOR's US talent pool, that is now available to the global film, episodic and commercials markets.

AMPS SOCIALS
Manchester, Birmingham, Cardiff and Leeds Socials -
2019 dates and information coming soon.
Bristol Social - Now confirmed for last Thursday in every month
The Robin Hood, 56 St Michaels Hill, Bristol, BS2 8DX - 7.00pm onwards. There's a wide range of interesting beers (other drinks are available) and the kitchen is open until 9.00pm.
Soho Social - New venue
First Tuesday in each month.

The George, 1 D'Arblay Street, London W1F 8DG
Everyone welcome, 7.00pm onwards.
All events are open to AMPS members and guests. They are a great chance to put faces to names, to network and to chat. It's a rare opportunity for production sound and post sound folk to get together… plus there's beer and food.
AMPS Awards Summer Party

Friday 20 September, 7.00pm
Dolby Europe Ltd., 4-6, Soho Square, Soho, London W1D 3PZ
AMPS Golf Day
Sunday 22 September
Pine Ridge Golf Course, Old Bisley Road, Frimley, Camberley, GU16 9NX
More information and 'how to book' are available further up the email.
New AMPS Member No. 1: Sebastian Dressel

Ever since I can remember I have been fascinated with audio-storytelling. As a child, audio dramas taught me the power of creating whole worlds just through sound. As a teenager, DVD featurettes of films got me fascinated with sound design for film. And when I finished school, I wanted to tell stories with sound myself.

My path led me to radio broadcasting, and after 5 years I decided to get an MA with specialisation in Sound Design for Film at Goldsmiths with Larry Sider. Since graduating I have been freelancing as a sound editor for short films, documentaries, commercials and branded content.

 

Additionally, I still work with broadcasters in Germany, the German Press Agency and offer bespoke sound design for podcasts.

 
I'm very excited to now be a part of AMPS, do my share to help us as a community and develop my skills and expertise. Looking forward to getting to know all of you!
New AMPS Member No. 2: Theo Secerov-Polley

I am currently on my placement year of university working as an assistant engineer to composer Nitin Sawhney. In addition to my studies at Huddersfield, I have had experience as a production sound trainee.

 

At this stage of my journey, I am lucky in the fact that I've been able to observe both the production and post production sound processes. I'm currently looking for further roles as a sound trainee.

 

In my spare time, I enjoy playing double bass, composing and making my own films. Full clean UK driving license. UK and Australian citizenship with bases in Surrey and Kent.

 

 
Some of Buster Keaton's Amazing Stunts

How did he not injure himself?
Learn Jacques Pepin's Famour Omelette Techniques

There's always time in the day to revisit your omelette-making technique.
Did you know that the Directory pages on the AMPS website are some of the most frequently visited?

 

Make sure that your profile is up to date - you never know where your next work enquiry will come from!

 

 
Can we help with your Professional Development?
We're keen to hear from you with ideas for seminars and training sessions which would contribute towards Continuing Professional Development.
We're very aware that keeping up with techniques and updates can be a full time job in itself, so if there's any way that AMPS can contribute towards maintaining and developing your industry knowledge and skills, please get in touch.
AMPS Address & Phone Number
27 Old Gloucester Street
London
WC1N 3AX
Tel: +44 (0)1753 669111
AMPS, 27 Old Gloucester Street, London, WC1N 3AX
www.amps.net / +44 (0)1753 669111