Why not bookmark this AMPS Newsletter and read at your leisure!

Bohemian Rhapsody sound crew interviewed by The Dolby Institute.
See further down the Newsletter for full interview.
L to R - John Warhurst, Nina Hartstone AMPS, Paul Massey, Tim Cavagin AMPS and John Casali AMPS.

AMPS Newsletter April 2019

In this month's issue - Killing Eve wins AMPS Award, AMPS AGM photos, Leeds Social, Soho Square Studios becomes Sustaining Member, Dates for your Diary, interview with Bohemian Rhapsody sound team, new AMPS member,  KORD.Media development in Manchester, top tips when networking, IPS VanBoot sale, Genelec launches Aural ID software, One Breath around the World, how to master vertical video.

Killing Eve Wins 6th AMPS TV Drama Award for
Excellence in Sound

Image above courtesy of BBC America
AMPS has announced the winners of the 6th Annual AMPS awards for excellence in sound for a television drama. The winning TV drama is Killing Eve, produced by Sid Gentle Films for BBC America. The winners will each receive the prestigious AMPS bronze trophy, with certificates of merit going to the crew members who creatively contributed to the winning soundtrack.
Our warmest congratulations to the winners: Steven Phillips AMPS, John Lewis Aschenbrenner AMPS, Darren Banks, Tom Williams and Nigel Heath.
"Killing Eve shows once again that talented sound professionals are a key part of successful drama," said Rob Walker, AMPS Chairman. "The team created a polished sound track which supported the comedy and drama of this distinctive show. Our members clearly appreciated their dedication to the craft and our congratulations go to all involved."
Killing Eve was shortlisted from hundreds of initial suggestions, put forward by the AMPS membership. The final nominations were - A Very English Scandal, Better Call Saul, Bodyguard, Killing Eve and The ABC Murders.
A presentation ceremony will be organised at a celebratory event expected in the summer. AMPS wishes all the nominees success at the upcoming BAFTA television awards.
AMPS Awards are sponsored by -

Looking ahead to the 7th Annual awards, be sure to make your personal notes about any Television Dramas, Factual Programs or Hardware or Software Audio Products that you consider worthy of consideration for this year's awards. Suggestions will be requested in due course.
Rosanna Prada reports -
The first AMPS Social in Leeds took place on Friday 8th March at Water Lane Boathouse. The turnout was small, but those that made it along had a great chat, not to mention their first drink and some nibbles kindly provided by AMPS Council to launch the event.
We were joined by a couple of prospective new members who had come along as guests, and a few others sent their apologies. We hope to host another event nearer the Summer, so please get in touch if you're interested in helping grow this event.
Soho Square Studios Becomes Latest AMPS
Sustaining Member

As the name would suggest Soho Square Studios is based on Soho Square, in Soho. We have been providing audio services for discerning clients for more than  25 years and are pleased to have worked with some super talented people and on some really jaw dropping pieces of work in that time.

We offer ADR, multiple cast voice records, sound design, mixing, sound editing and music composition to for feature films, animation, TV, advertising and games. We can handle crowd ADR and we can out help out with voice casting and direction.

Our team of mixers and sound designers are here to help, but we also offer dry hire in most of our studios, should you need.

Studio 1 has one of the largest isolated booths in central London and we also have Dolby Approval for Commercials and Trailers. We run the latest versions of Pro Tools and have Source Connect and ISDN.
AMPS SOCIALS
Birmingham, Cardiff and Leeds Socials -
2019 dates and information coming soon.
Manchester Social
Friday 31 May, 7.30pm
Port Street Beerhouse, 39-41 Port Street, Manchester, M1 2EQ
All are welcome.
Bristol Social - Now confirmed for last Thursday in every month
The Robin Hood, 56 St Michaels Hill, Bristol, BS2 8DX - 7.00pm onwards. There's a wide range of interesting beers (other drinks are available) and the kitchen is open until 9.00pm.
All events are open to AMPS members and guests. They are a great chance to put faces to names, to network and to chat. It's a rare opportunity for production sound and post sound folk to get together… plus there's beer and food.
The School of Sound International Symposium
24-27 April
The Purcell Room, Southbank Centre
London, SE1 8XX
IPS VanBoot Sale

Sunday 28 April
HotCam car park, 18-22 Telford Way, London W3 7XS
More information below.
Royal Television Society
Promoting Wellbeing and Mental Health in the TV Industry
Thursday 14 May, 6.30pm
3 Dorset Rise, London, E4Y 8EN
Fee for RTS members. £!5 for non-RTS members
Retired AMPS Members' Lunch
Friday 26 May, 1.00pm
The Crown Inn, Crown Lane, Farnham Royal, Bucks. SL2 3SQ
Interview with the Bohemian Rhapsody Sound Team

What with all the 'award' interview furore that was apparent around Bohemian Rhapsody, Nina Hartstone kindly pointed me towards this excellent Dolby Institute interview.
Sound Editors John Warhurst and Nina Hartstone join Sound Mixers Paul Massey, Tim Cavagin and John Casali to discuss the intricate work of building the sounds of the rock band Queen for Bohemian Rhapsody.
The team discusses the process of recreating the band's famous 1985 Live-Aid concert performance, how sound design helped to get inside the head of an agitated Freddie Mercury during an infamous London press conference, and how having access to the band's original session tapes let this Oscar-winning team build the amazing scene where the band records the iconic Bohemian Rhapsody single.
New AMPS Member: Ellie Williams

My love of sound began with music. I gigged as a bass player for many years and, through this, began to learn about studio recording and live sound at festivals. Young itchy feet led me to a stint as a research volunteer in the Peruvian Amazon where I was absorbed by the beauty of the sounds of the natural world.

 

Then came a decade and a half embedded in the BBC's Natural History Unit working in wildlife filmmaking and travelling the world to some remote and life-changing places (for BBC1 & BBC2 output). Five years in, I began to bring sound into my work, learning the art of location and wildlife sound recording.

 
On the side, I worked for Radio 3 (on their stage at WOMAD festival), Radio 4 and BBC Introducing. I've been freelance for a couple of years now and continue to record for the BBC as well as other broadcasters such as National Geographic and Channel 4.

Upholding the professionalism of the craft feels so important, more so now than ever, and I'm delighted to become part of the AMPS community…
KORD.Media Takes Up Residence in Manchester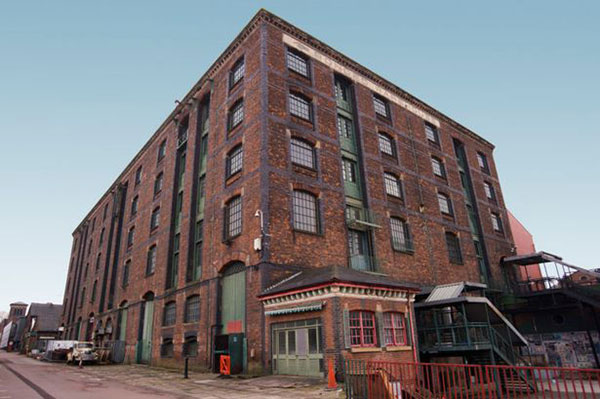 AMPS member, Dan Piggott lets us peek into his 'childhood dream' of building a studio -
I started looking for space in Bonded Warehouse in Manchester about 12 months ago and this is actually the second unit I went for as the first fell through… not literally. I've now taken just under 500 square feet on the site of previous occupants Granada Studios, the whole building generally being re-developed.
The unit is double height, so to make use of this there is an isolated floor going on top of a floated Atmos suit, with an isolated staircase for access. To keep in touch with the fabric of the building I have commissioned three concrete style speaker stands to built to sit across the front. I think speaker stands are largely quite dull things so hopefully these will jazz things up a bit.
For about 18 months I have built up my home studio which will largely migrate over to the new suite in town. I'll be switching to the Focusrite Red 16Line as the main interface which is the most affordable way of achieving enough outputs to feed the 7.1.4 speaker arrangement and also allows me to use Dante and the Focusrite RedNet X2P in the booth. Using Dante makes my installation much simpler and the end result, more versatile. Monitoring is being taken care of by CB Electronics TMC-1 and I-Mon controllers
Audio Schemes has been contracted to carry out the building work and, along with myself, Boomerang Sound is doing the installation work. Most of the kit has come from Media Spec in Glasgow.
Top Five Tips for Networking as a Sound Artist
Learn the best ways to build relationships with fellow sound artists and jump-start your career in post sound.

Working as a sound artist can be a tough path to choose. There are very few salaried full-time jobs to be had in this industry. We are all freelancers and always need to be lining up the next project.

To a large degree, the old adage "It's not what you know, but who you know," really is true when it comes to the film industry. As such, it's important to always be making new connections.
(Tip number three suggests "joining an industry association, e.g. AMPS!")
IPS VanBoot Sale 28 April

Our good friends at the Institute of Profession Sound have confirmed another Spring Audio VanBoot sale.
Date is Sunday 28 April, 10.00-12.00, venue is HotCam car park, 18-22 Telford Way, London W3 7XS.
Book your selling space now by sending an email to
events@ipstrading.biz
or texting 07860 753717 ~ and say who you are and that you want to book a pitch.
Keep the date free. Tell friends and colleagues. Free to attend. Free
to sell. It is usually a great morning.
Genelec to Redefine Headphone Monitoring with Aural ID Software Technology
Genelec has recently announced a significant first step in improving the trustworthiness of headphone listening through the introduction of its new Aural ID software technology.

Aural ID works by acquiring a person's exclusive acoustic attributes to create a detailed modelling of their unique anatomical features affecting hearing, which can then be compensated for – thus enabling the delivery of more truthful and reliable sound when headphones are employed for reproduction.
One Breath Around the World

Stunning footage from freediver Guillaume Nery shot by his wife, from around the world - Mauritius, Mexico, the Philippines, Japan, Fench Polynesia, Finland and Nice, France.
It's worth taking ten minutes for this… beautiful.
How to Master Vertical Video

We're in the midst of a video revolution. The traditional horizontal 16:9 format is being turned on its head.

Well, maybe on its side. And in its place, 9:16 vertical video is emerging as the framing for imaginative storytelling.

Why vertical? You only have to look at that device you're holding in your hand. Mobile and social video really soar when they're done vertically—the way people hold their phones. What was once dismissed as an amateurish mistake has become the vanguard of video innovation.

So how do you create on the vertical format? The first rule is that the old rules are meant to be broken. And imagination and inspiration rule the day.

 

Recently, Instagram challenged some of its most creative storytellers to experiment with vertical and showcase their unique style using 9:16.

 

 


Did you know that the Directory pages on the AMPS website are some of the most frequently visited?

 

Make sure that your profile is up to date - you never know where your next work enquiry will come from!

 

 
Can we help with your Professional Development?
We're keen to hear from you with ideas for seminars and training sessions which would contribute towards Continuing Professional Development.
We're very aware that keeping up with techniques and updates can be a full time job in itself, so if there's any way that AMPS can contribute towards maintaining and developing your industry knowledge and skills, please get in touch.
AMPS Address & Phone Number
27 Old Gloucester Street
London
WC1N 3AX
Tel: +44 (0)1753 669111
AMPS, 27 Old Gloucester Street, London, WC1N 3AX
www.amps.net / +44 (0)1753 669111