Why not bookmark this AMPS Newsletter and read at your leisure!

AMPS Newsletter February 2017
This month - Arrival wins AMPS Film Sound Award, report on AGM, John Rudling receives Fellowship, Rob Edwards awarded Pro Tools licence through AMPS Mentor Scheme, AMPS members win CAS award for fourth time, 'Excellence in Sound' award update, AMPS TV Drama timeline, new member Matt Hughes, Mumblegate rumbles on, Reel Angels launch online community, Loud Places and Liquid Mountains.
Marco Polo 2014 - Image courtesy of John Rodda
AMPS SOCIALS
Bristol Social - last Wednesday of each month - NEW VENUE

Brewhouse & Kitchen, 31-35 Cotham Hill, Clifton, Bristol, BS6 6JY - 7.00pm on the last Wednesday of each month is the place to meet up with other AMPS members and like-minded people!
More about the venue here.
London Social - first Tuesday each month

Make sure that you attend the AMPS Social at the De Lane Lea bar in Dean Street on the first Tuesday of every month - be social with your AMPS members! The first Tuesday in every month - 6.00pm.
… not in Cardiff, Bristol, London or Leeds?
Andrew Wilson reports, "Very pleased with AMPS 'Social' progress across the UK. If anyone elsewhere in the country would like to get something going in their region please let me know and I'll get you started. I'll do the admin and emails, we just need someone local to host!"
All events are open to AMPS members and guests. They are a great chance to put faces to names, to network and to chat. It's a rare opportunity for production sound and post sound folk to get together… plus there's beer and food!
---
BVE
28 Feb - 2 March 2017
ExCel Centre, London,
Arrival Wins AMPS Award for Excellence in Sound
Claude La Haye,

Sylvain Bellemare,

Olivier Calvert &

Bernard Gariépy Strobl
AMPS is extremely happy to confirm that the Arrival sound crew are winners of the 4th annual 'AMPS Award for Excellence in Sound for a Feature Film'.
AMPS took advantage of the team making a brief stop in London for the BAFTAs and hastily arranged our presentation. There was not enough time to organise a grand event, but at short notice a group of AMPS members met Sylvain Bellemare, Claude La Haye, Bernard Gariépy Strobl in the Bassoon bar at the Corinthia Hotel.
Our chairman Paul Davies was able to congratulate them in person and
present the coveted bronze trophies. Bernard Gariépy Strobl, the Re-Recording Mixer said, " It's a pleasure and an honour to be recognised by this beautiful group." All the winners paid tribute to the other creative contributors in the team and their collaborative relationship with the director. After being joined by Olivier Calvert, the Sound Designer for the alien-shell vessel, the team were interviewed by Stuart Wilson and Laura Lovejoy which revealed some interesting insights into the original recording and post production of the excellent Arrival soundtrack.
We then raised a glass or two to celebrate their win and wished them further success in the BAFTAs and Oscars.
The interview recording will soon be available on the AMPS website.
AMPS AGM & Sustaining Members' Show
AMPS Chair Paul Davies talks about Council elections

AMPS Chairman, Paul Davies reports, "AMPS held its AGM for 2017 on the 19th February. The well attended meeting was hosted in the spacious premises of University Technical College in Borehamwood. After coffee we started promptly with a brief EGM, where a vote was taken on various constitutional amendments which were proposed and passed.

The AGM proper kicked off with eight new and returning members of council confirmed and elected for eight vacancies. As they were the sole nominations, a hope was expressed that there would be more members in the future willing to stand for Council.

Clive Derbyshire Hon. Treasurer presented the financial report confirming that the finances of the association were in good health and he assured members that the figures would be easier to decipher next year as AMPS moves to having a single bank account.

John Rudling presented the Membership Secretary's report stating that the association's membership had remained stable over the past year.

I presented the Chair's report detailing various events, activities and sponsorships that the association had engaged in, concluding with a plea for more members to become more involved in AMPS activities in any way that they could.

There was a proposal from the floor that Council seriously consider raising subs next year, so that AMPS would have more resources to broaden its range of activities; this motion was passed overwhelmingly.

A good lunch was served, afterwhich members were able to attend a well-organised and attended Sustaining Members show - and to catch up with old friends and colleagues over a drink."
Ambient, Audio Limited, Everything Audio, Rycote, Zoom, Richmond Films, Giant Sound (Aaton) & Colin Broad (CB Electronics) displayed at the Sustaining Members' Show whilst VW Commercial, Hearing Dogs for the Blind and WPA represented AMPS' Benefit Providers.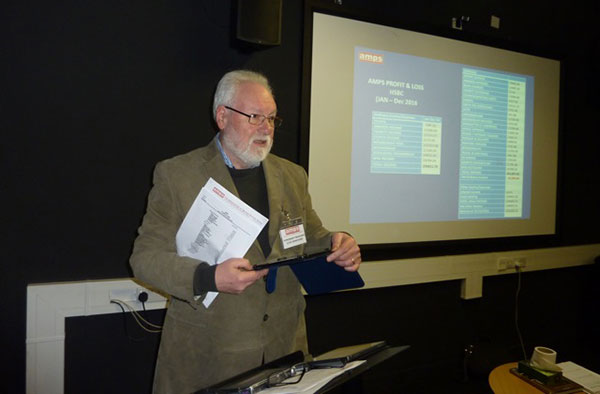 Hon. Treasurer Clive Derbyshire presents the accounts.

John Rudling Awarded Fellowship at AMPS AGM
AMPS Chair Paul Davies presenting John Rudling with Fellowship

John Rudling has spent a lifelong career in sound, from early days at Colour Film Services, through to his time at Hayden Laboratories, the home of Nagra UK and later Sennheiser. At Hayden Labs., he gained wide respect for exemplary service to his customers in the Film and Television sound community. Many Production Sound Mixers and Sound Transfer Facilities have benefited from his knowledge and expertise throughout the Nagra era.
Under John's leadership, Nagra Kudelski (GB) Ltd. became one of the most supportive Sustaining Members of AMPS. He and his team were regular and welcome exhibitors at our annual Sustaining Members' shows.
Upon retirement John took on the onerous office of AMPS Membership Secretary where he continues to apply dedication, integrity and plain common sense to the task and to all Council business.
For his outstanding contribution to the sound community and AMPS, and his diligent service as Membership Secretary, John is awarded a Fellowship of the Association.
Rob Edwards Awarded Pro Tools Licence by AMPS Mentorship Scheme

Andrew Wilson presenting ProTools licence to Rob Edwards
Rob commented, "I would like to say thank you to the AMPS Council and Shelly Jones for the fantastic organisation of the AMPS AGM meeting held at Elstree University Technical College on Sunday the 19th of February 2017.
The meeting was highly informative and I was very impressed with the Sustaining Members exhibition and wonderful catering supplied by the college adding to the overall success of the day. A big thank you also for the decision to award a Pro Tools licence for my involvement with the AMPS mentoring scheme, where I have been under the guidance of Andrew Wilson at Real World Studios.
The mentoring scheme has allowed me to be able to broaden my audio post production skill-set within a professional environment. I would strongly recommend the scheme and for anyone interested to make the most of this fantastic opportunity on offer. A great day indeed!"


Fourth CAS Award for AMPS Members
AMPS members Ronan Hill and Richard Dyer have received their fourth consecutive Cinema Audio Society Award for 'Outstanding Achievement in Sound Mixing', for their work on Game of Thrones Battle of the Bastards season 6.

Last September they picked up an Emmy for the same episode.
Congratulations, once again to Ronan and Richard.
Update on AMPS 'Excellence in Sound' Awards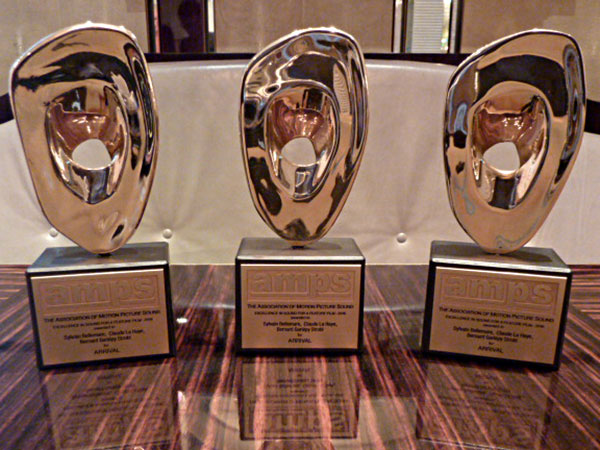 AMPS Awards for 'Excellence in Sound' are now in their fourth year, and are gathering recognition and respect in the industry internationally.
The aim of the awards is to promote the creative craft of Sound for Film and Television. We conduct our ballots and announce our results ahead of both the BAFTAs and Oscars. We hope this will influence all the 'non-sound' voting members of these organisations, who may take notice of the decisions made by Sound Professionals when casting their votes. So far we are having reasonable success!
The prestigious cast bronze trophies are presented to the Heads of Department, all Nominees receive a certificate, and we issue 'Certificates of Merit' to crew members of the winning title who have creatively contributed to the soundtrack. As we grow, it is intended to extend the scope to include more awards and further categories.
Last year we arranged for AMPS voting members to be included on the lists for invitations to awards screenings and hope to include digital screeners in the future. We are also working to get AMPS Awards included in the IMDb listings. All this will take time, but we are making steady progress.
An AMPS Sound Award is very special, it reflects the appreciation shown by Sound Professionals - your peers, who know what to listen for. The most successful soundtracks fully immerse the audience and support the narrative storytelling whilst reinforcing the emotional content. A powerful element that requires creative, intelligent and imaginative input from talented sound teams.
An AMPS Award for Excellence should be the pinnacle of aspiration for all practicing members of our association, whilst collecting Certificates of Merit and Nominations on the way up.
The suggestion list for eligible Television Drama titles is open to all voting members. The closing date for your suggestions is 1st March. Spread the word. Support the Awards. Use your vote! It will enhance the respect and recognition your creative professionalism deserves.
If you have any questions, comments or suggestions about AMPS Awards, please address them to
admin@amps.net
- your input is welcome.
Film awards are sponsored by Dolby Laboratories.
Television awards are sponsored by Twickenham Studios and Goldcrest.
Graham Hartsone
AMPS TV Drama Award Timeline
March 1  - 23.59hrs. Closing date for Television Drama Award suggestions.

March 3 - Nomination Ballot opens.

March 13 - 18.00 hrs. Nomination Ballot closes.

March 14 - Nominations announced.

March 15 - Final Ballot opens.

April 7  - 18.00 hrs. Final Ballot closes.

April 8 - Winner announced.
New AMPS Member - Matt Hughes

 

I am a 2nd assistant sound based in Cardiff but I do travel extensively for work. I have experience as a trainee and 2nd assistant on dramas for BBC3 and Channel 4, as well as experience on factual entertainment programming as a PSC sound recordist.

I have a degree in Sound Technology which I obtained in 2012. Since then I have tried to gain experience in different areas of production sound, from dramas and independent shorts, to events and live OBs.

 
I am very much looking forward to starting on new projects and learning from the best in the industry.
** If you are a new AMPS member and would like to feature in the Newsletter, please send a short bio and photo to
newsletter@amps.net
. **
Mumblegate Rumbles on With SS-GB
Flatscreen TVs, actors or realism: what's to blame for SS-GB's mumbling problem?

The BBC's Nazi thriller is the latest primetime drama to be beset by hard-to-hear dialogue. AMPS member Simon Clarke explains what's going on.
Photo courtesy of Laurie Sparham/BBC/Sid Gentle Films Ltd
Reel Angels Launch RA: Network
Reel Angels have recently launched 'RA: NETWORK': An inclusive and supportive online community for women in the industry - it is now live and free!
Loud Places: Walls That Once Housed Noise
Loud Places captures three iconic venues in their current state - venturing inside a restaurant, a gym and a vaudeville theatre to explore the addresses that were once home to live music.
Photographing Liquid Mountains
When you think of the Great Lakes, you may not picture towering 30-foot waves. But Dave Sandford knows better.
Click on image above to watch a short YouTube video.
AMPS has been running a Mentor Scheme for a number of years; we currently have a number of Members waiting for mentors.

If you think you can spare a couple of hours a month and would like to pass on your experience and knowledge to someone just starting out in the industry then please send an email the address below and we will send you an information pack about the AMPS Mentor Scheme.

We are particularly looking for Production Sound Mixers who are London based to mentor students based at the NFTS, Beaconsfield.
Did you know that the Directory pages on the AMPS website are some of the most frequently visited?

 

Make sure that your profile is up to date - you never know where your next work enquiry will come from!

 

 
Can we help with your Professional Development?
We're keen to hear from you with ideas for seminars and training sessions which would contribute towards Continuing Professional Development.
We're very aware that keeping up with techniques and updates can be a full time job in itself, so if there's any way that AMPS can contribute towards maintaining and developing your industry knowledge and skills, please get in touch.
AMPS Address & Phone Number
27 Old Gloucester Street
London
WC1N 3AX
Tel: +44 (0)1753 669111
AMPS, 27 Old Gloucester Street, London, WC1N 3AX
www.amps.net / +44 (0)1753 669111