Contents
Tradeshow Reminder: ISA Hamilton Expo - Tues, March 24, 2015

List of Exhibitors


Expo Technical Speakers Schedule & Talk Descriptions

Expo - Student Poster Show

ISA Golf Tournament: Fri, May 22 at Chippewa Creek G&CC

ISA Hamilton Expo - Tues, March 24 at the RBG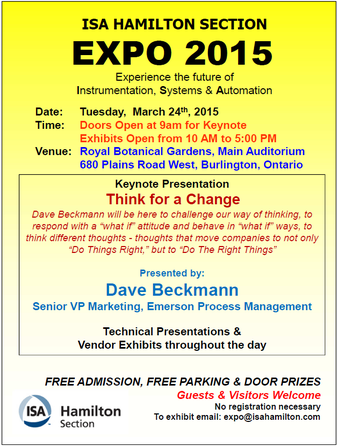 ISA Hamilton will be holding it's annual trade show on Tues, March 24 starting at 9:00am at the RBG in Burlington Ontario. As always the day will feature a keynote address, a technical speaking program, and exhibitor booths from a wide range of automation suppliers.
As always there is no pre-registration required, and all attendees are treated to a catered lunch and door prizes.
Royal Botanical Gardens
RBG Centre – Main Exhibit Hall
680 Plains Road West
Burlington, Ontario
Free parking on site!
Come and learn about the products and services from over 50 local automation suppliers. Show includes a instructional program with technical presentations on a variety of automation topics.
See our Flyer in CPECN magazine!
Keynote Address starts at 9:00am
Exhibitor Hall Hours 10:00am to 5:00pm

Technical Program for Expo released
ISA Hamilton is pleased to announce the list of exhibitors for our 2015 Expo tradeshow on Tues Mar 24 at the RBG.
This year's exhibitors include:
Westech Industrial
Thermo-Kinetics
Cameron Instruments
Cancoppas
Prominent Fluid
SRP Control
CEM Specialties
Novatech Controls
Endress & Hauser
Sylvan Automation
Process Instruments & Components
Delta Instruments
Toshont Power Products
CB Automation
WIKA
Syntec Process Equipment
Swagelok Southwestern Ontario
Shelley Automation
Lakeside Process
Valve Automation Center
ACI Instrumentation
Mettler Toledo Ingold
PML Process Technology
BEP Bestobell
Burkert Contromatic
Alpha Controls
Hayward Pool Products Canada
Next Level SCADA
CD Nova-Tech
JUMO Canada
Control System International
Eltherm Canada
Schneider Electric
Miura Boiler
Gescan
LinxSmart
Avensys Solutions
Gerrie Electric
UE Systems
Technical Program for Expo released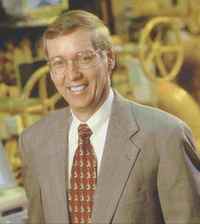 ISA Hamilton section is pleased to announce that the technical speakers for our 2015 ISA Hamilton Expo. Our Expo is being held on March 24, 2015 at the Royal Botanical Gardens in Burlington Ontario. Our technical speakers are as follows:
9:00 a.m. Think for a Change
Mr. David Beckman – Senior VP of Marketing, Emerson Process Management



10:00 a.m. State-of-the-art Additive Manufacturing Resource Center (AMRC)
Professor Robert Garritsen – Mohawk College



11:00 a.m. Motor Control over Ethernet
Peter D'Aurora – Schneider Electric Canada



12:00 p.m. Analytical Heated Hoses and Sample Lines for Critical Process Applications
Dan Potter – Eltherm



1 p.m. Combustion Analysis – What, Why, How?
Rod Merz – Ametek Process Instruments



2 p.m. Take the Guesswork out of Solids Measurement
Daniel Kemp – Technical Sales Specialist – Rosemount Measurement – Lakeside Controls
ISA Hamilton is pleased to announced that the keynote speaker for our 2015 Expo will be David Beckman. Mr. Beckman will be presenting at talk entitled Think for a Change, which will present overview of changes taking place in our sector and how technology continues to initiate change in our various industries.
Mr. Beckman is the Senior VP of Marketing with Emerson Process Management. Before taking his current role, he has held various senior executive roles within the Fischer Controls, Systems and Solutions, and other units within Emerson. Prior to his career at Emerson, he held several roles at Honeywell and Siemens, including manager of Honeywell's European operations. Mr. Beckman received his BSEE from LeTourneau University (Longview, Texas), and has an MBA from Harvard and several other advanced degrees.
Come and hear David and other speakers as part of our Expo technical speakers program.

ISA Hamilton Expo - Student Poster Competition
As part of our Expo, we also host the 4th year B.Tech (Process Automation) student poster competition. The students present their 4th year design projects as a large format (3ft x 4ft) poster. ISA Hamilton provides judges, and attendees of the Expo get a chance to see what the students have been working on. Curious what the students a up to? The posters can be veiwed in the front foyer area.

Save the Date: ISA Hamilton Golf Tournament
Our 2015 ISA Hamilton Golf Tournament will be taking place on Friday, May 22, 2015. Tee-off is at 12:00 noon.
Our golf tournament will be taking place at Chippewa Creek Golf Club, which is about a 15 minute drive from Hamilton (via Hwy 6 south or Upper James Street). The tournament is played in foursomes with "best ball" in the Scramble Format, plus a few interesting house rules for fun.
Costs are:
$595 per foursome, and includes 18 holes of golf, power cart, steak dinner, and prizes for 4 people*
$500 for additional foursomes (2nd, 3rd, 4th…)
$195 Company Sponsorship Package only (does not include golf)*
$130 single golfer rate (includes golf/cart/dinner/prize, you will be put into a foursome)
$35 dinner only
*The foursome package includes the Company Sponsorship Package (hole sponsorship with logo/name sign at hole, ad with link on ISA Hamilton website for following year)

Registration is now open. Download the registration form at www.isahamilton.com/golf-tournament

To reserve your foursome, please register before May 1, 2015. .

ISA Hamilton

You are receiving this message because you opted in to receive messages from ISA Hamilton Section.
ISA Hamilton is a non-profit Canadian association for automation professionals and a local section of the ISA.