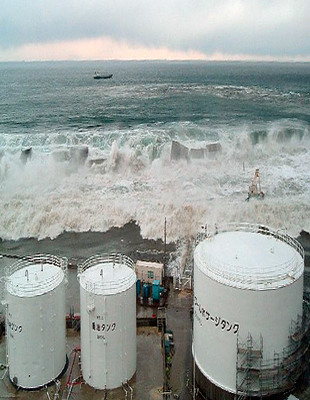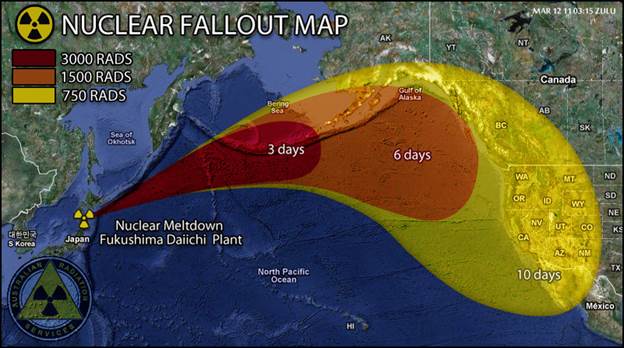 TSUNAMI BEARS DOWN ON FUKUSHIMA NUCLEAR POWER PLANT IN JAPAN 2011.
MARCH 6, 2017 FUEL RODS MELT THROUGH FLOOR OF CONTAINMENT VESSEL - MAY ALREADY HAVE REACHED GROUNDWATER- ENTIRE PLANT COULD BLOW UP LIKE A DIRTY BOMB!
IAHF List: Where is the media reporting? While people were watching the Super Bowl, the situation at Fukushima just got a whole lot worse! MOX Fuel with a halflife of 24,000 years has just melted through the reactor floor at Fukushima generating an unimaginable 530 Sieverts per hour of radiation according to the Guardian Newspaper. This is more than 100 times the intensity level necessary to kill most humans who are exposed to it for just a short amount of time. Exposure to just 5 Sieverts of radiation would kill you in 60 seconds!
The melted fuel rods which are generating this radiation have apparently bored a hole through the floor of the containment vessel, meaning they may be very close to coming into contact with ground water or ocean water (or may have already struck it). An increased amount of radiation is now coming down in rain all over the Northern Hemisphere, and this threatens to wipe out all life in the Pacific ocean.
Melting fuel rods also vastly increases the risk of nuclear fuel criticality which could "explode" the deadly radioactive elements into the open atmosphere. Yet nearly the entire mainstream media remains in a complete news blackout over this devastating development that threatens the sustainability of all life in the Northern hemisphere!
Robots sent in my TEPCO have been fried inside of two hours. Tepco hopes to send another Robot in to survey the bottom of the containment vessel later this month

.
Organic Sulfur is an acid-forming mineral that is part of the chemical structure of the amino acids methionine, cysteine, taurine, and glutathione. Sulfur disinfects the blood, helps the body to resist bacteria, and protects the protoplasm of cells. It aids in necessary oxidation reactions in the body, stimulates bile secretion,

and protects against the harmful effects of radiation and pollution

. It is found in hemoglobin and in all body tissues, and is needed for the synthesis of collagen, a principal protein that gives the skin its structural integrity.
An abundance of studies in Pub Med indicate that Sulfur detoxifies us from the toxic effects of radiation. See:
Please alert family and friends to these threats and to this information, otherwise a lot of people are going to be dying young from totally preventable heart attacks, strokes, and cancer.
Also See the information about vitamin C and its protective effects as documented by the Japanese Association of Intravenous Therapists who generated an alert to the world via the Orthomolecular News Service which you can see in this IAHF alert.
At this map we see how air currents travel globally..... radioactive fallout from Japan is now all over the world and its still being emitted. Young, healthy athletes are dying from unexpected heart attacks. Some are being caused by Fukushima radiation.
MY MAGNASCENT IODINE WILL PROTECT YOUR THYROID GLAND FROM ABSORBING ANY RADIOACTIVE IODINE IN OUR AIR
97% of people in North America are deficient in iodine this is a common cause of hypothyroidism, chronic fatigue, sluggishness, weight gain.
Bentonite Clay used internally and externally also helps protect against radiation.
THE WISDOM OF DETOXING YOUR ORGANS OF ELIMINATION STARTING WITH YOUR BOWEL
In human history we've never been under anywhere near the current level of biological assault!
We've got Fukushima radiation on top of GMO Foods, vaccines, toxic prescription drugs, air pollution, water pollution, chemtrails, fluoridated water, and other assaults!
You take your car to Jiffy Lube for regular oil changes, transmission fluid changes, etc, but have you EVER taken COMPARABLE care of your BODY, of your INTERNAL ORGANS that have to carry you through life on this toxic planet?
Don't you think you owe it to yourself to methodically detox your bowel, liver/gallbladder, kidneys and blood so you won't be a victim of Fukushima radiation, and all the other toxins assaulting us from additional sources listed above, especially chemtrails?
To get started with the best possible protection from detoxification, read this! Detoxing your Bowel, liver/gallbladder, kidneys and blood is the best REAL INVESTMENT in your health that you can possibly give yourself given the world we live in! Get started today by detoxing your bowel! By doing so, your energy level will increase by 70% as you jettison your long held mucoid plaque, that thick rubbery cement like crud thats been building up on the walls of your small intestine over the course of your whole life, blocking proper absorbtion of the nutrients from the food you eat and the supplements you take, including the sulfur you buy from me!
To get the FULL BENEFIT of your Sulfur and iodine and other micronutrients please read this and take the steps outlined HERE!! Don't let yourself, or anyone in your family be taken out by Fukushima radiation, chemtrails, or any of the other toxic assaults discussed in this article! You don't NEED cancer! You don't NEED a heart attack or a stroke! An ounce of PREVENTION is worth a pound of so called "cure"!!