Why not bookmark this AMPS Newsletter and read at your leisure!

Chernobyl wins AMPS Television Drama Award 2020. Image courtesy of HBO.

In this month's issue - Message from AMPS Chair, COVID-19 resources, AMPS ADR event report, Chernobyl wins AMPS award, AMPS AGM and EGM report, AMPS first virtual Social report, Ambient Isolation project, Sennheiser and Neumann launch free webinars, virtual dates for your diary, new members, Synchro Arts becomes a Sustaining Member, a closer look at maps.

Message from AMPS Chair, Rob Walker

As we get used to the changes the pandemic has brought in all our lives, it's important to consider how AMPS can react to this.

We saw some positive movement from the Chancellor on helping freelancers but as many members will already know, this help does not extend to all of us. Company directors and those earning over £50,000, as well as many on short term PAYE contracts have fallen through the net of government aid, and that aid is also slow to arrive.
I know many of us have strong feelings pro and anti unions but I would be in dereliction of duty not to mention BECTU's role in pushing for a better deal. Whether you are a member or not, they have a good deal of up to date information - web:
bectu.org.uk
and Twitter:
twitter.com/bectu
That is not to say AMPS has not been taking steps too. A letter to the Chancellor can help but we all need to keep the pressure up with letters to MPs, online petitions and any activity which highlights the failings in the current situation
We encourage you to share as much as possible on AMPS Connect, on Twitter
twitter.com/AMPS_UK
and on the private AMPS Facebook group reserved for members. If you are not a member already it's at - 
I wish you all the very best in these difficult times and look forward to when we can be free to work and live much as before.
Best wishes,
Rob Walker
On the 22nd of April AMPS Chairman Rob Walker organised a webinar of different approaches to recording actors remotely and safely with social distancing in place. The event was a big success with over 120 participants from around the world and much information and knowledge was shared. We will be publishing some further written details soon.
The event is available as a podcast -
soundcloud.com/user-663870646/amps-podcast-ep04-remote-adr-and-vo-recording-discussion
The main contributors were:
Luciano Del Zoppo from Todd-AO (Hollywood), Ben Nemes from Spacecrate (UK) and Mark Appleby from Goldcrest (London)
Freelance sound editors and Dialogue supervisors:
Michele Woods, Mark Specter, Tim Hands, Jamie Roden, Steve Little and Roland Heap (Sound Disposition)
Also included was an approach to remote mix reviewing from Rob Walker AMPS.
Chernobyl Wins AMPS Television Drama Award 2020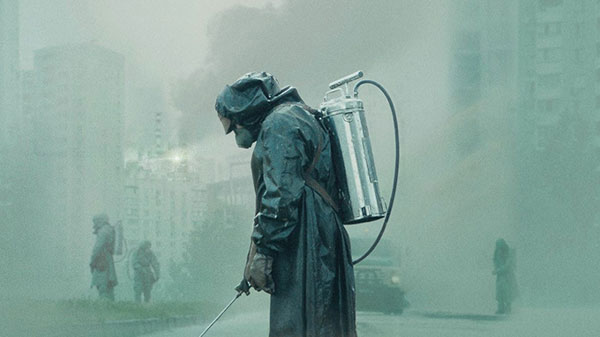 The powerful and intense drama Chernobyl has won the 7th AMPS Award: 'Excellence in Sound for a Television Drama'.
From a strong list of nominated titles, AMPS Voting Members have chosen their winner. The compelling soundtrack dramatically supports the story of the hellish chaos surrounding the nuclear disaster, where the dangers that lurk in our nuclear age are played back in forensic chilling detail.
Congratulations to the winners; Vincent Piponnier, Nicolas Fejoz, Harry Barnes, Stefan Henrix and Stuart Hilliker AMPS who will each receive the coveted bronze trophy.
Their combined talents resulted in the enthralling soundtrack for the series that has captivated viewers worldwide. Their work deservedly impressed their peers in AMPS, who voted to honour them in this year's awards. Chernobyl has been described as the greatest television drama of the decade. We all know how much a first-class soundtrack contributes to a successful drama!
A quote from Vincent Piponnier:
"Chernobyl was such a unique project in many ways, it was also a very meaningful one!

The first gratification was to be chosen by Johan Renck to work on it and we have done everything to live up to his ambitions!

The shooting has been super intense, the crew was incredible : people coming from all around the world, totally dedicated to the success of this series. The result of our work owes much to this team! It was a dream playground for us. 

It's always an honour to be recognised by ones peers! I'm really grateful to the AMPS, this awards means a lot."
And from Nicolas Fejoz:
"It's a great pride and a great honor for a boom operator to receive this award and the gratitude of my peers for this work. Thank you AMPS"
Stefan Henrix said:
"What a surprise! I would like to thank everyone at AMPS for voting for Chernobyl for best sound drama. It is honour to get an award voted for by one's peers, a true recognition of our craft. I would like to thank the rest of the sound team for their outstanding work."

Other winners also expressed the special significance of winning the award chosen by their fellow sound professionals, and emphasized the valuable contributions of their crew.
AMPS appreciates that all winning soundtracks are the result of collaboration among dedicated and talented teams. Certificates of Merit will be presented to all crew members who have creatively contributed to the Chernobyl soundtrack.

Congratulations also to all involved in the other nominated dramas:
A CHRISTMAS CAROL
Fraser Barber AMPS  
  
Jamie Hale   
  
Ian Wilkinson AMPS 
  
Lee Walpole   
  
Stuart Hilliker AMPS
DARK CRYSTAL: AGE OF RESISTANCE   
  
Chris Durfy AMPS
  
Michael Sinden
Tim Hands   
  
Tim Nielson   
          
 
HIS DARK MATERIALS   
  
Jon Thomas   
  
Jeff Welch   
  
Dillon Bennett   
  
Gareth Bull  

THE CROWN: Series 3
Chris Ashworth AMPS
  
Duran Darkins AMPS
Tom Williams AMPS
  
Lee Walpole
Stuart Hilliker AMPS   
An AMPS Awards event will be organised in due course when the world situation calms down.
AMPS Awards are sponsored by -

We have been trying for some time to organise a special AMPS Social event to celebrate last year's Film Award winners for Bohemian Rhapsody, and present the Certificates of Merit.
Unfortunately (or fortunately) everyone has so far been too busy working to make this happen, and now we are further delayed by the current restrictions on gatherings. It will happen when this is all over. Watch this space!
The Technical Audio Product Awards now have two categories: 'Excellence in a Production Audio Product' and 'Excellence in a Post Production Audio Product'.
All AMPS members are encouraged to make as many suggestions as they like in either or both categories, so please send your suggestions with a brief description and category chosen for consideration by the membership to:
technicalawards@amps.net
The schedules for the ballots are still being finalised subject to the uncertainty of the COVID-19 crisis.
In the meantime, please be sure to submit all your suggestions - these are your Awards.
Post AGM/EGM, AMPS members network at the Sustaining Members' Show

The 2020 AMPS AGM was held at NFTS on Sunday 23rd February. It was preceded by an EGM where a number of changes to the Constitution were passed unanimously by those present and the proxy votes submitted.

It was agreed to increase the number of members that constitute Council, and introduce a more flexible arrangement with less physical attendance. With more use of online methods for Council business, more people will be able to contribute when work and life prevents actual meeting attendance.

Changes to Membership application has reduced the requirement for sponsors from 4 to 2, but a request a fuller statement of sponsorship from those proposing a member. This is more in line with similar sound organisations internationally.

The Overseas Membership category has been removed as it has become less relevant. With more members and Award winners from outside the UK, we are truly an international association.

The AGM business followed with the chairman and officers reporting a steady increase in Membership numbers and a healthy bank balance for 2020. Members raised a number of positive suggestions for future activities from the floor to be pursued by the incoming Council.

On conclusion of business, the winners of the AMPS Film Award for 1917 were presented with their prestigious bronze trophies, and their supporting crew members received Certificates of Merit recognising their contributions to the winning soundtrack.

All then enjoyed a buffet lunch at the Sustaining Members Show and raised a glass or two to the worthy winners.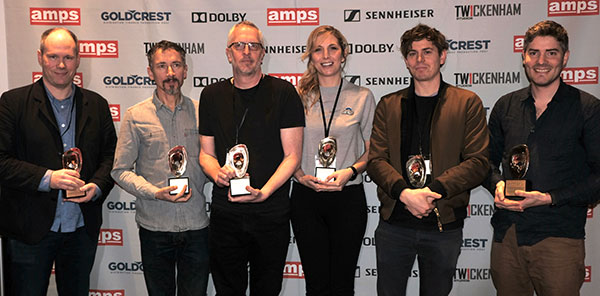 1917 crew were awarded their AMPS trophies.

Great Turnout for AMPS Virtual Social!

Andrew Wilson reports, "The virtual socials have been a massive success. We were joined through the evening by approaching 30 people with a peak of 17 online at one time.

We were online for 3hr 20min. We had logins from several bits of the UK - Bristol, London area (M25 ish), Kent, Norwich and Devon. We also had connections in Belgium, Germany, Los Angeles and New Zealand. For once I didn't publicise it beyond AMPS and we still had a good turnout!

For the time being, we will be running regular online socials - watch out for the next one."
Ambient Isolation - Global Sound Project

AMPS' Al Sirkett created this project as a way of helping to continue our audio creativity in these strange and isolated times and to keep a record of the sonic changes that have occurred in our environment due to the global lockdown. It's not too late to join in.
Sennheiser Launch Free Online Webinars…

Sennheiser is pleased to announce a series of webinars for customers and partners.
Join them online in the coming weeks to learn about a wide range of topics, from RF and microphone basics, to roundtable discussions with sound engineers, as well as a chance to put your questions to our application engineering team.
… and Neumann Launch Free Online Webinars

In cooperation with the Sennheiser Sound Academy, Neumann will be offering detailed webinars on the basics of microphone technology in the coming weeks. In one-hour sessions, trainer John McGregor will discuss all important aspects of Neumann studio microphones: Starting with the most important theoretical principles, through practical tips and application hints, to product care and maintenance.
Virtual Dates for your Diary
AMPS Virtual Socials

We will be scheduling numerous virtual Socials and events in the coming weeks, so please keep checking your email inbox and on AMPS Connect.
All events are open to AMPS members and guests. They are a great chance to put faces to names, to network and to chat. It's a rare opportunity for production sound and post sound folk to get together… plus there's beer and food. Of course, you supply that!
New AMPS Member No. 1: Daniel Leigh

 

Hello, I am a sound trainee based in London and West Sussex.

 

After graduating from the University of York studying BSc Film and Television Production, I have worked on mainly drama shorts, e.g. Sun, Moon and Talia dir. Jan Hernández Marsol and Clara dir. Anastasia Arsentyeva as well as micro-budget features such as The King of Spades dir. Matthew Fearney.

 

I'm looking to learn and act as sound trainee on bigger productions soon hopefully!

 

 
New AMPS Member No. 2: Richard Munns

 

 

Hi all. For those that don't know me I've been recording sound since the early 90s when I attended the Film and Video degree course at West Surrey College of Art and Design (I passed!).

 

Professionally I started off in documentaries and now mainly work in comedy drama and commercials with regular forays back into factual.

 

Thanks for having me in AMPS and look forward to running into some of you soon.

 

 

 

 


Synchro Arts Becomes AMPS Sustaining Member

Emmy-winning UK developers Synchro Arts create tools and technology to help craft great vocal performances and dialogue. Their products enable audio post professionals perform complex manual editing tasks both quickly and intuitively, saving countless hours of studio time.

Their first product VocALign was released in 1995 and is now the world's number one audio alignment plugin. Then in 2012 Synchro Arts launched Revoice Pro, their flagship vocal production software which offers not only timing and pitch adjustment across multiple tracks, but advanced tuning and vocal doubling too.
STOP PRESS - For the month of May, Synchro Arts have just announced 45/50% discount on their award-winning 'Revoice Pro 4' and 'VocALign Pro 4' products.
And Way Back in Simpler Times…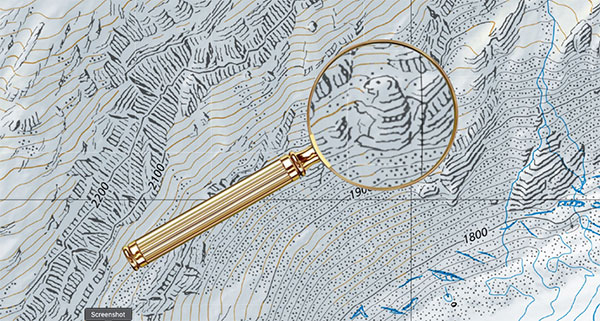 For decades, cartographers have been hiding covert illustrations inside of Switzerland's official maps and they've eluded one of the most rigorous map-making institutions in the world to do so.
The first three dimensions—length, height, and depth—are included on all topographical maps. The 'fourth dimension' or time, is also available on the website of the
Swiss Federal Office of Topography
(Swisstopo). In the
'Journey Through Time'
, a timeline displays 175 years of the country's cartographic history, advancing in increments of 5-10 years. Over the course of two minutes, Switzerland is drawn and redrawn with increasing precision: inky shapes take on hard edges, blues and browns appear after the turn of the century, and in 2016, the letters drop their serifs.
Watching a single place evolve over time reveals small histories and granular inconsistencies. Train stations and airports are built, a gunpowder factory disappears for the length of the Cold War. But on certain maps, in Switzerland's more remote regions, there is also, curiously, a spider, a man's face, a naked woman, a hiker, a fish, and a marmot. These barely-perceptible apparitions aren't mistakes, but rather illustrations hidden by the official cartographers at Swisstopo in defiance of their mandate "to reconstitute reality." Maps published by Swisstopo undergo a rigorous proofreading process, so to find an illicit drawing means that the cartographer has outsmarted his colleagues.
Did you know that the Directory pages on the AMPS website are some of the most frequently visited?

 

Make sure that your profile is up to date - you never know where your next work enquiry will come from!

 

 
Can we help with your Professional Development?
We're keen to hear from you with ideas for seminars and training sessions which would contribute towards Continuing Professional Development.
We're very aware that keeping up with techniques and updates can be a full time job in itself, so if there's any way that AMPS can contribute towards maintaining and developing your industry knowledge and skills, please get in touch.
AMPS Address & Phone Number
27 Old Gloucester Street
London
WC1N 3AX
Tel: +44 (0)1753 669111
AMPS, 27 Old Gloucester Street, London, WC1N 3AX
www.amps.net / +44 (0)1753 669111