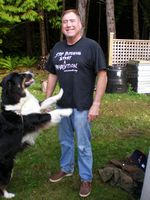 In the photo on the left I'm receiving a Civics Award from the Vancouver In the photo above, I'm wearing a T Shirt that says "Stop Bitching!
Giants (WHL) Mascot Because I Helped Raise Over a Million Dollars
START a REVOLUTION!"
In the Context of Trump's
For the Relief Effort Following Typhoon Haiyan, the Man Made Typhoon Victory, That Means We Need to Use My Connection with the
That Caused a Huge Loss of Life and Property in the Philippines a few
Campaign to
More Effectively Fight the FDA
to
Defend
years ago. I also helped expose the fact that this Typhoon was man made.
Consumer Access to Natural Products and Alternative
Medicine World Wide! We Can Also Enlist Trump's Help to
Defeat the Codex International Threat to Health Freedom
By Removing America From the United Nations!!
Excellent Good People of the IAHF List From the 4 Corners of the World:
I'd like to thank many of you all over the World who have been assisting the cause of Freedom in general, and Health Freedom in particular by helping to DEFEAT crooked Hitlary, that demonic tool of the Banksters and the Multinational Corporations who tried every dirty trick imaginable to attempt to keep populist iconoclast Donald J. Trump from being elected the 45th President of America! Victory is SWEET, eh?!!!
As I ponder the aftermath of this historic election which just handed Donald Trump not only the White House, but also complete control over

the House of Representatives, and the US Senate,

I feel a sense of real optimism just as I also felt when the British people flipped the Bird to the Nazis who created the European Union by removing themselves from THAT evil corrupt Nazi Scam which was threatening to ban their access to high potency vitamins and to the most effective supplements sold in health food stores and on the web!
I feel a sense of HOPE that now we can not only REPEAL the gross failure known as "OBAMACARE" but we have every opportunity to replace it with something a LOT BETTER that will NOT IGNORE the value of embracing nutrition and prevention and many valuable forms of alternative medicine that can help FREE US from the Tyranny of the obviously FAILED Mainstream Medical Model!
We are at a crossroads RIGHT NOW and we must SEIZE this moment, lest it be lost to us possibly forever!
Many of you on the IAHF list have been with me for the past 20 years since I created International Advocates for Health Freedom due to a need for my own autonomy as I was the first whistleblower in the world to have an article published (Life Extension Magazine 1996) calling attention to the UN Codex International Threat to Health Freedom.
As the years went by in the aftermath of passage of the Dietary Supplement Health and Education Act of 1994, it became harder and harder for me to pay my bills strictly by being a consultant/lobbyist for the supplement industry, and I also wanted a way to educate people regarding how to detoxify themselves given the reality of the genocide agenda inherent in not only Chemtrails, but also a slew of OTHER vectors via which our natural biology is under assault!
So I created Sulfur for Health, and because I now sell more than just sulfur, we might soon reinvent ourselves under a new name with a whole new website, but as we do THAT, we also hope to create a HEALTH FREEDOM RADIO SHOW via www.bbsradio.com which would facilitate my having a weekly web based show that all of you could listen to either in real time, or on demand via the archived podcasts!
This Health Freedom Radio show would EXPAND on all the things I've been writing about in my newsletters, and I could bring many very good

GUESTS

to the show for some very enjoyable listening! I know how to do radio from being a guest on hundreds of other shows world wide for decades, and its high time I had my OWN show! With your HELP we CAN DO THIS as a TEAM and some of you might enjoy being GUESTS on the show!
OFFERING A WINTER DETOX PRODUCTS SPECIAL FOR A WIN/WIN!!
THIS WILL HELP US HAVE OUR OWN HEALTH FREEDOM RADIO SHOW
SO WE CAN GET OUR HEALTH FREEDOM MESSAGE OUT
TO A MUCH BIGGER GLOBAL AUDIENCE!!
Heres my offer to all of you which can result in this desired win/win! Remember- where there is no VISION, the PEOPLE PERISH! I have always been a man on a mission as witnessed by the photos at the top of this newsletter! I've NEVER been a mere "armchair quarterback."
Just as I smuggled the vitamins into that last hospital I was in, and hid them in a cavity gouged from the underside of my foam mattress, taking them secretly while mouthing the toxic meds which I hid under my tongue and spat down the toilet where they belonged resulting in my being given a full medical discharge (35 years ago now) I have never stopped working on the front lines of the global war for health freedom.
HELP ME MAKE ALL THIS CHANGE!!
HELP ME HELP OTHERS TO HAVE THE SAME CHANCE I HAD TO HEAL!
HERE ARE MY SPECIAL PRODUCT OFFERS FROM NOW UNTIL DECEMBER 15th for a True Win/Win!!
From now til December 15th, if you buy 10 lbs of sulfur, I'll throw in a FREE Bottle of Magnascent iodine! (a $36 value)
This way, you not only save $80 on sulfur over the one pound price and get Free Shipping on your whole order, but you can protect your thyroid gland with the world's best Iodine which 96% of people in North America are deficient in!
By protecting your Thyroid using Magnascent iodine, you will be protecting all your OTHER glands downstream of it, and you will also be protecting yourself from Fukushima radiation which comes down in our rainfall world wide, and you will be helping protect yourself even more from the weaponized parasites being sprayed on us via the chemtrails!
You will also be protecting yourself from all mosquito born viruses including Malaria, Dengue Fever, and Chickungunya! Please learn more about why Magnascent is the world's BEST IODINE HERE!! (Lugols is too dose specific, its not SAFE to use without lab work, but Maganascent IS safe to use without lab work, learn why HERE!!)
If you buy 20 lbs of sulfur between now and December 15th, I'll not only THROW in the FREE BOTTLE of Magnascent iodine, but I'll ALSO throw in a FREE BOTTLE of ECHINACEA PLUS!! This Dr. Schulze tincture of echinacea and garlic is PERFECT for cold season to boost the immunity of EVERYONE in your family so NO ONE will get a cold or the flu! It seriously boosts macrophage activity (white cells which fight infection) in your body and ALSO boosts KILLER T CELLS!! This not only helps keep you from getting a cold, or the flu, but it ALSO helps KILL the weaponized Morgellons parasites that were tweaked in a Bioweapons lab at Stanford University and which are intended to HIJACK our natural biology and turn it SYNTHETIC!!
(Via this evil means, our would be oligarchal rulers, the same scum who just tried to ram Hitlary KKKLINTON down our throats but FAILED due to our successful grass roots REVOLT
are actively hijacking specific biological systems inside our body such as our RED BLOOD CELLS ABILITY TO CARRY OXYGEN!!(They're thus ACIDIFYING our bodies, making us very prone to all kinds of DISEASE STATES including cancer, heart disease, mental illness, alzheimers disease, arthritis, lupus, Lymes disease, etc.
TO GET THE FULL BENEFIT OF YOUR SULFUR & TO GET VASTLY IMPROVED ABSORPTION OF NUTRIENTS FROM THE FOOD YOU EAT & THE SUPPLEMENTS YOU USE- IT IS IMPERATIVE THAT YOU JETTISON THE MUCOID PLAQUE THATS BEEN CLOGGING THE WALLS OF YOUR SMALL INTESTINE WHOLE LIFE, ACIDIFYING YOUR BODY, WEAKENING YOUR IMMUNE SYSTEM, MAKING YOU FAR MORE AT RISK OF DEVEOPING EVERY SORT OF DEGENERATIVE DISEASE!
Please forward this widely and repost to more websites after first deleting
the unsub link at the bottom! Thanks for your help!