VISIT OUR SITES
---
---
Also see:
KEEP UP TO DATE
Login
to your own account and check on the 'Notifications' tab to get a daily email
MARK YOUR PAGE
Login to your own account
and click on 'Bookmark this' on any page. Bookmarks are saved to your account under 'Bookmarks' tab
COMMUNITY
Highlights of this month...
Killer Fungus
The Royal Society hold a
series of exhibitions throughout the summer
in order to promote awareness of the importance of science and engineering and to inspire interest in the many branches of science that make up the huge range of subjects that stimulate human curiosity and creativity in the UK.
The Royal Society also holds itself responsible to advise and lobby governments on behalf of science and scientists, so exhibitions serve to inform both voter and politician as to the huge success of past funding and the potential for future success should further funding be made available.
One of the summer exhibitions was entitled '
Killer Fungus
" and focussed on the many diseases caused by fungi and their impact on peoples lives. Of the many video's one of the most striking was the use of fungi as coloured paints to draw out "Killer fungus" as a design on a petri dish that was then recorded as a
time lapse video
as it grew in colour and biomass over the next five days.
Exhibitions aside, this was a particularly intense month for the publications of diagnosis and fungal rhinosinusitis and we will cover several in the article section below.
Last updated in 2008 the updated guideline focuses on the diagnosis and treatment of the major forms of aspergillosis: allergic, chronic and invasive.
Improved use of diagnostic tools, including blood tests, cultures and CT imaging, have enhanced the ability to identify the infection early, but because some of the methods are invasive, physicians often are reluctant to proceed. Because the infection is so deadly, physicians should be aggressive in diagnosing patients suspected of having the infection, according to lead guideline author Thomas Patterson, MD, FIDSA.
Additionally, new more-effective and better-tolerated antifungal medications, or versions of existing medications (e.g. extended release) have improved care, including isavuconazole and posaconazole. In some cases, combination therapy with voriconazole and an echinocandin is recommended for certain patients at highest risk.
A new conference on Aspergillus and aspergillosis is to be launched this year 8-10th November in Iran
A repurposable drug to treat aspergillosis
is emerging from a
study by Sebastian et.al.
The researchers noted that
Aspergillus fumigatus
expresses a homologue of the human
glycogen synthase kinase-3 gene
(GSK-3) and does so during human infection. Inhibitors of GSK were tested
in vitro
and were found to be effective at stopping growth of the fungus. GSK inhibitors are already in development for the treatment of  illnesses such as diabetes so the authors suggest that the same or very similar drugs could be tested against aspergillosis.
Conference abstracts section
 is one of our original sections starting over 17 years ago. Back in 1999 we used to scan in books of abstracts brought home by our travelling scientists, today most abstracts are published electronically but it still takes a lot of copying & pasting to collect them all.
Some conferences have now published archives so we have been able to collect abstracts going back into the 1990's.
Our most recent additions are the Russian-Chinese Scientific-Practical Conference on Medical Microbiology and Clinical Mycology (Kashkin Readings) from 2008 to 2016 which are mostly presented in the Russian language but are 'auto-translated' well for English speakers using the Google translate plugin for the Chrome browser.
We currently host over 14400 abstracts that are searchable by conference, abstract title/author/year.
NB we are always looking for more abstracts on Aspergillus & antifungals (and related subjects) so
please let us know
if you know of a collection we can add. 
Search engine:
Every item of information on the website is indexed by our dedicated search engine. You can refine search results by title, date, author, section (i.e. content type) so you should always be able to find what you need. 
Prospective Evaluation of Serum β-Glucan Testing in Patients With Probable or Proven Fungal Diseases.
Early diagnosis and treatment are crucial in invasive fungal diseases (IFD). Serum (1-3)-β-d-glucan (BG) is believed to be an early IFD marker, but its diagnostic performance has been ambiguous, with insufficient data regarding sensitivity at the time of IFD diagnosis (TOD) and according to outcome.
The authors tested sensitivity using a total of 143 patients with proven or probable IFD and concluded that undetectable serum BG does not rule out the patients being in the early stages of IFD, nor does it clearly relate to clinical outcome
Clinical and microbiological study of paediatric infectious keratitis in South India: a 3-year study (2011-2013). 
Contrary to previous reports, fungi are the most common aetiological organism in the causation of infectious keratitis in children in our study population. Fusarium was the most common fungal species isolated. These data are similar to the data obtained from adult patients with infectious keratitis in this region. While microbiological investigations are important to initiate appropriate antimicrobial therapy, the authors contend that the findings from this study need to be kept in mind, especially while initiating empirical therapy in this population.
Several sinusitis articles
The application of immunoproteomic approaches has a great potential to identify new targets for the diagnosis, therapy, and vaccine development of diseases caused by Aspergillus species. Serological proteome analyses (SERPA) that combine 2D electrophoresis with Western blotting are still one of the most popular techniques for the identification of antigenic proteins. However, recently a growing number of approaches have been developed to identify proteins, which either provoke an antibody response or which represent targets of T-cell immunity in patients with allergy or fungal infections. Here, the authors review advances in the studies of immune responses against pathogenic Aspergilli as well as the current status of diagnosis and immunotherapy of Aspergillus infections.
There are syndromes in which the relationship between exposure to the relevant allergen and the "allergic" disease is not clear. In these cases the presence of specific IgE antibodies can play an important role in identifying the relevant allergen and provide a guide to therapy. Good examples include chronic asthma and exposure to perennial indoor allergens and asthma related to fungal infection.
There are several factors at play that contribute to aspergillosis, including both fungus and host-related factors such as strain virulence and host pulmonary structure/immune status, respectively. The environmental tenacity of Aspergilllus, its dominance in diverse microbial communities/habitats, and its ability to navigate the ecophysiological and biophysical challenges of host infection are attributable, in large part, to a robust stress-tolerance biology and exceptional capacity to generate cell-available energy. Aspects of its stress metabolism, ecology, interactions with diverse animal hosts, clinical presentations and treatment regimens have been well-studied over the past years. Here, we synthesize these findings in relation to the way in which some Aspergillus species have become successful opportunistic pathogens of human- and other animal hosts. The authors focus on the biophysical capabilities of Aspergillus pathogens, key aspects of their ecophysiology and the flexibility to undergo a sexual cycle or form cryptic species. Additionally, recent advances in diagnosis of the disease are discussed as well as implications in relation to questions that have yet to be resolved.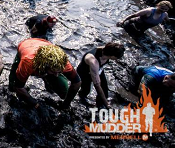 Don't forget
Tough Mudder and Adrenaline Rush teams of fundraisers for the Fungal Infection Trust this coming weekend 6-7th August. See details on
www.fit.care
Good luck to both teams!
CPA patient Stewart Armstrong's daily vlog for a month has now completed, but he is carrying on with the project as it attracted so much attention. 
An eye-opening account of what living life with aspergillosis is like, every day (NB there is some bad language in the first video, but that is what this illness does to the calmest of people at times!)
The Patient & Carers meeting in July was highlighted by a fascinating presentation from two doctors from the transplant unit at Wythenshawe Hospital. Aspergillosis patients can be considered for transplant though they are not commonly done and the team explain the process in this talk.
Aspergillosis Community (National Aspergillosis Centre) normally meets on the first friday of each month at the Altounyan Suite, North West Lung Centre, Manchester at 1.30pm BST/GMT. If you can't make it in person, you are welcome to listen in to our
live broadcast
.

If you want a text reminder when each meeting is approaching (UK only) then send us an email at admin@aspergillus.org.uk.