Hello Quilters and Friends,
Wow!!! January flew by, wish I could say the same thing about this winter. I'm ready for spring, how about you? I guess we shouldn't complain we have had lots and lots of piecing and quilting time. During January we began collecting food for a food pantry.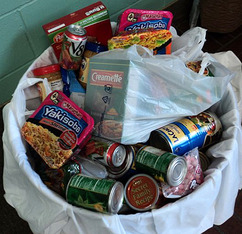 Our tub is full so next week I will deliver it, but I think we will just leave the tub by the door. If you know you are coming in and happen to think about it, please grab a can good and bring it in, there are so many people out there that need the help.
Thank you to all of you who visited us on our annual New Year's Day sale. Our shop was full and we all enjoyed seeing everyone. 
We don't have anyone else to add to the prayer list, everyone we have on it is either holding their own or getting better which is fantastic. 
February is looking to be a super busy month. Mary is organizing a "Pillow Case Blitz".  February is National Heart Month and all of the pillow cases that are donated will be going to children with heart problems ages toddlers through teens at St. Mary's Hospital here in Evansville.  St. Mary's Foundation that oversees all donations to St. Mary's Hospital is very excited about this as they have never had pillow cases donated.
We have the pattern that is to be used for the pillow cases here and if you are unable to pick one up, we will email or snail mail it to you. If you are unable to drop the pillow cases off, you can mail them in to us. The quilter that donates the most pillow cases in February will receive a $25.00 gift card to the shop. Hospitals can be so frightening to adults, think how children feel. Maybe a fun pillow case will make it just a little easier for them and it's something they can take home with them. We would love to take a truck load to them, so let's get those machines humming.
On February 15 we are kicking off another Mystery Quilt. Pat Sloan designed this one, and we are taking the pattern from her blog. It's a 10 month program and her quilt ends up at 60" square.  I am adding to it, so the quilt we have the blocks for will be about 86" square. We are offering it in 2 color waves, and we only have 6 kits of each (and some are already spoken for) so call us, email, or come in and sign up right away. Below are pictures of the two color waves and a sample of the first block made up in each color wave. The kits are $15.95/mo.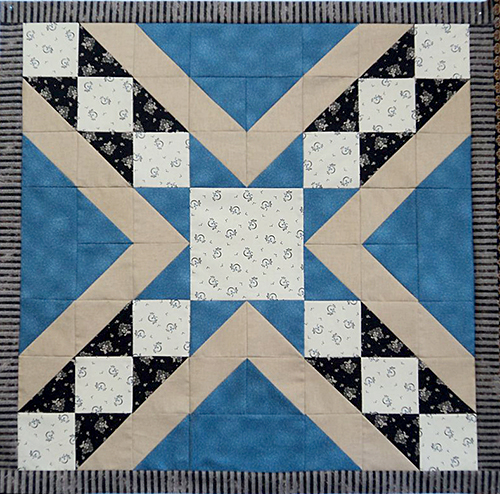 Mystery Quilt Block in Black Color Wave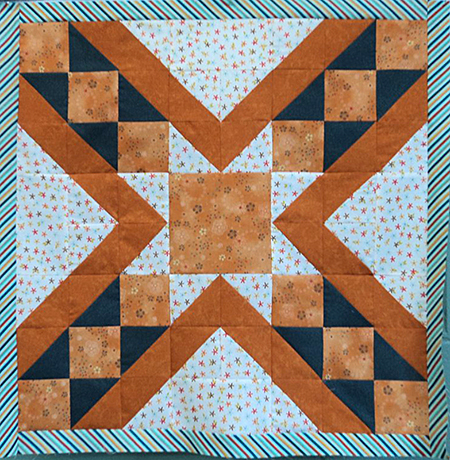 Mystery Quilt Block in Bright Color Wave
Bright Color Wave for Mystery Quilt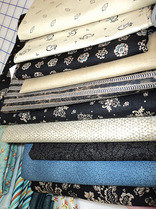 Black Color Wave for Mystery Quilt
We have 14 of us signed up for the block exchange using bright fabric with a black background.  I have sent out an email to all of you with the pattern attached. If you didn't hear from me, please let me know.
I know you have all been missing the open sew nights and the first open sew in February is on the 7th at 5:00. Since it's not the day before, I have no idea what we are having yet, but I'm sure you will like it. Bring a UFO and join us, we always have a good time. The second Open Sew is on the 21st and we are having a "pot luck" night; bring a dish to share and a UFO and head on over at 5:00. If you don't have a UFO, I can fix you up, believe me. 
Lucy is teaching "Ties" on February 8. She will teach you to make a tie, then if you want to you can make a little "bag" with your tie. How fun is that?  9 – 3.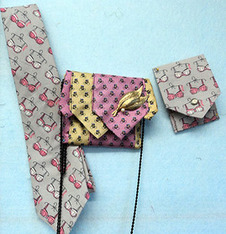 Also on the 8th I will be teaching Winter Solstice. I introduced this ruler at Strip Night and now you have the opportunity to use it. The book has quite a few unique quilts in it that I'm sure you would enjoy making.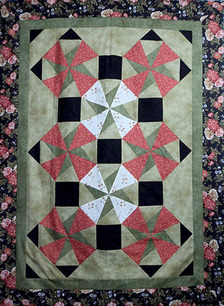 Winter Solstice
I hope this newsletter finds you all happy and healthy and quilting your hearts out.
Happy Quilting,
Holly & Mary