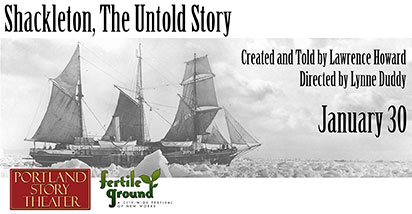 Dear Friend of PST,
Just one more chance to hear

Shackleton, The Untold Story over at the Alberta Abbey. Bob Hicks

of Oregon Arts Watch calls L
awrence Howard "one of the city's most engaging raconteurs." Dennis Sparks, theater reviewer, called ‪Shackleton‬, The Untold Story "storytelling theater at its best." Audience members are raving about it: "One of Lawrence Howard's best performances! I didn't think it was possible to be a bigger fan of Lawrence, but after this show,

I am

!" and "I was on the edge of my seat through the whole story. Lawrence Howard is mesmerizing." Advance tickets available online until 4PM on the day of th
e show. We will have tickets available for $18 at the door when the house opens at 7PM. We honor the Arts for All program with $5 tickets available online or at the door. We're looking forward to seeing you at the Alberta Abbey this Saturday night, located just two blocks west of MLK.
---
May The Narrative Be With You!®
Lawrence Howard, Armchair Adventurer
Portland Story Theater

Photograph by Frank Hurley