Professional Tote – June 27, 9 – 2:30.  2 part class, second part is on July 18. Lucy will walk you through step by step of this very versatile bag. I have one and I love mine and carry it every day.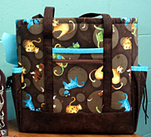 Professional Tote
July classes
I begin Flock of Feathered Stars on July 11, 9 – 2:30. This is an 18 month class, once a month always on the 2nd Saturday of the month. This is a paper piecing project, if you are interested, but don't know how to paper piece, I suggest you take Mary's beginning paper piecing class on June 20.  Here is the first block from that quilt. Keep in mind the paper is still on the back of this, so it's not pressed as nicely as it will be.
Flock of Feathered Stars
Here's a surprise, I have changed my mind. I am teaching Coronado in July (instead of Joy). It begins on July 14, either 1 – 4 or 5:30 – 8:30. This is a 5 part class, the other classes are on 7/28, 8/4, 8/25, & 9/8. This is going to be my Christmas quilt, so this class will be a sew along, as we don't have our Christmas fabric yet.
Coronado
 
Convergence Quilt – Irene will teach you this attractive Ricky Tims pattern. Now the actual convergence quilt is without the appliqué. Irene and I have added appliqué to both of ours (the top 2 are Irene's and the bottom 2 are mine), but that is purely optional.  
Convergence
Marti Michell Block of the Month – begins on July 20, 6 part class. 8/10, 8/17, 8/31, 9/14, 9/28.  Mary has chosen lovely fabrics for this class/bom this year. You will need Marti Michell templates sets A & N this year. If you wish to use the fabrics Mary has chosen, the fabric kit is $25.95/mo. and the class is free. If you choose to use your own fabrics, the class will be $80.00. We only have 11 kits, so be sure to let us know right away. Here is a picture of the pattern, NOT the fabric in the pattern.
Here are some of Mary's fabrics. Very warm and luscious!!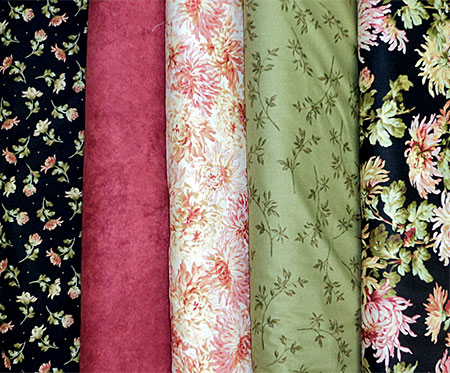 Coming in August...
Stack N Wack
Beginner Piecing Academy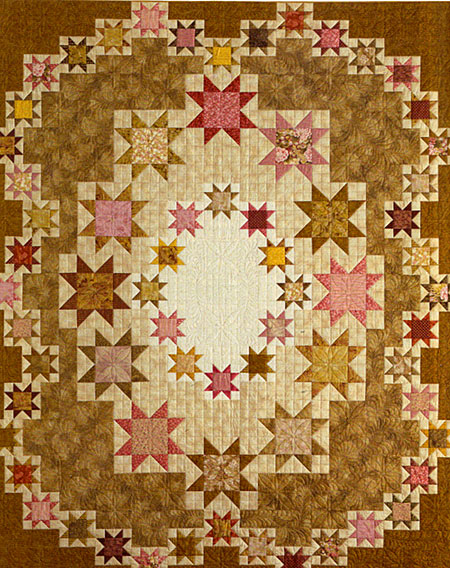 Wedding Bands
Summer Breeze
Farmer's Wife Club – Mary is starting a Farmer's Wife Sampler Quilt using Marti Michell templates.
(Much easier than printing out all of the templates from the CD, then having to cut them from plastic) She has chosen 84 blocks and will be making 4 blocks per class. This is a 10 part class, 8/13, 8/27, 9/10, 9/24, 10/8, 10/22, 11/12, 12/10, 1/14, 1/28. She will have an afternoon or evening class. If you purchase your book and templates from us, (approximately $169.32, some of which you might already have),the class is $5.00/class. If you do not purchase the ruler and books, the class is $35.00/class. I am about half way done with my quilt, using the plastic, from experience, I can tell you using the Marti Michell templates will be much easier.
Do You Wanna Build a Snowman?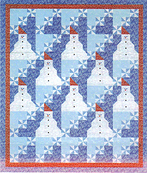 Quilter's Nest News, June 2015
Hello Friends and Quilters, 
I hope all of you are keeping busy with new quilt projects, summer outdoor activities, family time, and vacations. (Notice I left work out of that) It seems like our lives are so busy, be sure to take time for yourself and your family to enjoy the warm weather and sunshine. It might make the winter's months a little more bearable if we make some memories now.
I don't think I said "Happy Mother's Day" in the last newsletter. I hope that everyone celebrated and made someone else feel a little more special on that day. Happy Father's Day this month!! Be sure to tell your father, son, brother, husband, or whomever that they are loved and thank them for everything they do for you. It only takes a minute and will be remembered for years to come.
Congratulations to all the graduates from Pre – School through college!! I love seeing the little Pre-Schoolers in their cap and gowns. 
Mary continues to improve. She is actually coming in 3 days a week for about 4 hours at a time.  She has some classes scheduled in the coming months, so she has been working on samples for those and we are moving forward, just assuming the doctor is going to release her at her next appointment in the middle of the month.
Please keep the victims and their families of the Texas flooding and storms in your prayers; Shirley and the rest of her team as they head to Mexico on a Mission Trip.

 

While I am thinking about it, the shop will be CLOSED Friday and Saturday, July 3 and 4th.  I have scheduled Open Sew (in July) for the 17th and 31st. 
Strip Night, November 7, is sold out at this point!! We are keeping a waiting list if you would like to put your name on it, just let us know. 
I still have a couple more kits for 'Tis the Season, block of the month. It begins this month and will run for 12 months, $20.95/mo., with a $25.00 registration fee. The registration fee will be deducted from the monthly fee at the end of the 12 months. If you wish to purchase the whole kit at once, you receive 10% discount.
Tis the Season BOM Blocks

Tis the Season BOM Border Fabric

Our shop is participating in the Row by Row Experience this year. What is Row by Row you ask? Well, let me tell you. It's been going on for a couple of years and seems to be very popular. Every state in the United States has shops that are taking part this year, also in Canada. Each participating shop designs their "row" for a quilt. The theme this year is "water", so obviously it has to pertain to water in some way. The rows are 9 ½" x 36 ½". You have to physically visit each shop, the patterns cannot be mailed out, but they are FREE!!! If you wish to purchase the fabric kit from each shop they are available or you may use your own fabric. If you look at the Row by Row website, Village Mercantile, Sew Tech, The Stitching Post, and Let's Sew have all signed up to participate, but I have only seen Village's row posted to the Indiana Row by Row Facebook page. You may visit any of the shops who are taking part in the Experience from June 21 – September 8. (Road trip?) From Sept. 8 – October 31, no patterns or kits will be distributed. The first person to come into our shop with a completed quilt – 8 rows, quilted, bound, and label, will receive a 25 fat quarter bundle. If their quilt has our row in it, they will receive an extra prize. Remember:the patterns are FREE and the Experience begins June 21!!!  Here is our row.

OK, on to classes: You might want to take a look at the online Calendar; I have changed a couple of dates and added classes.
In June we have
Open Sew – brown bag – on June 5 & 19, 5 – 9.
Beginning Applique – Saturday, June 6, 9 – 2:30. Mary will help you master appliqué and it will open so many more possibilities for you.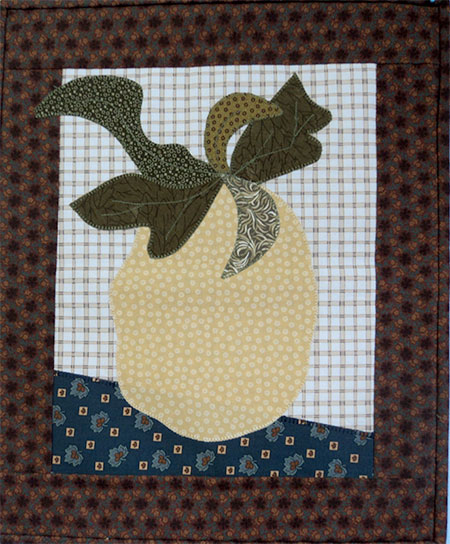 Beginning Applique

Beginning Paper Piecing – Saturday, June 20, 9 – 2:30. Mary walks you through the basics of paper piecing.
Beginning Paper Piecing
5 Minute Block – Saturday, June 20 – 9 – 2:30. This is one block, that you can finish is 3 different ways. You pick your project from the book, and I will help you make it.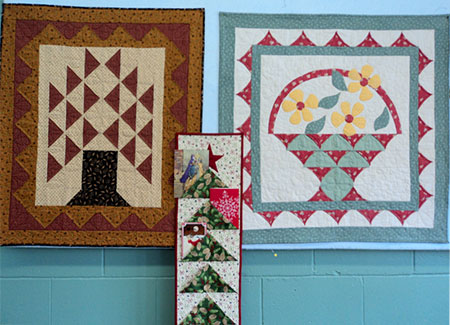 5 Minute Block
Tranquility – Monday June 22, either 1 – 4 or 5:30 - 8:30. A 2 part class, second class is on Monday, July 6.  A gorgeous quilt that would be stunning in any color wave. Let us help you choose your fabric for that perfect quilt.
Tranquility
Yankee Doodle Dandy – June 27, 9 – 2:30.  3 part class, 2nd and 3rd class are on July 11 and 25.  Mary will teach you how to make a cat's cradle block and end up with this fabulous quilt.

Yankee Doodle Dandy
Have a great first month of Summer,