Learn birding basics at Bombay Hook!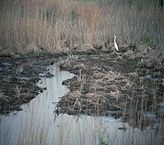 Shopping with Amazon.com?  Please use this link and Chesapeake Audubon will receive .5% of your total purchase amount!
Saturday, August 12, 9:00AM,   Leader: Colleen Webster, Swan Harbor Farm Park: Butterflies, Dragonflies and Birds

Birds are the main interest of the CAS, but there are other beautiful and fascinating creatures that fly. On this trip we certainly do not plan to ignore birds but our focus will be on finding and identifying butterflies and dragonflies. Total beginners to accomplished naturalists are welcome and encouraged to participate. One leader will be Colleen Webster (
cwebster@harford.edu
; 410

-459-4577). Meet at Swan Harbor Farm Park at
9:00 AM. Weather is critical to this event, so be sure to check with Colleen if the forecast is questionable.
Saturday, August 12, 1030AM-1230PM, Spectacular Summer Butterflies at Pickering Creek Audubon Center, $10.00 per person
Summer is the perfect time to marvel at elegant, vibrant butterflies! Join Pickering Creek staff and butterfly experts Theresa Murray and Frank Boyle on a summer butterfly walk. Learn about identifying features of these
exquisite insects and observe the beautiful blooming plants that bring them in.  Theresa Murray has been learning about butterflies and their life cycles
over the past 20 years. She currently maintains gardens with nectar plants and host plants for several butterflies including monarchs.  Frank Boyle is a naturalist and butterfly specialist from Rohrersville, MD. He leads several NABA (North American Butterfly Association) annual 4th of July butterfly counts in Maryland and the mountains of Virginia. He has been chasing and
gardening for butterflies for 23 years. Advance registration required call 410-822-4903 to do so.
Sunday, August 13, 8:00AM,  Leader: Hugh Simmons, Bombay Hook, DE: Birding Basics

Are you interested in joining the fun of birdwatching? This is one of a series of monthly bird walks for those new to birding that will focus on developing
bird identification skills.  Rather than simply naming the bird we will spend time talking about the characteristics that lead to an identification: family,
descriptive anatomy, posture, behavior, voice, habitat, etc.  We will also discuss topics
such as binoculars, field guides, birding apps, clothing and birding etiquette.
  While we will hopefully see a lot of birds the primary goal

will be to spend time understanding each ID rather than to check off as many species as possible.  This is a day trip. Bombay Hook is about 2 hours
from Baltimore and is one of the best birding locations in the region.  It is a terrific place to see shorebirds and waders which will be the focus of the trip.  To register contact Hugh Simmons at lensonnature@gmail.com or 410-456-0017.
Saturday, August 19, 8-930AM, Druid Hill Park Bird Walk with Patterson Park Audubon
Experts from Audubon and the Maryland Zoo will lead us in search of avian friends! Bring the whole family - all ages and abilities welcome! No experience necessary. If you would like to borrow binoculars, drop us an email – we have plenty to share!  There is no need to RSVP for this event, just arrive ready to explore! To borrow binoculars: 
baltimore@audubon.org
 or 410.558.2473.
Free!  Meet at 3001 East Drive in Druid Hill Park.
Monday, August 21, 1-3PM, Eclipse Garden Party at Peterson Woods, $10.00 per person
Come out for an informal lawn party at Peterson Woods, the newest addition to Pickering Creek Audubon Center. Enjoy lawn games with staff, tour the trails and gardens, then grab a lawn chair for a front row seat to the Great North American Eclipse. While we won't see totality in Maryland, it will still be a great show!  Advance registration required by calling 410-822-4903. 
Looking forward:
August 26 - Birding at Bombay Hook
August 26 - Saturday Bird Walk at Patterson Park
August 27 - Morning Paddle at Pickering Creek
Volunteer  with Chesapeake Audubon!
Patterson Park Audubon 
Saturday Sept. 2
, 9-1030AM,  Habitat Team
We are building bird habitat in Patterson Park and need your help! These native gardens provide food and homes for the park's wildlife, and learning spaces for students. Tools, gloves, water, and snacks provided. Service hours awarded to helpful students. No need to register. Meet at the wetland garden, uphill from the Boat Lake.  Email

baltimore@audubon.org

with questions or for directions.
Pickering Creek Audubon Center: 
Thursday, August 17, Garden Care at Peterson Woods.
  We'll be doing a little garden care at Peterson Woods, the garden near Byron House, and the garden at the entrance sign.  Gardeners will meet at the Welcome Center parking area.  Email Samantha at
spitts@audubon.org
to sign up.
Deforestation and drought in the tropics a big threat to US birds. 

more
Night voices of summer. 
more
The showy courtship dance of Hooded Grebes. 
more