---



24

March

2017
March Memory Verse
Psalm 27:1,
"The Lord is my light and my salvation; whom shall I fear?
the Lord is the strength of my life; of whom shall I be afraid?"
- The Gospel Of Jesus Christ -
The Gospel of Jesus Christ is...
Is Incredibly Simple! (1 Corinthians 15:1-4))
The Gospel is incredibly simple in its content.
The Gospel is incredibly simple in its comprehension. Even a child can comprehend the Gospel.
However, the Gospel is not always easily received - pride, love of sin, fear of man often keeps a sinner from receiving the Gospel.
Is Miraculously Powerful! (Romans 1:16)
When God says something is powerful, it is powerful! The Gospel changes lives, transforms homes, alters nations, and changes destinies. The Gospel is the power of God unto salvation!
Is Desperately Needed.
Without the Gospel, men, women, and children are lost in sin. The need for the Gospel is the same for all mankind the world over, however, the availability of the Gospel is not the same for mankind the world over. Missionaries and soul winners are desperately needed in all corners of the earth!
We are endeavoring to do all we can to get the Gospel to everyone in the whole world. I just returned from a powerful mission trip to Irapuarto, Mexico with the board members of Beacon of Truth Baptist Ministries and there we saw first hand the desperate need of the Gospel just South of our borders. Beacon of Truth is printing Scriptures for Missionaries throughout the world, but particularly Mexico. Check out their web site (www.btbm.org) to see how you can help get the Gospel to the world.

This Saturday (tomorrow evening) is our annual MEN'S STEAK-OUT dinner here at the church. Dr. Dan Hummel is speaking. A delicious steak dinner with baked potatoes, Bushes baked beans and dessert is on the menu. We're asking for a $10.00 donation to help cover the costs. Invite a friend to join you and pray for God's blessings on this endeavor to reach men with the Gospel.
This Sunday through Wednesday is our SPRING REVIVAL with Dr. Dan Hummel. We are praying for a genuine revival in our hearts, home, and church. Please join us for this great meeting.
Next Sunday, April 2, kicks off our TRACT MONTH. Our theme this year is "Pour On The Salt & Turn On The Light!" We're dividing up the church into two teams and will have a little friendly competition. If you would like more information on how to have a tract month in your church, let me know and we'll send you our "Tract Month Manual" free of charge. It works in all churches of all sizes the world over.
There's a lot more going on around here, so please join us every time you can and please pray for God to bless our efforts and reaching the world with the Gospel.
Please join us this Sunday and bring your Bible and a friend!
Dr. Dennis Leatherman - Pastor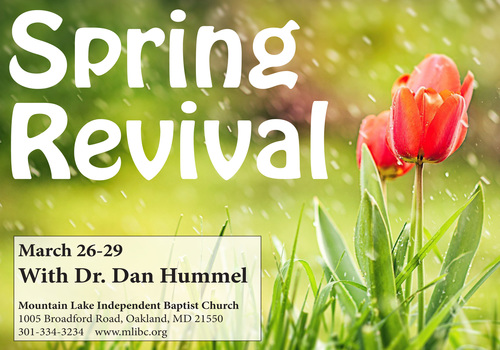 Mountain Lake Independent Baptist Church
1005 Broadford Road, Oakland, MD, 21550