WINDOWS BACK ON THE AGENDA?
SIGNATURE TELLS THE TRUTH
BBC CELEBRATES WITH THE DOCTOR
EVERYTHING'S COMING UP ROSES
FINDANYFILM REDESIGNS, ADDS TO SITE
SITE OF THE WEEK – NEW PUBCAST
TRAILERS OF THE WEEK
---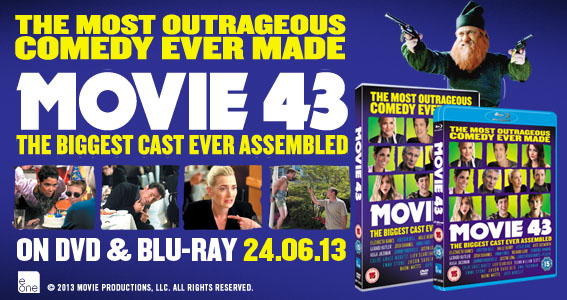 ---
I
f you can't read this newsletter or see the ads, please click
here
It Was A Good Week For…
Seven Psychopaths, off to a bright start…
I
t Was A Bad Week For…
Netflix, as its new exclusive series, Hemlock Grove, was not as well received as it would have liked…
It's been a week when the spectre of windows has risen again, as first consumers on a panel at the PEVE event held in London said that they would like to see shorter windows, while, over in the US, theatrical exhibitors heard plentiful discussion about theatrical to home entertainment windows at the annual CinemaCon event. Walt Disney Studios chairman Alan Horn nailed the major's colours to the mast when he said that he firmly believed in the current status quo and was happy to see windows staying as they are. But Universal Pictures chairman Adam Fogelson indicated that his studio saw further tests as being on the cards. Meanwhile, we're hearing tales of more experimentation and new strategies being tested here in the UK. Expect this one to run and run…
New release news now, and Seven Psychopaths was released on Monday April 15 by eOne Momentum, as the company is now being referred to, and got off to a flying start. As Momentum's Adam Eldrett noted: "Seven Psychopaths is off to a great start this week, consumers are embracing it as a 'follow up' to In Bruges, a film with stunning word of mouth. We have sold 20,000 units in the first three days on sale putting us on course for our ambitious week one target, as we all know comedy remains one of the toughest genres for our industry. It's great to see another British success story as well."
Out on Monday April 22 is Paramount's Jack Reacher and the major has secured an impressive promotion through the Top Gear website. The site, which boasts some 5 million users, about Tom Cruise's drivin g skills. The piece,
here
also features a call to action. Paramount has also worked closely with the publishers of the books the film is based on, and the film will include a special link offering an exclusive extract from the book.
Due for release on April 29 is the Oscar-friendly Life Of Pi, Ang Lee's epic tale and Fox is planning a particularly smart stunt to back its launch. Mike Perham, the youngest person to ever go around the world on water, is planning to spend 227 hours in a lifeboat to mark its release. Why 227? It represents an hour for each day that Pi Patel is stuck in his lifeboat in the film. And while Perham may not have a tiger in the boat, he will have to do everything else that Pi does – building a raft and an anchor, learning how to line fish and other elements. Along the way, he'll be keeping a video diary too and the RNLI is involved in helping him learn about the craft. Perham said: ""I'm very excited to be recreating Pi's incredible, inspirational journey to mark the film's arrival on Blu-ray and DVD, and thankful to the RNLI for being on hand to guide me through some of the challenges I will face. I have tens of thousands of sea miles under my belt, but I have never spent any time in a lifeboat, let alone 227 hours. I hope the challenge will give people even the smallest taste of Pi's own trials and it will certainly be a fresh challenge for me."
---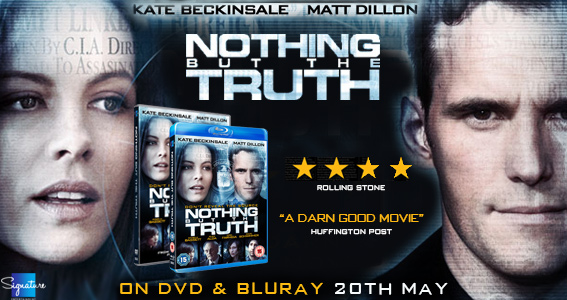 One of the biggest success stories of the year in the DTV sector has been the impressive performance of Signature's The Heist, which shifted some 27,000 units in its first week and is still performing well. The company is now gearing itself up for a busy month or two with a clutch of impressive titles due out. Its slate includes the likes of Matt Dillon and Kate Beckinsale in Nothing But The Truth. The company's Marc Goldberg said: "We are really pleased with the result. We hope its the start of many more successful releases in 2013. We are very excited about the upcoming releases – The Bigfoot Tapes, Nothing but the Truth and Stranded."
We don't know about you, but Monday nights for the past few weeks round our way have been all about Broadchurch, ITV's superlative crime drama that features, among others, David Tennant and Olivia Colman. It's being described as a kind of UK equivalent of Nordic Noir series such as The Killing and it has certainly lived up to its billing. The series is due to end its eight-part run on Monday night, when the identity of the killer will finally be revealed. It's become genuine water cooler television and, as reported here previously, Arrow will be releasing the series on DVD in May. The company's Paul Holland said: "It's certainly buzzing here, the staff that know who done of it have been locked away in a dark room with a batch of work and they know what will happen them (we like to think we do more murder than anyone else in the DVD business) if they leak it. It has been a phenomenal TV success and references to titles like The Killing show the type of potential we believe it has on DVD. I hope this shows the ambition we still have to acquire and work great British TV on DVD, it's shaping up by be a big May for the Acorn UK label and a great start for the business now we are under the RLJ Entertainment banner." Acorn's Gareth Brown added: "it's been a real privilege to release this and film the behind-the-scenes which really resonates once you've seen the series. The series itself has a superb cast working with a really fine script by Chris Chibnall and some powerful direction. Overall exemplary craftsmanship from all concerned representing the best of British television."
---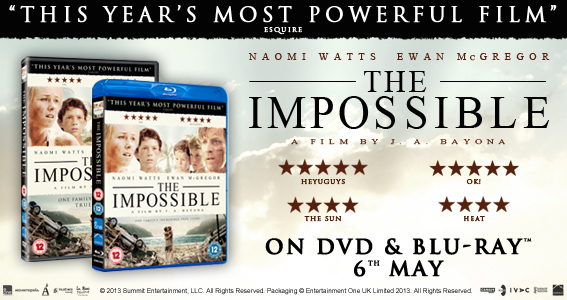 ---
Sticking with TV and the other must-see television at the moment is, of course, Doctor Who. It's a landmark year for the programme, as well as the current series, which has seen the Doctor getting a new assistant; the Timelord is also celebrating his 50
th
anniversary on our screens. BBC Worldwide's Chris Howarth said: "As well as Series 7: Part 2 on May 20, to celebrate 50 years of such an iconic brand we have a very exciting release schedule planned. There's something for everyone, from high-end collector sets to lower priced releases aimed at younger fans and the impulse purchasers. We are gearing up to implement a full strategic through the line marketing campaign that will run right through until Christmas. We are targeting different segments of the Doctor Who fan base via different medias, including ongoing media partnerships to keep the hard core fans engaged throughout the year and above the line campaigns to target the families at key times when interest around Doctor Who and the 50th is highest. We are confident that with our product slate and marketing strategy we will help make this Doctor Who's biggest year ever."
Also on the TV front, one programme that has just ended its run is Spartacus: War Of The Damned, which came to a stunning conclusion this week. And it's worth noting that, among the publicity the series earned, the Daily Telegraph was stating that Spartacus was, in fact, better than Game Of Thrones, even adding that the series was "ripe for rediscovery on Blu-Ray". Anchor Bay's Thom Leaman said: "We are delighted to be bringing the epic finale of Spartacus: War of the Damned to DVD and Blu-ray. Spartacus has continually rewritten the rulebook as far as primetime TV goes - but I think it's fair to say they've saved the best till last. Going out with a bang doesn't even cut it! We're incredibly proud to be part of this legacy of larger than life storytelling and we hope Spartacus fans will help us celebrate the breath-taking end to one of the most popular shows on the planet."
More TV news now, and there's been plenty of build up to another new series, due to begin its 10-week run tonight (Friday) on Sky Atlantic. It's The Untold History Of The United States, from Oscar-winner Oliver Stone, presenting his own unique take on modern American history. Fremantle will be releasing the DVD on July 1 as the series ends, with its release being trailed after the final two episodes. PR, including interviews in Empire and The Guardian will credit Fremantle's release too. Senior Product Manager Rebecca Candler says "Awareness is high for the broadcast that starts tonight at 9pm on Sky Atlantic following on from Oliver Stone's press trip to the UK a couple of weeks ago. This positions it perfectly for the DVD release on July 1, straight after the series finishes and in time for Independence Day on the July 4, with the UK being the first territory in the world to release on DVD."
---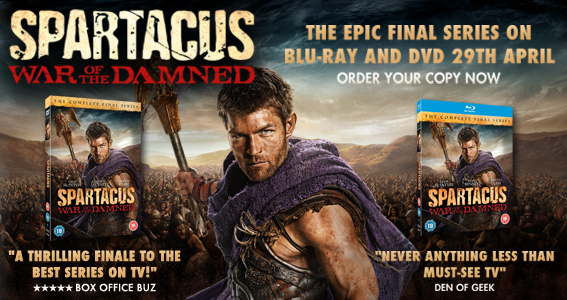 ---
Sticking with Fremantle, and we're pleased to report that Tree Fu Tom, its new children's franchise (and a current favourite of our youngest junior correspondent) continues to build. Toy and DVD sales are growing, the former was up 72 per cent over the Easter period, while Fremantle has supported both by organising Tom character appearances at shopping centres and the likes, with a promotion with the Wacky Warehouse chain. Head of marketing Julia Rich said: "We understand the importance of offering a product mix to our consumers so they can engage in the show in different ways. In home entertainment we have taken a holistic brand approach to Tree Fu Tom since the beginning and worked collaboratively with all our partners. This has helped us gain the valuable support we need from key retailers who have really got behind the property and helped us reach our consumers in traditional and non-traditional markets for DVD. We have an exciting set of products coming through for autumn, including the much anticipated playset and some innovative DVD releases which we believe will sustain the strong sales we have achieved so far."
Stone Roses update: We've already discussed 4DVD's plans to release The Stone Roses: Made Of Stone, the impending documentary about the group that launched a thousand flares, and it's been interesting to note that tickets for the live premiere, due to be held at the end of May in Manchester and beamed to cinemas across the UK, sold out within 60 seconds. Many of the regional events have sold out to, and Picturehouse have added further screens to try and meet the demand. The trailer for the film was also officially launched this week and we, along with many others, are hugely excited by the prospect. The film is due to open officially in June, with the DVD likely to follow in September. Director Shane Meadows said: "I'd love to think the tickets selling out so quick was down to the fan base I've built up over the last 15-20 years, but I know it's them lot (the band) that everyone's really coming to see. Bald chunkers like me don't sell out stadiums, but if we've got a Guinness World Record I would deffo take credit." Picturehouse's Clare Binns added: "This encouraging launch bodes extremely well for the theatrical release of this special film on June 5."
As regular readers will know, we at The Raygun are huge fans of the BFI's rather wonderful Flipside imprint, which digs out long forgotten gems of British cinema. Released this week was You're Human Like The Rest Of Them: The Films Of BS Johnson, which collects the seminal author's film works, much of which has been unseen for many years. And it's interesting to note that the release has been gaining traction outside of the normal DVD and Blu-ray avenues. For example, it was discussed this week on BBC Radio 3's highbrow Night Waves programme, while next week the films will be screened at the London Review Bookshop, introduced by the BFI's head of DVD Sam Dunn and writer David Quantick. They will also be discussing, among other things, how the release was put together. As the BFI's Phil Roberts noted: "Our DVD /Blu-ray has been enthusiastically received in the wider cultural environment. It's amazing to hear poets and novelists praise a humble DVD/Blu-ray as an important piece of work."
---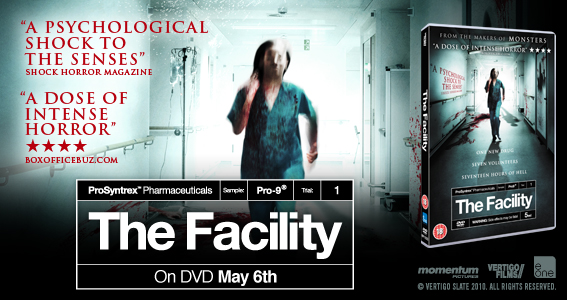 ---
Network is continuing with its ambitious release plans surrounding its The British Film collection. Thursday night saw the company joining forces with Bizarre magazine to host the first of a series of monthly screenings at the Horse Hospital in London's West End. In a programme hosted by horror expert Billy Chainsaw, Network screened Konga. Next month it will be showing Devil Girl From Mars, while Horrors Of The Black Museum will be showing in June. The company's Luciano Chelotti said: "CUT presents an excellent way for us to bring its range of horror titles to a younger audience craving an alternative film experience. The in-magazine, online and social media support you get from Billy's monthy event allows us to reach a younger demographic and build Network as the destinations for British horror."
Arrow continues to grow and the independent is now embarking on its biggest theatrical release yet, with the bow of Love Is All You Need. The compan

y's Jon Sadler said: "

Love is all you Need is by far our widest theatrical release to date and is an ambitious release for Arrow Films, but we took the leap of faith with the film after genuinely falling for the film ourselves in Cannes. It goes out on 120 prints across the UK and Ireland and we have good sites and great reviews, so it's all to play for. The home ent release will be staggered from the end of August with the DVD and Blu-ray landing on September 9."




Some news from the streaming world now and today (Friday) sees the latest exclusive Netflix production, Hemlock Grove going live, although the Eli Roth created series doesn't seem to have the same kind of kudos as its predecessor, House Of Cards. As the Daily Telegraph said: "So is Hemlock Grove another triumph for the TV and film streaming site? The short answer is no. Quite the reverse in fact. Hoping to be a cross between Twin Peaks and True Blood, with a hint of E4's soapy thriller Revenge thrown in for good measure, this sexed-up 13-part series, I'm afraid, is Netflix's first dud." We'll be viewing the programme over the weekend, and reporting on it in our regular Week In Video column on our website…
While we're on our website, going live shortly is a further look at Lionsgate's UK arm's own productions, such as the forthcoming I Am Soldier and Green Street Underground. It marks the latest stage in the company's development and we talk to both director Ronnie Thompson and Lionsgate's home entertainment md Nicola Pearcey about their work and the company's ambitions in the DTV arena and beyond.
---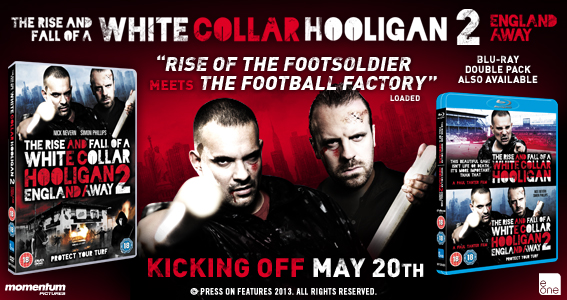 Back to the streaming world, and LOVEFiLM has been busy, partnering with Studiocanal for the premiere of The Look Of Love, the Paul Raymond biopic starring Steve Coogan. Plenty of tabloid pictures from the event featured the background carrying the company's logo. LOVEFiLM's Helen Cowley said: "We are delighted to once again be teaming up with STUDIOCANAL to premiere The Look of Love in London's Soho. The film features a fantastic cast, is directed by one of the best British directors around, and showcases British film making at its best."
Online news and the FindAnyFilm website has made a brace of announcements, as it adds UltraViolet titles to its website and has also integrated EE Film Store data on to its site, further improving its offering of ways to watch films legitimately. The site has also improved its design. General manager and executive director of UltraViolet Mark Teitell said: "As UltraViolet moves to the next stage of its growth in the UK, it's fantastic to see services like FindAnyFilm move to highlight UltraViolet to UK consumers and help educate them on its benefits, including the flexibility to watch anytime/anywhere and the confidence that this portability is backed up by a widely-honoured industry standard." FindAnyFilm's partnerships director Mark de Quervain said: "It's exciting to see new services such as EE becoming part of FindAnyFilm. This latest addition means we are serving audiences with ever more choice on where they are able to access official providers – making it a destination for the industry's audience to visit for all their film purchases. As innovation continues to drive changing trends in film consumption, FindAnyFilm is now able to provide both audiences and publishers with one simple, yet comprehensive film discovery tool."

Some recruitment news and Sassy Films has announced the appointment of Steve Carsey in the newly-created role of director of television and online, as the company makes a push into the broadcast sector. The company has recently been working on Video Surf!, a viral video programme for Sky's Pick TV. Carsey said: ""I'm delighted to be joining such a dynamic and skilled team at this time. I'm really looking forward to building Sassy's reputation for innovation and quality with new broadcast partners around the world."
And lastly, let us bid a fond farewell to Momentum's Adam Eldrett, who is leaving the company and heading off to join Universal's international team. We wish him all the best…
---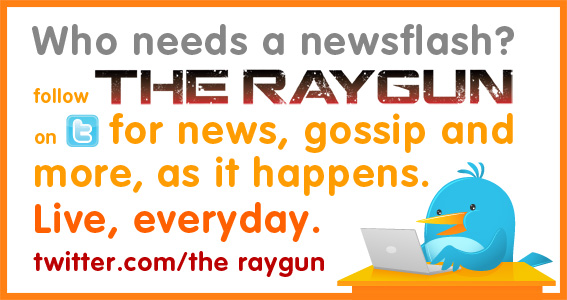 ---
"[We're hoping to find] mutually safe ways of experimenting [with windows]. I believe there is a price point and delivery method where we can add to the pie without in any way incentivising anyone not going to the movie theater. My fundamental belief is this -- there are people who love movies, love going to theaters but don't have time."
Universal Pictures chairman Adam Fogelson discussing release windows…
With a touch under £5 million in its opening frame, including previews, Tom Cruise sci-fi starrer Oblivion got off to a flying start at UK cinemas, usurping the impressively performing The Croods, which has now amassed nearly £23 million at the box office. Other new entries included Scary Movie 5 (just over £1 million) and The Place Beyond The Pines (£671,119).
Right, we haven't had any Star Wars news for a week or two, so we may as well give you this week's update. And it seems as if Disney's plans for the franchise are getting bigger and bolder by the minute. Not content with relaunching Star Wars with a new film arriving in 2015, Disney this week announced that it was planning a Star Wars film a year going forwards…\
Sequel news now and Universal has this week unveiled plans for not one but two follow-up films. The announcement that Pitch Perfect was due for a second flick happened to coincide with the original's home entertainment debut this week, while the company is also planning a sequel to Snow White And The Huntsman.
We've been in the pub again, recording a podcast, or rather pubcast, for Screenjabber. As well as the site's own Stuart O'Connor, Tim Murray from The Raygun was joined by Anchor Bay's Rod Smith and Chris Warrington from Organic Marketing. You can listen to it here:
http://screenjabber.com/podcast-special-2013-hmv-where-next
The viral that started off this week's flurry of Superman activity…
And here's the one that got a lot of people all hot under the collar about the Man Of Steel…
The Company Of A Vampires, with a dash of Twilight, strong Brit horror fare with an excellent cast…
Another forthcoming blockbuster from Lionsgate…
And this is one we're hugely excited about…
Now become our junior correspondent's most eagerly awaited film of the next month or two…
http://trailers.apple.com/trailers/paramount/startrekintodarkness/