MARCH/APRIL NEWSLETTER
It's still chilly outside. But rumors of spring are beginning in this Piedmont region of North Carolina. Crocuses, green daffodil spears, a flock of robins in the backyard... As winter folds into spring, we are anticipating the start of another show season and also some new workshop opportunities. Hope to see you soon at one of the events listed below!
April 9th, 10th & 11th
Craftsmen's Spring Classic
Friday, 10:00 AM - 8:00 PM
Saturday, 10:00 AM - 6:00 PM
Sunday, 11:00 AM - 5:00 PM
Greensboro Coliseum
Greensboro, NC
April 23rd
Downtown Statesville Art Crawl
Friday, 5:30 PM - 8:30 PM
Statesville, NC

April 24th & 25th (Pending)
Art on the Green
Saturday, 11:00 AM - 5:00 PM
Sunday, 12 Noon - 4:00 PM
Davidson, NC
WEBSITE UPDATE

The 2010 Tender Mercies collection is now posted on the website, along with new giclees and original watercolors. Also, for the first time note cards are

---
IN THE STUDIO - "Corbi"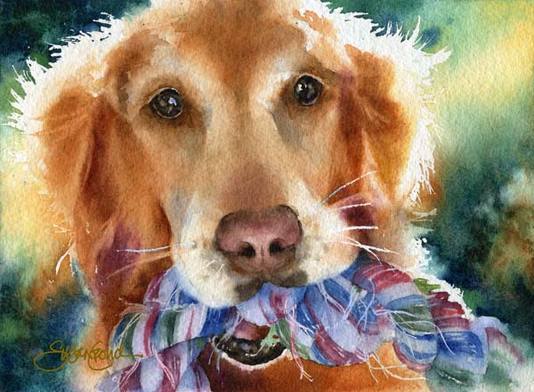 This is Corbi. She is ten years old and sister to Jack, our other golden retriever. Like typical siblings, these two goldens couldn't be more different. Jack is a goof ball. Easy-going. Won't do the fetch thing. Corbi, on the other hand, will chase after sticks all day long. She's the alpha dog in this pack, even though Jack was here first. And she has taken it upon herself to become our little Conflict Management Specialist. At the first hint of tension in a conversation, she is at my side (or in my lap) - "Can't we all just get along? Look outside! The sun is shining, the birds are singing, and I think it's time for a walk!" If we're smart – we pay attention and allow a little golden perspective into the situation. A short walk can go a long way. For dogs - and for their people, too.
"Blessed is the person who has earned the love of an old dog." Sidney Jeanne Seward
---
"Gallery of the Arts"
I am currently displaying original watercolors at the Gallery of the Arts in Winston-Salem, NC.

The Gallery of the Arts is a membership exhibiting gallery and the primary retail outlet for the overall Community Arts Cafe company. The gallery offers works from artists of the Triad region of North Carolina including fine art, fine craft, literature, recorded music, videos and any other products available exclusively through The Community Arts Cafe.

The Gallery of the Arts is located at 411 West Fourth Street, just next door to the Stevens Center in the heart of downtown Winston-Salem, North Carolina.

Gallery hours are Monday through Saturday from 11am to 8pm, and on Sunday from 12noon to 6pm, with extended hours during the First Friday Gallery Hop and in conjunction with other arts related events. Call 336-793-8000 for additional information. Click here to visit their website.

WORKSHOP OPPORTUNITIES

It's true. You learn a lot in the process of preparing to teach something. One of the topics I've been researching for the Glendale Springs workshop is the subject of creativity. Who has it? What hinders it? What helps it? I hope you'll be able to join me for one of the workshop opportunities listed below. If you would like to be on the Workshops Mailing List, just click
here
.
"Planning for Spontaneity: Release the Spirit of Watercolor on a Foundation of Strong Design"
In this workshop you will learn how to plan your painting with an emphasis on selecting colors, establishing a value pattern, and designing with good shapes. With the planning completed, paint will begin to flow as we use a variety of techniques that best showcase the unique spirit of watercolor.
Date: May 19 - May21
Location: Florence Art School, Glendale Springs, NC ( www.florencethomas.org)
High Country Watermedia Society Demo and Mini-Workshop
Date: July 10:
Location: Cheap Joe's Workshop Facility - Boone, NC (More info to follow)
Because of His tender mercies,